Top 5 Paykasa Internet Casinos
Discover how to make deposits with Paykasa prepaid vouchers.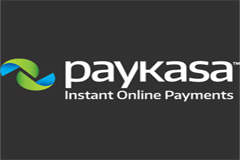 While online gambling sites offer lots of convenient ways to make electronic deposits, there can be a problem for some players: not everyone has access to credit cards or bank accounts, and still others simply aren't comfortable using these resources over the Internet or for betting purposes.
That's where prepaid services like Paykasa come in. With these vouchers that can be purchased from trusted retailers, anyone can get into the game with a secure and simple way to pay. Reliable and secure, this is one of the most effective and safe ways to make online casino deposits in Greece.
Since there are a fair number of casino websites that accept this service for deposits, it can be hard to narrow down which options are the best for you. Luckily, our experts have taken the time to narrow down the very best casino choices for you. We've chosen the best casinos that offer a range of great features, such as:
A commitment to safe, fair gameplay verified by independent labs
Fast and easy deposits using Paykasa
Great bonuses and promotions worth hundreds of euros or more
Top Online Casinos that Take Paykasa
Making Internet Payments Easier
Paykasa is a prepaid payment solution in the mold of similar products that exist around the world. The company was founded in October 2015 and has its offices based on London, England. However, their activities – at least at this point – are confined to Greece. The company sells their vouchers through a variety of trusted merchants and distributors. At the moment, the network is fairly limited, though there are retail points where the product can be purchased throughout the country, and the group says they are expanding their network of purchase points rapidly.
No Extra Cost, Instant Transfers
If you want to use this payment option, no special signups or registrations are required. However, you will need to open an account at one of the many casinos that accept Paykasa as a deposit method. Next, you'll need to pick up one or more vouchers from a local distributor. These cards come in values from €5 to €150, and you should only have to pay face value, with no added fees.
Once you have your vouchers, you can head back to your casino of choice and find this option listed in the cashier section of their website or software. When you choose this method, you'll be prompted to input the 16 digit PIN that is unique to each card you purchase. Please note that you'll have to use the entire stored value of each voucher you pay with; you cannot break them up into smaller chunks, or leave some funds stored on a partially-used card.
Once you've confirmed the PIN, you can submit your payment. Assuming the number is valid and the voucher hasn't previously been used, the deposit should be accepted and transferred over to your casino balance in a matter of seconds. If you'd like to make a larger transfer, you may be able to continue using more vouchers, depending on the policies and limits put into place by each individual site.
A Flexible Alternative, But Not for Everyone
The biggest advantage of using Paykasa is the fact that it doesn't lock you into using a more traditional financial instrument in order to process a deposit. That means that those who can't or don't want to use their credit cards online can still play with minimal trouble. In fact, it is possible to use this option with nothing more than cash: just pay in person with your cash, and then use the vouchers you've purchased to play on the Internet.
There are a few wrinkles, however, that might not make this an ideal option for you. First, of course, is the fact that this is only available in Greece at the moment – that means this is a method that can only be used in the one market, at least for now. In addition, the limits are rather small and rigid. While you might be able to get around this with multiple purchases, that still means this probably won't be the go-to choice for high rollers (though this can also be seen as a benefit for those who want help controlling their spending). In addition, there's a little inconvenience that comes from having to actively go out and buy a product before you can use it, which adds a little to the effective processing time.
FAQ
Do I Need To Sign Up for Anything?
No registrations are required in order to use this system. Anyone can buy a voucher and immediately use it with no other restrictions.
Are There Any Fees?
No fees are charged to players for using this option. Any costs associated with these transactions are taken on by the casinos themselves.
Are There Any Limits?
Paykasa is available in the following denominations only: €5, €10, €20, €50, €100, and €150. It is only possible to spend the entire stored amount all at once (no partial redemptions allowed), so you are limited in exactly how much you can deposit using this method.
Where Can I Use This Method?
At the moment, these cards are only sold in Greece. That means that they can effectively only be used at casinos that accept Greek players for the time being.