Top 5 iDebit Online Casinos
Make online gambling deposits from your bank with iDebit.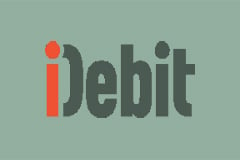 Chances are that you're already familiar with making all sorts of payments from your bank account. Millions of people pay their bills from their online banking systems, and transfers between accounts to make payments for all sorts of services, fees, and taxes are also common. So why not use those same systems in order to make deposits at online casinos?
That's the idea behind iDebit, a bank transfer system that is popular in Canada and many other nations. Offering quick and easy transfers directly from your bank, and also offering up a secure system for users to withdraw money back to their banks as well.
If you're not sure where you should be playing, that's okay: we're here to help. Our team of experts has looked into the many different sites that take this method, and come up with a shortlist of only the very best and most reputable sites. These casinos offer up a wide range of features and benefits, including:
Fast, easy deposits through the iDebit system
Hundreds of great slots, table games, and more from top software companies
24/7 customer service that can be reached by phone, email, or live chat
Online Casino Site that Take iDebit
A Variety of Options, Primarily in Canada
This service offers secure online payments that can utilize your online banking account in order to make deposits and withdrawals from online casinos. There are actually a few different ways in which this can be done: users can actually make an account with iDebit, which will allow the service to act something like an e-wallet of sorts, though it is also possible to check out as a guest, using it as a quick intermediary to connect your bank with your iGaming site of choice.
iDebit is available in a number of jurisdictions around the world, though it is most commonly utilized in Canada. In fact, the company even has a separate telephone support line specifically for Canadian users, while the rest of the world has a secondary point of content.
Deposits and Withdrawals
In order to get started with this method, you'll first have to sign up for an Internet casino that offers this as a depositing choice. Next, you'll have to design just how you'd like to use iDebit. If you'd like, you can sign up for an account there, which allows you to store funds in the system and can make this serve as a limited version of an e-wallet. On the other hand, you have the option of simply checking out as a guest, which requires no additional registrations. You will also need an active account at a bank that participates in this network.
Once you're ready to go, choose this as your method of choice from the cashier section of the iGaming site. You'll be asked to specify just how much money you'd like to deposit. You'll then be taken to the iDebit site, where you'll have the ability to log into your account if you've made one. Otherwise, you'll need to choose your bank from the list of eligible financial institutions. First, choose the country, then choose your bank from a list of options provided. You'll then have to log into your Internet banking system, where you can verify and approve the transaction. In a matter of moments, you should see the funds hit your casino balance, where they will then be available for play.
At many sites, it is also possible to use this network to process withdrawals. This service is only available if you've opened an account with iDebit. In this case, you may be able to transfer funds to your balance, after which you can then move them back to your bank account.
Fast and Secure, But Not Free
This particular system offers up a few obvious advantages for players. For one, it is a very secure way to make both deposits and withdrawals, because it uses the same international banking systems that are trusted for wire and bank transfers throughout the world. There's also an added layer of security if you register for the service: if you have concerns about sharing private data with gambling sites, it can work as a third-party between you and the casinos themselves.
There is one notable downside to this option, however: the fact that it comes with some fees. There are small transactional costs for making payments from your online banking account to a merchant, and the same for transferring funds from iDebit back to your bank account. These costs are small and fixed (varying by currency), but it's still a slight downside when compared to free methods.
FAQ
Do I Need to Register?
Registration is not required to use this service for depositing funds. However, there are some benefits to registering rather than making payments as a guest, such as remembering your banking details and the ability to store funds. Registration is also required in order to cash out using this system.
Where Can This Method Be Used?
This gateway is most popularly used in Canada. However, players from many other nations can also utilize this option, including the UK, France, Australia, New Zealand, Japan, Italy, Germany, and Sweden, among many others.
Can I Process Withdrawals Through This Option?
Yes, this can be used as a cash out choice at some sites. However, be aware that this is only available if you register for an account with this company.
Are There Any Fees?
There are some small charges associated with this service. Payments made from your online banking account come with a flat fee equal to $1.50 or €1 (or similar amounts in other currencies). Payments from your iDebit balance, on the other hand, are free. Similarly, transferring funds back to your bank account costs $2, or €2.