The Best Yandex Money Online Casinos
Learn about using Yandex Money for casino deposits.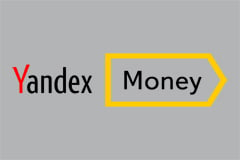 While there are many payment processors doing business in Russia and other former Soviet republics, none of them have the reach and clout that is enjoyed by Yandex.Money. It is by far the largest electronic payment service in Russian-speaking nations, with a large percentage of Russians saying that they have used the system at least occasionally.
That wide usage has led to wide acceptance as well, making this a popular option at many online casinos that are targeting customers in this part of the world. Offering the ability to make fast, secure payments using a wide variety of accessible funding sources, this is an excellent way to get money into your Internet gambling accounts.
Because these markets are highly-targeted by the iGaming industry, you'll have no shortage of choices if you use this deposit option. If you're not sure which sites are best for you, don't worry: our team of gaming industry experts have narrowed the list down to a handful of trusted, reputable sites that we're happy to recommend to our readers. These casinos offer a number of great features, including:
Great real money slots provided by top software developers
Fast, safe deposits through the Yandex.Money system
24/7 customer support provided by live chat and toll-free phone
Top Online Casinos that Accept Yandex Money
A Search Giant Enters the Payment Industry
The story of this company begins in 1997, with the launch of the Yandex search engine. Based in Moscow, this company operates the largest search engine in Russia, controlling about two-thirds of the market in that nation. That (along with smaller shares in other jurisdictions) makes this the fourth largest search service in the world, with more than 150 million searches taking place every day. The service is also very popular in Belarus, Ukraine, and Kazakhstan, and also enjoys a presence in Turkey and other parts of the region.
The Yandex.Mney service was launched in 2002. It was created in order to provide convenient, accessible, and secure payments to individuals and businesses throughout Russia, and has since become the largest electronic payment service in the country. The program is actually only partially owned by the search engine firm itself; Sberbank owns 75% of the company, making them the controlling partner.
This network also includes a business-to-business service known as Yandex.Checkout. This is the actual infrastructure that accepts online payments in Russia, with more than 76,000 merchants utilizing the gateway. Today, about 30 million users have wallets, more than four million have downloaded the mobile app, and over 90% of Russians say they are familiar with the service in general.
Pay Using Just About Anything
In order to start using this method, you'll first need to open an account at one of the many casinos that accepts this as a payment method. Once you've done so, you may wish to open a Yandex.Money e-wallet if you haven't already done so. This may not be necessary if the casino utilizes the larger Yandex.Checkout system, but if you aren't sure, the wallet program is certainly a versatile and useful product to have available.
Once you've completed these steps, find the Yandex solution listed among the deposit options in the cashier section at your iGaming site. Once you click on this, you'll be taken to the payment gateway, where you'll be able to choose from a number of different funding options. These may include bank cards, your Yandex e-wallet, WebMoney, QIWI, in-person cash payments at kiosks and ATMs, mobile phone payments, or online banking systems. While not every source is accepted by every merchant, most (if not all) should be available as choices at your casino.
Once you've picked the method and specified the amount you want to deposit, then you'll be directed to steps that are specific to the source you've chosen. You'll go through a confirmation process that should take no more than a couple of minutes (with the exception of in-person cash payments; in those cases, you will have to travel to a retail location in order to transfer the funds). Once you submit the payment, the money should appear immediately in your casino balance.
Keep in mind that if you have an e-wallet with this service, many gaming sites will also allow you to use it for withdrawals as well. After the casino's processing time, which can vary, the money should quickly appear in your wallet, after which you can transfer it back to your bank or withdraw your funds via one of several other options.
Widely Accepted and Highly Trusted
This service has become extremely popular for a variety of reasons. First, there's the fact that this is an extremely versatile payment gateway in which just about any deposit method you can think of is covered. No matter what resources you have on hand – whether they be traditional banking instruments, just cash, or even just a mobile phone plan – you'll be able to make a fast and secure deposit. The fact that this can also be utilized as an option for making withdrawals is an added bonus, making this by far the most dynamic iGaming banking solution in Russia.
FAQ
Where Can I Use This Option?
This service is most commonly utilized in Russia and other Russian-speaking countries. That includes many other nations in Eastern Europe.
Do I Need to Register for Anything?
While you may be able to use the payment gateway without any prior registrations, the most flexible part of this network – the Yandex.Money e-wallet – does require you to open an account in order to use it.
Can I Use This for Withdrawals?
Yes, you can make withdrawals through this choice if you have opened a wallet account. From there, you can choose to hold your funds or further withdraw them through a variety of cash out systems, such as having the money transferred to your bank account.
Are There Any Fees?
Yes, there are fees for using this service. However, they vary tremendously depending on what sort of method you are using to fund your account. Typically, these range from 0.5-3%, sometimes with a flat cost of rubles on top of the percentage charge.