eCheck Casinos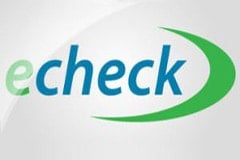 Once upon a time – in an era some of us older folk still remember – people used to pay their bills by mail, putting a physical paper check into an envelope and sending it off to whomever we might owe money. We're being a bit facetious, of course, as many people still occasionally send payments this way, but it's certainly a style that has fallen out of fashion.
Today, most people instead pay bills and transfer their money electronically. This is especially true in the online world, where it is so much faster and more convenient to process payments electronically than to wait for payments by mail. When these payments are made directly from a bank account, they are known as electronic funds transfers, with one particularly popular option being known as eChecks.
These eChecks have become one of the most popular methods in the world for making online casino deposits. Quick, secure, and reliable, these bank transfers are a trusted method that can be used at the vast majority of reputable casinos, at least in most markets.
From Your Bank to Your Bankroll
In order to use an eCheck to fund your online gambling account, you'll first need to have a checking account that you have full access to. You'll also need to have enough funds in order to cover the amount you wish to deposit – this isn't a method that works on credit. Finally, you'll want to open an account at one of the many casino sites that accept these transfers as a banking method.
Once you're ready to make your deposit, it's probably a good idea to have your checkbook with you (or otherwise have all of your account info handy). Head on over to the cashier area at the casino, and look for the eCheck or EFT option. At this point, you'll need to input your information, which usually includes the routing number, account number, and the name attached to that checking account. Of course, you will also need to specify how much you want to transfer.
Once you submit your request, you should get a response in just a few moments. Unless there is an unexpected problem, the transaction should be approved and the money should hit your casino bankroll in a matter of seconds. It's worth noting that the money won't instantly be removed from your checking balance, however; in reality, there is a 24-48 hour processing time before the money will actually be moved. This means that the casino is showing some level of trust in you, though not in a way that unscrupulous players can take advantage of: should an eCheck bounce, the deposit will be reversed, any winnings forfeited, and the player will likely never be allowed to use that method again to play on the site.
Top Online Casino Sites that Take eCheck
Advantages
Perhaps the biggest reason to use an eCheck to fund a gambling account is the level of security you'll feel when you deposit in this way. Knowing that your bank and all of the systems they rely on are transferring your funds can provide a lot of peace of mind, since not only will you get the same level of encryption that comes with any electronic financial transfer, but your bank will also likely be on the lookout for any sort of fraudulent activity that could potentially take place.
The speed of these eChecks is also an excellent reason to utilize them if they are available to you. Many users also appreciate the fact that these transfers require them to use real money, meaning you can never build up debt or spend cash you don't have on your gambling, which can put your mind at ease if you're afraid you might get a bit carried away with your play.
FAQ
How Do eChecks Differ From EFTs?
While a lot of online casinos may use these terms interchangeably, they do not actually have the same meaning. EFT is a very general terms that can apply to any number of electronic transfers. On the other hand, eChecks are specifically transfers that use the Automated Clearing House (ACH), the network that connects almost all banks in the United States and Canada. That means that these payments are only truly available in North America, though some sites may use the terminology slightly incorrectly in markets around the world.
Can I Use This Method in the USA?
While eChecks are certainly widely used for a number of financial transactions in the United States, they are not generally a good option for Americans who want to play at Internet gambling sites. This is due to regulations that have prohibited financial institutions from processing most online gambling transactions. However, some exceptions exist in states that regulate the iGaming industry, such as New Jersey, Nevada, and Delaware.
What Are Some Similar Alternatives I Can Use?
If this particular type of transfer isn't available to you, you might find that you can still move money from your bank to a gaming account without too much trouble. Many sites offer other forms of bank transfers, such as wire transfers. While speed and fees can vary, these offer up another way for users to securely move funds from their bank, conferring that same safety and trust that comes anytime you use the international banking system to wire funds.