The Most Trusted EasyEFT Casino Sites
Discover how to make online gambling payments through EasyEFT.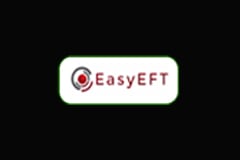 While bank transfers are one of the leading ways for players to get money into online casinos. However, banking systems can vary around the world, meaning it isn't always easy for gambling sites to provide methods that work for all of their players in particular countries. That's led to systems like EasyEFT, which are designed to provide one easy gateway for users with accounts at numerous banks to make payments.
With easy access to all of South Africa's leading financial institutions, this is a method that is safe, reliable, and fast, making it the perfect way for players – especially those who don't have access to credit cards – to make deposits in the country.
With many casinos taking payments through this method, it can be difficult for users to know where to start. However, our experts have picked out a handful of the best sites offering transfers through EasyEFT, all of which include great benefits like:
Access to libraries of hundreds of the best slots and table games
Fast, safe, and secure deposits through EasyEFT
Bonuses and promotions worth hundreds or even thousands of dollars
Top Online Casino Sites that Accept EasyEFT
Connecting Major Banks with Reputable iGaming Sites
EasyEFT is a relatively new ecommerce payment system that was designed to give South African shoppers a way to purchase goods and services online quickly and safely, without the use of a credit or debit card. The platform was set up with affordable fees for merchants and no added costs for consumers, and can be fully integrated into existing websites, making it an excellent option for those businesses and casinos that want to offer an intuitive and trusted solution for their customers. Today, this system works with many major banks in the country, including Standard Bank, First National Bank, Capitec, Nedbank, and Absa.
Connect and Pay
Using this method takes just a couple of steps. First, you'll need to have a checking or savings account at one of the financial institutions that works with this payment gateway. Secondly, you'll have to sign up at one of the casino sites that accepts this method.
If you have both accounts set up, then you can proceed to the cashier section at the gaming site. Find EasyEFT listed among the deposit options, and choose it. You will then be taken to the integrated payment system. You will need to choose which of the participating banks you have an account at, as well as choose how much you would like to transfer into your casino balance. You will also have to input the relevant information in order to identify your checking or savings account.
Once this is done, you may confirm and submit your payment. Presuming there are no issues, the money should hit your gambling site balance in a matter of moments, allowing you to being playing for real money.
A Great Alternative for Many Players
The biggest advantage to using EasyEFT is the fact that it does not require a credit card to use. Since these cards are often the primary method of making payments online, not having access to one can often be a severe impediment to players who want to make deposits. With this system, that is no longer an issue. Throw in the fact that the process is very fast, easy to use, and is as secure as any bank transfer you've ever completed before, and this is an all-around strong option.
The one disadvantage here is that it only works with a small number of selected banks. While these financial institutions do serve the majority of South Africans, that still puts some limits on who can use this option, and does mostly confine its usage to the one country.
FAQ
Where Can I Use This Option?
The main region where this method can be used is in South Africa. This was a system designed to work with banks in the country, so only those who hold accounts with financial institutions there may utilize this platform to make deposits.
Can I Withdraw Through This Service?
At the moment, we do not know of any withdrawals allowed through this method. This is likely due to the nature of the system, which was designed to allow e-merchants to accept payments, not to act as a full-service money transfer program.
Are There Any Fees?
As with most payment systems, only merchants – in this case, the casinos – are charged fees by the service itself. However, it is worth noting that some banks may charge fees for transfers in general; in those cases, these payments will likely be charged at the same rate as other EFTs.