Maestro Debit Card Casinos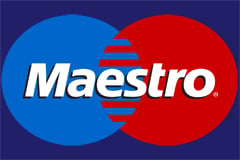 Worldwide, the most common payment methods at point of sale locations and online are various types of credit cards. However, not all of these are actually credit products. Debit cards can, in many cases, be processed in all of the same places where credit is accepted, pulling money out of the user's bank account rather than accumulating dept.
One of the most popular debit brands in the world is Maestro. Founded as a purely debit service in 1992, this is a subsidiary company of MasterCard, one of the leaders in payment processing. In many countries, this is the main debit brand for MasterCard, while in others, it supplements products that carry the primary company logo. In either case, the same systems are usually used to process payments quickly and efficiently, with somewhere around 15 million businesses worldwide accepting this as a payment option.
Such versatility has also made this one of the more common options in the online gambling industry as well. A vast array of casinos accept Maestro cards as an option for making deposits, and for many players, this may well be the fastest and most convenient way to get money into a gaming account.
How to Use This Method
Using your Maestro card to make a payment is extremely simple; in fact, if you've ever used it to pay for a purchase or anything else over the Internet, you already know how to do this. No other special accounts are required, and you'll only need to play at one of the many excellent Maestro casinos that are available to players in most jurisdictions worldwide.
Once you have an account at one of these sites, you'll just need to head over to the cashier and find your card name in the list of accepted deposit methods. Once you've chosen this option, you'll need to put in your card information, including the name that appears on it, the number, the expiration date, and the confirmation code.
At this point, you'll also have to let the casino know how much money you intend to deposit. At this point, you can submit your transaction. Assuming it is approved, the money should hit your account in a matter of moments, allowing you to start enjoying real money play immediately.
There are a number of reasons why a transaction might be rejected. Obviously, if you were to try to deposit more money than is currently in your linked banking account, this would cause the transaction to fail. However, there's also the possibility of your issuing bank declining the deposit because they do not allow their cards to be used for gambling purposes. If that is the case, you can still try using your card at another site, or using a different credit or debit card at the same casino, as not all combinations are coded the same way.
Not sure whether you want to withdraw money to your credit card, open an account with an e-wallet, or deposit with Bitcoin? We recommend you check out our guide to online casino payment methods.
Top Online Casino Sites that Accept Maestro Debit Card
Advantages
There are several good reasons to use Maestro as a primary funding method for gaming websites. First, there's the fact that this is a fast and secure method that most users already have a lot of familiarity with. You won't have to open any new accounts to use it, there are no sketchy or unknown third party vendors to deal with, and everything is processed instantly.
There's also a high level of security that comes when using these cards. Just like a transaction at a major Internet retailer, any deposits made this way are protected by state of the art encryption technology, and your card information is not normally stored, all of which helps protect you from identity theft and fraud. Finally, some individuals also like using debit cards rather than credit cards in order to ensure that they are never taking on debt while they play: instead, all deposits come out of your banking balance.
FAQ
Where Are These Deposits Accepted?
This method is accepted at many different online casinos, including those in a wide variety of jurisdictions, both in highly regulated nations and in grey markets. That makes this one of the more versatile options for players looking to fund their accounts.
Can I Use My Card for Withdrawals?
In most cases, it is impossible to use this card for withdrawals. Players will need to find an alternative in order to cash out their winnings after playing.
Can I Use ThIs Method in the United States?
The Maestro brand is less common in the USA than MasterCard, but can still be used in the country. However, like many other transaction methods that use the banking system, your success rate is likely to be low due to regulations that prevent financial institutions from processing most online gambling transactions.
What are Some Similar Alternatives?
Many other credit and debit options exist that are widely accepted throughout the iGaming world. The most common of these are Visa and MasterCard-branded cards. If your transaction is rejected, it may also be possible to make a deposit through a payment gateway or e-wallet solution that acts as a third-party between you and the casino.
Are There Any Associated Fees?
Generally speaking, you should encounter no fees when making deposits with a Maestro card. It is always possible that a site or an issuing bank could add a small fee to these transactions, but this is very unlikely and we have not encountered such charges in the past.