Citadel Instant Banking Casinos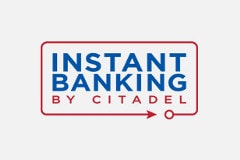 Online bank transfers have become a normal part of everyday life for most people. Just about everyone is familiar with the Internet interface provided by their bank, as it is often used in order to pay bills or transfer funds to others. Quick, reliable, and safe, these systems are trusted by millions of users worldwide every day.
Unsurprisingly, online casino companies have also seen the potential in these kinds of payments. One firm that has started to allow users to make deposits through their digital banking systems is Citadel Instant Banking. With the support of many major banks worldwide, this system allows players in dozens of countries to make instant and secure deposits into their gambling accounts, all without sharing any sensitive account information with the casinos themselves.
How to Use
To get started, you'll need to open an account at one of the many trustworthy online casino sites that accept Citadel as a deposit method. Once you've signed up, you'll want to head on over to the cashier and look for this in the list of available payment options. In some cases, you may specifically see Citadel listed; you may also see a more general "instant banking" option, from which you can choose this service.
Once you've chosen this option, you'll simply have to follow the instructions as they are presented to you. This process can work in several different ways depending on the country you live in and the bank you'll be using to make the transaction. Typically, you'll begin by choosing your financial institution from a list of eligible brands that the company can work with.
At this point, you may see yourself taken right to your familiar online gambling portal. In other cases, you may instead go to a webpage operated by Citadel itself, or be given information on how to manually make the transfer from your bank. In any of these cases, you'll have to login to your banking account at some point, and confirm your payment.
That's it! Once you've completed this process, your payment will be sent over. In a matter of moments, you should be able to see the funds hit your balance, allowing you to play for real money.
Best Casino Sites that Take Citadel Instant Banking
Advantages of Using This Method
If you're at all wary about sharing personal financial data with gambling websites, then this might just be the perfect deposit method for you. Since you're just logging into your own banking system, you'll never actually be providing any casino or third party group with your information, limiting the potential for fraud or identity theft to the greatest extent possible.
If you have other concerns about online transactions, then you should also feel safer due to the fact that all payments here are being made through (and by) your bank. That means that you'll be dealing with the highest levels of security and encryption possible, those used by the international banking system to ensure that payments are made correctly and safely around the world.
We also like that Citadel is simple to use: no new signups or registrations are required to get started, so there are no additional passwords or logins to keep track of. Additionally, the process takes just moments to complete, and there are no additional fees beyond whatever your bank charges (and most financial institutions do not charge fees for standard transfers).
FAQ
In What Countries Can I Use This Method?
This system is available to be used in more than two dozen nations, mostly in Europe and North America. Participating countries include Canada, the UK, France, Germany, Italy, Japan, Australia, Sweden, Belgium, and Italy, among others. More limited versions are offered in Argentina, South Africa, and Turkey.
Does This Option Exist in the United States?
Yes, Citadel's product is available in the USA. However, its usage for online gambling here is very limited, due to regulations that restrict how financial institutions can process iGaming transactions. There may be some cases where you can use this option in states that have their own regulated gaming markets, such as New Jersey, Delaware, and Nevada.
What Are Some Similar Alternatives?
One potential alternative here is simply making a bank transfer or wire transfer. These methods will also have you moving money directly from your checking account to the gambling website. The difference is that you won't connect through an online portal, but will instead process a transfer or an "e-check" right in the casino's cashier.
Who Will See My Information?
By using this method, you keep your banking account information entirely confidential. You will be using your bank's systems, and in most cases, even Citadel will not receive any personal data from you. Most importantly, the casinos themselves will not have access to your account numbers or passwords.