Top 5 UPayCard Online Casinos
Learn how to make UPayCard deposits at casino sites.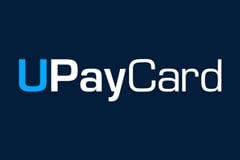 One of the biggest challenges facing online casinos is how to provide safe and effective deposit and withdrawal methods for their players.
That's part of why UPayCard has gained popularity in the iGaming world. Available for both deposits and withdrawals, this prepaid e-wallet system is a great way for players around the world to handle all of their casino money management. With fast, safe transactions and availability in markets where making payments can sometimes be challenging, this is definitely an option worth looking into.
If you're considering using this method to play at an online gambling site, we're here to help. Our experts have made a shortlist of some of the best sites for you to choose from, carefully selecting only the most trusted and reputable sites in the industry. Our picks have many great features, including:
Fast and safe payments through the UPayCard system
Hundreds of the best casino games, including slots and more
Great customer service agents available to help you 24/7
Casino Websites Accepting UPayCard
UK-Based, Internationally Respected
The UPayCard is a product of Moorwand LTD, a company that was first founded in 2013. Based out of London, the company is fully regulated by authorities in the United Kingdom, and prides itself on providing customers with flexible and secure prepaid solutions. The firm is run with care by a management team, many of whom have been a part of the prepaid card business for 40 years or more. Available in both developing and emerging markets, this system allows customers, professionals, and businesses to get paid by individuals and businesses from around the world.
Load and Go
In order to get started with this method, you'll first have to visit the UPayCard website and sign up for an account. Registration is free and simple, after which you'll need to choose a way to fund your wallet. There are a number of funding options available, depending on where you are located: Visa, MasterCard, UnionPay, bank transfers, and Bitcoin are all accepted as funding sources, as al Alipay and Wechat. You may then request a physical or virtual credit card (which will be MasterCard branded) which you can in turn use online (or at any live locations where MasterCard is accepted, assuming you have a physical card).
Once this is done, you can now head on over to the casino site of your choice that accepts this method. Once you've signed up there, you can visit the cashier, where you'll be able to potentially choose from up to two different methods to transfer funds into your balance. In some cases, you may see UPayCard specifically listed as an option, which may allow you to immediately use your wallet in order to pay.
More commonly, you may be able to utilize the MasterCard associated with your wallet to make the deposit. In these cases, all you'll need to do is choose the credit card option, and enter the details of your card, including the name, number, expiration date, and security code. You will also need to tell the site how much you wish to deposit.
In either case, the transfer itself shouldn't take more than a few seconds to process. Assuming it is approved, you'll see the funds instantly appear in your casino balance, allowing you to start playing in a matter of moments.
It's worth noting that you can also withdraw funds back to your wallet. From there, you can receive them in a number of ways: you can cash them out at an ATM using your physical card, or request a wire transfer, for instance.
Flexible for Users with Few Options
The UPayCard has proven to be a popular method because it offers a number of advantages, particularly for players in jurisdictions where funding options are limited. Several different types of payment sources can be run through this wallet/card combo in order to ultimately push transfers to these iGaming sites, and this is also a robust solution for making withdrawals, too. Through in the fact that it is fast and secure, and you have what feels like an ideal option for gamblers.
There is at least one downside, however: both moving money into your account and withdrawing those funds will come with fees. The actual transactions with the casinos are free, as usual, but funding your wallet will come with a small fee, and there are similar costs for ultimately getting money back from your e-wallet.
FAQ
Can I Use This for Withdrawals?
Yes, this system can process both deposits and withdrawals for players. This makes it an ideal solution for those who want to handle all of their banking from a single source.
Are There Any Fees?
There are fees both for funding your e-wallet and for withdrawing funds from it. While bank transfer deposits are free, other sources carry fees that are typically about 1.2%; some credit card transactions may charge up to 2.9%, and bitcoin has a 4.9% fee. Meanwhile, bank transfers can come with fees of up to $25, while ATM withdrawals come with a $3.50 fee on top of whatever the machine owner may charge.
Do I Need to Register?
Yes, you will need to open an account with UPayCard before you can use this service. In addition, you may wish to acquire a physical or virtual MasterCard that will be associated with your wallet.