Top 5 Siru Mobile Casino Sites
Learn how to make online casino deposits from your mobile phone with Siru.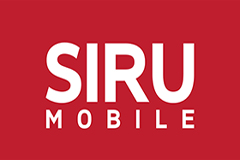 Mobile phones are becoming an important part of the gambling world. The iGaming industry has recognized for years that mobile play would be the future for online casinos and other gaming sites, and more recently, this has begun to come to fruition. Not surprisingly, payment processors quickly followed suit, with many companies now taking payments directly from phones.
One such firm is Siru Mobile. Offering a way for customers to make payments online and then pay on their phone bills, this is one of the most convenient ways for users to make online casino deposits. There's no special signups and no need to immediately find a funding method – the entire verification process takes only a matter of minutes.
With several countries now part of this network, the number of casinos that accept this payment option is increasing. Thankfully, our experts have been able to identify a few sites that stand apart from the crowd. Our recommended casinos include many great features, such as:
Fast and secure deposits through Siru Mobile
Hundreds of great slots and other games from quality software providers
Bonuses and promotions designed specifically for new players
Best Casino Websites that Accept Siru Mobile
Innovation and Evolution
Siru Mobile is a Finnish firm that was founded in 2011. The company was created with a vision of filling what the founders saw as a gap in the market, allowing for mobile payments that better reflected the average lifestyle of users who relied more and more on their cellular phones to fulfill everyday functions. The result was a cloud-based payment solution and a brand new platform.
Today, the company has a series of offices in various international locations: their headquarters in Helsinki along with others in Stockholm, Oslo, Hong Kong, Dubai, and Malta. The group now includes more than 30 technology specialists, and has worked with operators in order to develop a variety of award winning systems for use in several nations.
Play Now, Pay Later
You won't need to do much in order to use this method, assuming that it is offered in your country. The only prerequisites are that you have a cellular phone number, and that you sign up for an account at a casino that accepts Siru as a deposit option.
In order to get started, you'll want to visit the cashier section of your chosen casino site. Find this listed in the list of payment plans, and choose it. From there, you'll be asked to input some personal information, the most important of which will be your mobile phone number. You'll also need to note just how much you want to transfer over to the casino.
Before the payment can actually be processed, you'll need to verify the details and submit your payment using your phone. At this point, two things should happen. You should get a receipt for your deposit, which will serve as your verification. Additionally, the money should appear in your casino account almost immediately, making it available for real money play.
Your payment will ultimately be made in one of two ways. If you have a prepaid phone, the amount will be deducted from your balance (meaning you can only make such a deposit if you have enough money on your plan to cover the transfer). If you have a more traditional phone contract, you'll see the amount added to your next bill, where you can pay it along with your normal charges.
Easy and Widely Available
Siru offers a number of advantages for players. For one, this is a widely available funding method, as most users will have a phone that they can use in order to bill their deposit. The process is also fast and simple to complete, making this an extremely convenient way to pay: you can take care of the process on your smartphone now, and then pay for it as a part of your normal bill payment routine.
There are other advantages as well. Players can take advantage of automated reports that track their spending on the company's website, and this entire funding method is very secure thanks to the verification process and additional security protocols that players may choose to opt into. As for downsides, the largest one is the fact that transfers are severely limited: users can only transfer up to €300 per 30 day period, making this an option that isn't appropriate for high rollers.
FAQ
Where Is This Method Available?
At the moment, Siru is only available in Finland, Sweden, Norway, and the United Kingdom. However, the company has expressed an interest in expanding to additional countries in the future.
Do I Need to Sign Up?
No special registrations are required in order to use this service. You'll simply need to have a mobile phone in one of the countries where this service is available.
Are There Any Fees or Limits?
Users are limited to making €300 (or the currency equivalent) in payments over a 30 day period. This is a rolling amount, meaning that your balance will change immediately 30 days after a prior payment. As for fees, there are some small transactional fees that can be charged; if this is true in your case, then these fees will be noted on the deposit page before you approve the transaction.
Can I Use This Method to Withdraw?
Unfortunately, this option is not available for withdrawing funds. In order to cash out your winnings, you'll need to choose an alternate method, such as a bank transfer or a check.