Ethereum Casinos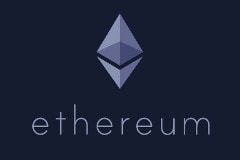 Recent years have seen the proliferation of cryptocurrencies throughout the Internet. Of course, Bitcoin is the leader in this area: it is the one digital currency that most people have heard of, and a surprisingly high number of people have either paid for or received payment through Bitcoin at some point since it was first launched. Since then, dozens of other currencies have also appeared online, some of which have cult followings, while others have occupy only a tiny niche in the world of money transfers.
One of the more intriguing options in this area is Ethereum. Launched in 2014 via a pre-sale, Ethereum is Swiss nonprofit that was designed to provide a more flexible framework for users while still being based on a similar blockchain platform as Bitcoin. While the main currency used on the network is known as Ether, other crypto-products can also be created by users themselves, offering up an infinite number of possible payment options that can be developed on this platform.
Not surprisingly, this sort of innovative payment mechanism has caught the attention of the iGaming world. Many online casinos are now taking Ether, seeing this as yet another way to provide secure and verifiable deposits and withdrawals to their players.
Joining the Network
Getting started with Ethereum first requires downloading one of the many wallet programs that act as a gateway into this decentralized blockchain (many of which can be found at ethereum.org). From there, users can hold and secure the many different products that are traded over the chain.
But this platform allows for a lot more options than other well-known cryptocurrencies. Users can also write and deploy their own currency products in a wide variety of formats, as well as utilize smart contracts to process transactions, which require verification by other users on the network. You can even use this platform to create user keys or other non-monetary "coins" that can be securely and anonymously traded.
For the purposes of playing at Internet casinos, however, we'll be most concerned with the central use of this platform: the Ether monetary system. Once you have some of this currency – known as ETH on exchange markets – in a wallet, you'll have no trouble using it at a variety of gambling sites that offer it as an option, often alongside other digital payment options.
Best Casino Sites that Accept Ethereum
How It Works
At a site that accepts this option, head on over to the cashier and take a look for the appropriate method, which may be listed as either Ethereum or Ether on their list of deposit options. In most cases, you'll be asked to transfer your funds to another account on the network that is controlled by the casino. These transactions are typically processed in a matter of moments, so you should have your money ready to play with before you know it!
Incredibly, some places that allow you to play in ETH don't even require registration or deposits to work at all. While these sites tend to be very simple (offering up dice games, for instance), they operate entirely on the blockchain itself. That means you can make a bet from your wallet, have the chain generate the random number results, and have your betting contract resolved instantly once the result is known. It's an interesting and flexible format that might see more play in the future for those who want instant, no strings attached gaming with as much anonymity as possible.
Advantages
There are several good reasons for using this method. First, ETH shares the same perks that you'll find with other digital currency options. They can typically be used for both deposits and withdrawals at most sites, and in both directions, they offer very low processing times with the highest possible levels of security on the transactions themselves, since both sides can digitally verify the flow of funds.
We also like that many sites that offer these deposits utilize provably fair systems. These use the blockchain technology to offer up ways for players to verify that they weren't cheated by the random number generators working behind the scenes. Of course, we feel that all of the reputable gaming sites that we recommend to our readers are fair and safe to play at, but some users love having this extra verification option that they can utilize just to keep operators honest.
But how does Ethereum stand out from these other digital currency platforms? For most players, the differences will be subtle at most, but they do exist. For one, ETH trades at about 1% of the price of Bitcoin at the time of this writing, making it a bit easier to get started with the coins, while still giving them real value compared to more traditional monetary units. Many players may also like the flexibility of this platform, and as we described above, there's even the possibility of running games that are completely verifiable on the blockchain itself, making for games that are low-maintenance, easy to play, and entirely provably fair. This means we may have only cracked the surface of what's possible when using this software in the iGaming industry.
FAQ
Is This a Trusted Funding Source?
The very nature of the Ethereum network make it a trusted and safe way to move money to and from gambling accounts. Because of the smart contracts system, all transactions must be verified by other users, and all parties can ensure that any contract was fulfilled correctly and accurately.
How Many Sites Accept This Method?
At the moment, this option is not yet available at many sites. However, there are a number of gaming rooms that specialize in virtual currencies that offer this among their accepted funding methods. Some websites have even sprung up that specialize in taking bets in ETH.
How Does This Differ From Bitcoin?
While Bitcoin was one of the earliest users of the decentralized blockchain system, it was designed with one particular currency and usage in mind. Ethereum, on the other hand, can be used to create an endless number of currencies and other products, all of which can benefit from the network's decentralized architecture.