Boku Casinos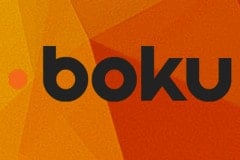 There's very little that can't be done on a smartphone these days. With most of the power of a desktop computer contained in the palm of your hand, it's no wonder that users are happy to transfer money, pay their bills, and conduct their shopping from their phones.
This is also true in the gaming industry, where more and more gambling is taking place on mobile devices. However, players want to do more than just place their bets on their devices – they want to make payments too, and companies are emerging in order to fill this niche. One of the largest is Boku, which allows users to make payments right on their mobile phone bill. That means that playing at an online casino can now be as simple as paying your next mobile bill.
Getting Started with Boku
In order to use Boku to fund your iGaming accounts, you'll need to have a couple things set into place ahead of time. First, you'll want to make sure you have an active mobile account with a major wireless carrier. Secondly, you'll need to open an account at an online casino that offers this as a payment method. Finally, it's important to ensure that you have set up your phone and/or account to allow for mobile payments; if you're using a prepaid mobile, you'll need to make sure you have enough credit remaining to cover the deposit amount.
Once you're ready, head on over to the banking or cashier section of the site where you want to make a deposit. In most cases, Boku will be offered as an option, though others may include a list of phone carriers from which you'll need to pick the company you are with.
At this point, you'll need to make it clear how much you want to deposit. Once you've submitted your request, you'll be given information on how to confirm and complete your payment. This may vary depending on your specific carrier, but will typically start with you submitting your phone number to begin the process. You may also need to share other information as part of verifying your identity.
Make sure you have your phone turned on during this process, as you will normally be sent a text or SMS message with a confirmation code you'll need to have to complete the transaction. Once you've taken all necessary steps, you'll see that your funds have been instantly added to your account. That's all you'll need to do for now: the funds you've asked to deposit will simply be billed to you on your next mobile payment, at which point you can settle up with your company.
Best Casino Websites that Take Boku
Advantages
As with many emerging payment options in the iGaming sector, there are two primary advantages that are offered with Boku. First, there's the fact that this option is extraordinarily convenient. There are no new services you need to sign up for, and no new accounts to open. Instead, you can jump right into making payments with no prior preparation, and you won't have to worry about paying until you get your next phone bill.
These factors also provide another advantage for you: the fact that you won't need any traditional financial instruments in order to complete this process. You don't need to connect a bank account or a credit card in order to get started. That's perfect for two types of players: those who don't have access to such products, and those who simply aren't comfortable sharing that kind of information online. In either case, Boku makes it easy to work around these issues.
Compared to other similar mobile payment options, this company also has an advantage in terms of reach. In both the United States and Western Europe, all of the major carriers work with Boku, meaning just about everyone has the chance to use them in these markets. That's far better than other firms that might offer similar payments, but only in a handful of markets or for a single phone company.
FAQ
Does This Method Work With Prepaid Phones?
Yes, owners of prepaid phones may use this as a deposit option. In this case, the process is very similar to how it works with a more traditional cell phone; however, you'll need to make sure that you have enough money in your account to pay for your deposits. In other words, you cannot operate on credit on a prepaid account.
Can I Use This Option in the USA?
While Boku itself is most certainly available in the United States, it is not available for use with Internet gambling in most cases. This is due to regulations such as UIGEA that prevent payments to unregulated gaming sites. However, some exceptions to this rule may exist in states that do have regulated casino or poker sites, such as New Jersey, Nevada, and Delaware.
Which Carriers Work with This Company?
Today, most of the world's major mobile networks support this payment system. These include Sprint, Orange, AT&T, Vodafone, Swisscom, and Deutsche Telekom, among others. More companies are being added on a regular basis, and at least one phone company is supported in more than 60 different nations worldwide.
Can Boku Be Used Outside of iGaming Sites?
Yes, this method is also popular outside of gambling, particularly with other forms of small online payments. It can be used (in at least some markets) with Facebook, the Google Play Store, Spotify, and the Song PlayStation Store. Many gaming companies also accept it for the processing of microtransactions.