Top 5 ePay.bg Online Casinos
Find out more about depositing with ePay.bg.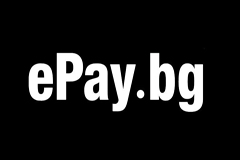 E-wallets are a popular method for depositing money into online gambling accounts, as well as a convenient and safe way to cash out winnings and make payments at a variety of merchants. ePay.bg is one such product that is specifically designed to work in Bulgaria, allowing players to fund their casino play through their bank accounts, credit cards, or by transferring in cash through an ATM.
For Bulgarian users, this may be one of the most convenient ways to handle their iGaming banking. Not only is it a fast and trusted way to handle such transfers, it supports an unusually wide range of funding methods, many of which are specifically designed for the local market.
Many casino sites that offer play in Bulgaria include this among their banking options. Our experts have looked at all of these websites and narrowed them down to a small list of highly recommended casinos. These sites have a number of excellent features, including:
Secure deposits and withdrawals through the ePay.bg system
A selection of fine slots and games from leading software providers
24/7 customer support available through live chat, phone, and email
Top Casino Websites that Accept ePay.bg
A Long History of Trusted Services
ePay.bg was founded in 2000 in Sofia, Bulgaria. The company was formed in order to allow Bulgarian users to connect the land-based methods they had access to with Internet merchants, making it easier for customers to make purchases and retailers to connect with potential buyers. Over time, the company added a number of useful services, including the ability for users to pay utility bills through their bank accounts. Today, the company is partnered with almost all Bulgarian banks, and also runs alternative payment solutions such as ePayVoice, a way to make payments over the phone through bank cards.
Many Methods, One Wallet
In order to utilize this service, you'll first need to sign up for a Microaccount with ePay.bg. You'll also need to open an account at one of the many Internet casinos that accept this as a payment method.
Next, you'll want to get some money into your Microaccount. There are numerous funding options that are available throughout Bulgaria, including the following:
Bank transfers from virtually all major banks in the country.
Using a debit card from a Bulgarian bank.
Using a Visa or MasterCard-branded credit card.
Transferring funds directly in cash from an ATM.
No matter how you choose to make your transfer, you'll be able to hold this money in your Microaccount in order to use them to fund a casino account.
It's now time to head on over to the cashier section of your casino of choice, where you'll want to find the ePay option. Choose this and allow the casino to know how much you would like to deposit. You'll then be taken over to the website to confirm the payment within your Microaccount, and add additional funds through a funding source if necessary.
Once you've confirmed your payment, you should see the money reach your casino balance in a matter of seconds. These funds are now available for real money play on the iGaming website.
You can also use this method as a way to withdraw your winnings when you are ready to cash out. Simply choose it as the withdrawal method from the cashier, and the casino will send the money back to your ePay account, after which you can cash it out in a number of ways, including receiving your funds in cash at any EasyPay office in Bulgaria.
Safe, Secure, and Fast
Making your deposits with ePay.bg comes with a wide variety of advantages. Many of these are the typical ones we always associate with e-wallets around the world. These include generally fast payments in both directions, the convenience of using a multitude of payment methods through a single wallet, and the fact that it provides a layer of security between you and the casinos you play on. We also love the fact that using an e-wallet allows players to handle all of their gaming transactions through a single source, making it easy to organize your entire bankroll.
In addition, Bulgarian players will love the fact that this is an option designed specifically for them. Not only does this network work with almost every bank in Bulgaria, but players can also fund their accounts in cash through ATMs and Easypay offices throughout the nation.
FAQ
Where Is This Method Available?
This method is exclusively used in Bulgaria, where it has the support of all major banks and many thousands of retail outlets.
Are There Any Fees?
There are some small fees charged to new accounts that have yet to be in regular use. However, "certified users" pay absolutely no fees for transfers, and many forms of Microaccount transactions also carry no fees even for new customers. Be aware that banks may have their own fee schedules for transfers from checking or savings accounts.
Can I Withdraw with this Option?
Yes, many casinos will allow you to make withdrawals back to your ePay wallet. From there, you can then cash out to a bank account or in cash using a variety of options.
What Are Some Similar Alternatives?
If this option sounds good to you, but is not available in your country, then you may be happy to know that similar options exist throughout the world. The two with perhaps the widest reach are Neteller and Skrill. There's also PayPal, which allows you to enjoy the best PayPal casinos available.