Top 5 Giropay Online Casinos
Your guide to making gambling deposits through Giropay.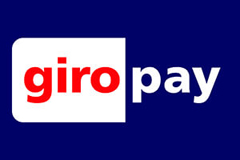 When it comes to transferring funds, few methods are considered safer and more secure than bank transfers. In the modern age, this has been updated by a number of services that allow for payments to be made directly from online banking systems, adding the convenience of web-based banking to the trusted nature of these transfers. These have also become popular in the iGaming world, where they make it easy to quickly make deposits from a trusted source.
In Germany, the top system for making such payments is Giropay which is utilised by most of the fastest paying casinos in the country. Fast, simple and intuitive, this is one of the easiest ways for German online gamblers to get money into their casino accounts without using a credit card.
Many casino companies compete for German players, but not all of them are equally reputable. Our list of trusted casinos includes honest and dependable operators who offer great features, such as:
Huge bonuses and promotions for new players
Safe and fast deposits handled through the Giropay system
All the best online casino games, from slots to table games
Best Online Casino Sites that Accept Giropay
Popular and Powerful
The Giropay system was established in February 2006 as a means to allow customers to securely make purchases online via direct transfers from their own bank accounts. The system quickly grew in popularity: by 2008, about 3.2 million transfers were handled through the program, and today, more than one million transactions are handled each month.
The system is exclusive to Germany, with most cooperative and public banks participating in the system. On the other hand, few private, commercial banks are a part of this program, though there are some exceptions (notably, Deutsche Postbank). In total, about 17 million customers can utilize this option through participating financial institutions.
Connect and Pay
In order to use this deposit method, you'll first need to sign up at one of the casinos that accepts this option. Of course, you'll also need to have an account at a participating bank in order to access this system.
Once you're ready to make a deposit, just head over to your casino's cashier section and choose Giropay from the list of potential payment options. Once you do so, you'll be asked to select your bank from a list of participating brands. Once you've done this, you'll be redirected to your bank's login page.
Once you're into your online banking account, you will see the transaction data. You'll need to verify the transaction and approve the payment. At this point, your bank should immediately authorize the deposit, debiting your account and sending the funds to the casino. In a matter of moments, you should then have the funds available to be used in your casino balance.
As Secure As They Come
There are a couple of advantages that come with using this option for making a deposit. First, like many alternatives, it is instantaneous in nature: you'll immediately see that your money is available the minute you confirm the transfer, meaning there's no waiting. It is an added convenience that this happens through the same banking interface that you've likely used to pay bills through your bank before. And since this is a trusted network that works with the systems that protect all transactions through major financial institutions, you can feel sure that your personal data and your money will be safe and secure at all times.
The only downside to this option is that it is fairly limited in scope, as only those players who utilize participating banks will have the chance to make payments through Giropay. However, for those users who do have access to this method, this is an excellent way to play at online casinos.
FAQ
Are There Any Fees?
Fees in this system are entirely paid for by merchants – in this case, the Internet gambling operators. Thankfully, these costs are small, which means that are not passed on to players, and you should never see any sort of charge related to these deposits.
Where Can I Use This Method?
Giropay is exclusively available in the German market. Only users that have accounts at participating banks may utilize it for purchases or payments.
Can I Use This to Withdraw?
Unfortunately, this is not an option for making withdrawals. Players will need to find an alternative way to cash out, such as a direct bank transfer, an e-wallet, or a check.