Top 5 WeChat Pay Online Casinos
Discover the top places to make deposits with WeChat Pay.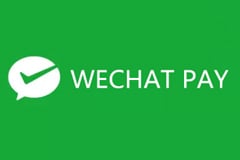 China is one of the biggest growth areas for online gambling, but how can casinos and other firms process payments internationally from this market? There are a lot of options, but one of the most useful is WeChat Payment (or WeChat Pay). This is a complete payment solution that is located directly within the popular messaging and social media platform, allowing local users to make payments in Chinese yuan but for merchants to receive these transfers in the currencies of their choice.
Fast, secure, and user friendly, this is one of the top options out there for Chinese gamblers today. The wallet is used by many people for a variety of payments and transfers, making it one that has already garnered plenty of trust from users and operators alike.
Because of its popularity in China, many websites who want to target this market accept deposits through this method. We've taking the time to find only the best casinos for our readers, which include great features and attributes like:
Huge selections of slots and other real money games
Tournaments, bonuses, and loyalty programs that add value for players
Quality 24/7 customer service support through phone, email, and live chat
Top Casino Sites that Accept WeChat Pay
A Massive Player in Chinese Communications
The story behind this payment method begins with Tencent, a massive Chinese holding company that was founded in 1998 and specializes in a wide range of businesses related to the Internet. This has made them one of the largest web firms in the world, as well as the world's biggest gaming company. All told, their market value is said to be more than $200 billion.
One of their flagship products is the instant messaging application known as WeChat. Launched in 2011, the program allows users to enjoy text, voice, and video messaging, as well as the ability to share photos and integrate with major social media networks. It is through this service that the payment option is available: if users have connected a funding source, then they have the ability to pay bills or buy goods and services, as well as transfer money to friends and other users. This has proven particularly popular during festivals, when friends can transfer funds via the app as a way of distributing digital – rather than traditional – red envelopes.
Instant Payments through a Trusted Source
One of the cool things about this network is that it provides for a number of different ways for users to make payments. When making deposits into an online gambling site, you'll of course first need to sign up with one of the reputable operators who accept this as a payment method. Next, you'll need to link a funding source to your WeChat account. This is typically a bank account, with any deposits coming straight from your checking or savings balance.
Once the prep work is done, you'll want to head on over to your casino's cashier section and find WeChat Pay among the deposit options. From there, you will be instructed on how to complete your transaction. The payment platform supports many ways for vendors and merchants to offer payments, and a particular casino might choose any of these. Most likely, you'll make the payment right on the iGaming site or in the payment app, but you might also have to scan a QR code. In any case, once you've confirmed the payment, the funds will be transferred in a matter of minutes.
Fast and Familiar, With No Fees
We're big fans of payment methods that allow players to get started quickly, and that's perhaps the biggest advantage of WeChat Pay. It's true that people need to have a payment account set up in order to use this option, but that's a rather simple process, especially since there are nearly 800 million active users in China alone, meaning most players will already have at least a basic understanding of this app even if they haven't connected a banking source as of yet.
The main disadvantage is that this method is essentially only available for Chinese users (though there are some people who have access to the app outside of the country). The good news is that many casinos based elsewhere worldwide can at accept payments through this method; recently, new partnerships have even brought this method to North American merchants, which should greatly expand its use in both general e-commerce and gaming alike.
FAQ
Are There Any Fees?
Users are never charged any fees for making deposits through this option. If there are any fees or charges, they are picked up by the operators themselves.
Can I Use This for Withdrawals?
At this time, we are not aware of any gambling sites that offer this as a withdrawal option. In theory, it could be possible, as individuals often transfer funds through the system, but normally users much choose a different way to cash out their winnings.
Is This Available in the United States?
To be best of our knowledge, WeChat does not allow for payments to be made from the United States. In fact, while there are a huge number of users who can take advantage of this platform, they are almost all concentrated in China: recent estimates suggest that while there are nearly 850 million active accounts, somewhere around 90% of those are within that one nation.