Top 5 Viva Wallet Casino Sites
Discover a great way to make deposits in Greece.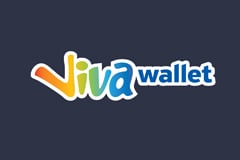 E-wallets may be the most popular class of payment mechanisms in the online gambling industry, and it isn't hard to see why. They are often versatile enough to handle both deposits and withdrawals, making them a one-stop shop for all of your banking needs, and can integrate a great number of funding sources through a single gateway.
While some of these solutions are available globally, others are more regionally popular. Viva Wallet falls into the latter category. Designed specifically for use in Greece, this product allows users to make and accept payments with countless merchants and individuals in a fast and secure manner.
If you're planning to use this option to make a deposit at an online casino, you'll have a lot of choices, which can often feel overwhelming for players. But fear not: we've taken the time to narrow them down to a shortlist of only the very best sites that accept this method. These reputable operators offer plenty of great feature, including:
Secure, fast deposits through Viva Wallet
A selection of great casino games from top software developers
Bonus offers for new players and valuable ongoing promotions
Best Online Casino Accepting Viva Wallet
Payment Services for All Greeks
Viva Payment Services SA was founded in December 2010, and has since worked to provide innovative payment services to both individuals and businesses throughout the Greek market. Licensed as an e-money institution by the Bank of Greece, their products are designed to be as secure as possible while remaining flexible to cover a wide variety of implementations across the payments industry.
Top Up and Start Playing
In order to use this method, you'll first need to sign up for a Viva Wallet account at their website. Signing up for this service is absolutely free. Next, you'll need to decide how you would like to add funds to your wallet. There are a number of ways in which this can be accomplished. The system supports payment by debit or credit card, from many bank accounts, or from what the company calls Viva Spots: thousands of locations throughout Greece where you can use cash in person in order to fill up your wallet. These include markets, gas stations, and other common locations throughout the country.
Now that you have money in your e-wallet, you can go ahead and use those funds to make a deposit. You'll need to sign up at one of the many quality casinos that accept this method, then head over to the cashier section of that website. Take a look at the payment choices, and you will find this listed among them, possibly among other similar services.
When you click on this option, you'll be asked to specify how much you want to transfer over to the casino. You'll then be asked to sign into your Viva account. From there, you can verify the details of the transaction and submit your payment request. In a matter of moments, you should see your funds hit your casino balance, making them available for play.
In many cases, this solution may also be used to process withdrawals. If this is the case, the money will go back to your wallet, from which you can further remove it to your bank account via a direct transfer. You can also store funds in this account, choosing to use them again elsewhere on the Internet.
Speed and Convenience in One Package
Like most e-wallets, one of the biggest advantages to using this method is the fact that it conveniently allows users to handle all of their payments and withdrawals from a single source. This makes it very easy to keep track of and organize your funds. We also like that a variety of funding methods are supported, including some in-person locations; this means that this is a solution that works even for those who don't have access to traditional financial instruments. On top of that, the actual transfers happen very quickly, meaning you can start playing instantly.
The only real drawbacks here are that this product is only meant for a rather narrow niche: it is designed to work in Greece, for Greek customers. That not only means that most players worldwide don't have this as an option, but also that there are relatively few gambling websites where this is accepted.
FAQ
Where Can I Use This Method?
This service is designed to be utilized in Greece, and is therefore most commonly accepted at sites targeting that market. All of the land-based points of service for this network are also located in that country.
Do I Need to Sign Up for Anything?
Yes, you will need to sign up for a Viva Wallet account before you can use this product for deposits.
Can I Use it to Withdraw Funds?
This product is designed to accept transfers in both directions, so casinos can offer this for withdrawals, though not all websites will necessarily offer that functionality.
Are There Any Fees?
There are some small fees that are charged when loading and unloading your Viva account. When adding money, you may have to pay up to a 2.9% surcharge or a small flat fee; meanwhile, sending money back to your bank account or transferring to a card costs €1.