Western Union Casinos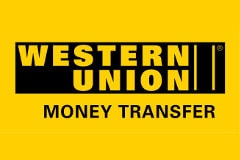 When players are looking for alternative ways to make online casino deposits, they often resort to methods that have just been innovated in the past few years. However, some of the more popular options, like credit cards, have actually been available for many decades, meaning that you don't necessarily need to be on the cutting edge of payment processing in order to get your money into the casino of your choice.
In fact, some of the most dependable options go back centuries in their histories. For instance, Western Union dates back to 1851, well before the first credit cards were issued or electronic bank transfers were even possible. For most of its history, the company was best known for being the best option in the United States for sending telegrams. But as phones became more and more ubiquitous, even in rural areas, this function waned in importance; in 2006, it was entirely phased out.
One of the company's remaining major services is its ability to process money transfers. This includes person-to-person exchanges of funds, money orders, and payments to businesses. As you might expect, even some casinos in the iGaming industry have turned to this service as a possibility for wiring deposits, particularly in markets where players might have trouble getting money into their accounts through more popular options.
How to Use
While Western Union is certainly a possibility for many players who want to make deposits, it is not a particularly convenient one, and as such it is generally used by individuals who do not have access to faster options. First, you'll need to find a casino site that accepts payments through this method; while this is not offered at most sites, there are still a fair number of options out there for those who want to deposit in this manner.
Next, you'll want to find Western Union listed among the options in the casino's cashier. Here's where things will typically get a little tricky. The process generally requires you to talk to customer service personnel to complete, as you'll need to get information from the operator in order to process such a payment to the site.
Once you've gotten the relevant information, you can go to an agent in order to send your payment. This can be done at any of the countless WU points of service that exist worldwide; particularly in and around cities, it isn't difficult to find one of these. From there, you can make your transfer using any standard form of payment – typically cash and credit cards, and perhaps personal checks – that you prefer. Alternately, you may be able to start your deposit from WesternUnion.com, where online transfers are possible through the use of a credit card.
Once you've transferred the funds, you'll get an MTCN – the tracking numbers used by the company – that you'll likely have to pass along to the casino so they know how to identify your transfer. It will likely take somewhere between one and three business days in order for your payment to reach the casino, at which time it will appear in your account balance.
Top Casino Websites that Accept Western Union
Advantages and Disadvantages
Western Union is a rather unique option when it comes to making a deposit at an online casino, and as such, it comes with a host of benefits and drawbacks that you should be aware of. The biggest advantage is that it is available worldwide and allows players to avoid utilizing traditional financial institutions or instruments. This can be important in markets like the United States, where it can be difficult to successfully process payments; it is also a possible method for individuals who don't have access to credit cards, banks, or other more common options. This is also a famously secure option, with virtually no risk of a payment being lost and no need to share any personal financial data at any point in the process.
On the other hand, the process is a slow and unwieldy one compared to most deposit methods. Rather than being able to get money into a casino in a matter of seconds or minutes right from your home, you may have to wait days before you can start playing with your funds. This is one of the last payment options that still has this delay built in, making it a poor option for most users, even though it might be absolutely essential for some potential players.
FAQ
Where is this Option Available?
There are more than a half million agents around the world who can initiate a WU money transfer, making this an option that is supported in countless locations around the world. In addition, users in 23 countries have the ability to use WesternUnion.com to pay for these transfers online.
Are There Any Fees?
Unfortunately, the answer here is yes, and there are rather significant costs associated with transfers through this firm, with fees often equal to 15% or so of the total amount being transferred. Some casinos may refund these fees for their players, especially on larger deposits.
What Are Some Alternatives?
Since Western Union is often used as an alternative to traditional banking methods, some players may be able to take advantage of other, somewhat more convenient ways of circumventing these institutions. Most notably, prepaid options like the paysafecard can still be initiated through the use of cash, but do not have the long waiting periods that these WU money transfers require.