Top 5 PostePay Online Casinos
Discover how to use a PostePay card to make casino deposits.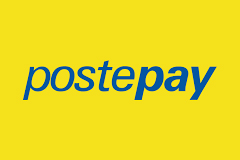 Many parts of the world have prepaid debit cards that can be used for a variety of purchases, often including making deposits at the leading online casinos. But few of these options are as well supported as PostePay, a payment system that exists specifically in Italy. This network of cards not only allows you to make both physical and virtual cards that you can use at a variety of merchants, but it also allows for numerous funding options, including at local post offices throughout the country.
Convenient, fast, and secure, this is a widely accepted payment option that is popular in the Italian market, even outside of gambling circles. You might even find that your card is widely accepted at sites where you won't see the PostePay name mentioned at all.
If you're looking for a casino that accepts this deposit method, then you'll have plenty of choices available. Our experts have narrowed down the myriad choices into a list of just the few we think are best for our readers. These casinos offer up a variety of excellent features, including:
Reliable and safe deposits through PostePay
Bonuses and promotions that add great value for new players
Hundreds of the best casino games found anywhere on the Internet
Online Casino Site that Accept PostePay
A Postal Payment System
PostePay was first launched in 2003 by the Italian post office. In the time since then, the prepaid cards have become one of the leading ways to make online purchases in Italy, responsible for about a quarter of the Internet commerce transactions in the country. As of 2015, the post office says that over 13.5 million cards had been issued to users.
These products come in a variety of types, each of which offers a slightly different experience for the user. Some cards allow users to receive their paychecks directly through the card, and there are both physical products and virtual versions that can be requested. These cards feature Visa Electron and MasterCard logos (which one depending on the specific version), allowing them to be used throughout the world wherever those brands are accepted for credit or debit purchases.
Sign and Go
In order to use this service, only a couple of steps need be taken. First, of course, users must purchase one of these Postepay cards, typically buying it at a local post office. Secondly, the card must be loaded with funds. This can also be done in cash at a post office, though some ATM outlets, over the Internet, or by other methods that may vary based on the version you have acquired.
Once you have your card and it is preloaded, you'll need to open an account at one of the many sites that will accept it. Some casinos specifically denote this brand as a specific deposit option; in other cases, however, you may be able to use your card through a Visa or MasterCard option, based on the logo that appears on your version.
Head on over to the casino's cashier section and find the most appropriate option from among the deposit methods offered. At this point, you'll have to input your card details and designate the amount you'd like to transfer. Once you submit and confirm your request, the transaction should be approved in a matter of moments. At that time, the funds will appear in your casino balance, allowing you to being real money play.
Fast, Familiar, and Popular
It comes as little surprise that Postepay is such a popular deposit option in Italy. The cards are ubiquitous there, being used very often as a method for making payments just as any other debit or credit card might be utilized. Not surprisingly, these cards also share many of the same advantages: they offer instant transfers and are highly secure. In addition, the fact that they must be prepaid means that even if the information on one is stolen, the potential damage to the user is limited when compared to a traditional credit product.
There is one minor drawback to these cards: there are fees associated with their purchase. A standard card costs €5 to activate, with some of the more feature-filled alternatives having a slightly larger premium. In addition, there are small charges when you reload funds onto one of these products, or when you attempt to withdraw cash at an ATM or post office.
FAQ
Where Can I Use This Option?
This funding method is available throughout Italy. However, its usage is not restricted to that country: thanks to including MasterCard or Visa logos, these cards can be accepted at most merchants worldwide, including the vast majority of gambling websites.
Do I Need To Register For Anything?
No registrations are required in order to use these cards. However, you will need to sign up for one in the first place, which can be done at local Italian post offices.
Are There Any Fees?
There are a variety of small fees associated with this system. A charge of €5 is levied when you first acquire your PostePay, and there is a small cost for withdrawing cash or reloading funds into your account.
Can I Use This to Withdraw Funds?
Unfortunately, these cards cannot be used in order to cash out your winnings. Instead, you will need to arrange for an alternative way to receive your funds, such as an e-wallet or a bank transfer.