Dotpay Casinos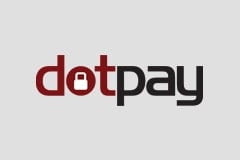 The online gambling world offers countless ways to process payments. However, it isn't always simple for operators to offer each and every one of these options. Integrating them all into a single payment backend system can be difficult, if not impossible, and that means that casinos often have to make difficult choices on what to accept.
However, this is beginning to change as third-party gateways are beginning to become more popular throughout the industry. These platforms allow sites to work with a single processor who can in turn handle the multitude of payments that players would like to make.
One such example is Dotpay, a gateway system that has gained prominence in Poland since being established in 2001. Designed to make integration as easy as possible while still offering clients as many ways to pay as possible, this is a perfect solution for casinos who want to give players lots of options while keeping things simple on their end.
How to Use
In order to use Dotpay to make a casino deposit, you simply need to sign up at a website that offers this as a payment option. Head into the cashier, and you may see this as a separate option; it may also be the entire basis of a site's deposit system.
In either case, the biggest advantage of Dotpay.pl is that it offers players an incredible variety of ways to complete their deposits. You can choose any of these methods, depending on what resources are available to you and what you find the most convenient. Depending on what you pick, you will need to provide some additional information, such as card numbers or bank account information.
A complete list of the available payment methods can be found at Dotpay.pl. However, we can run down many of the common options here. Choices include:
Credit Cards: This is a common way to make payments online, and this system supports most major card brands. That includes Visa, MasterCard, Diners Club, Maestro, Electron, and JCB.
Bank Transfers: Almost all major Polish banks (and some international financial establishments) are accepted through this platform in one of two ways. In some cases, you may be able to process a payment straight through an online banking system, while in others, a pin or token will be given to you after which you can complete the transaction by heading to the bank's website.
Cash: While this is not an instant payment method, users do have the option or printing out a bar code or receipt number and taking it to a retail outlet in Poland, where they can complete their transaction in cash. Points of sale for such transactions include Freshmarket, Zabka, Kantor Polski and more.
Web Billing: Players may be able to make payments via their mobile phones by having the amount charged to their next bill. T-Mobile is the primary carrier supported at the time of this writing, with the company saying this is the first such offering of its kind in Poland. Services such as mPay and SkyCash are also supported.
Paysafecard: This prepaid option is one of the most popular options for users who don't have access to more traditional online payment methods. Players can pay for a voucher which can then be redeemed at casino sites – or in this case, through the DotPay system.
Other possibilities might also be offered depending on the site you're playing at. For instance, this portal supports PayPal as an option. However, PayPal's policies only allow it to be used at legal betting sites that are regulated and licensed, so they will not be a viable option at foreign-based sites.
Top Casino Websites that Take Dotpay
Advantages
Most of the advantages of using Dotpay are evident on the operator's side of the business, though that's not to say that players won't see benefits as well. The fact that so many payment options are supported through this gateway means that no matter what you have available to you, you'll be able to play on sites that work with Dotpay.pl. Essentially, all of the advantages enjoyed by each of the payment methods described above are present here, all in one package.
If there's one disadvantage, it is that these options are made all-so-slightly less convenient by the fact that they are packaged inside of this gateway. But at most, that might add a minute or two to the process; overall, this is a program that makes things easier for players and operators alike, with no real pitfalls.
FAQ
Do I Need To Sign Up for This Network?
No previous signups are required in order to make deposits through the Dotpay.pl system. However, some of the supported funding sources might require previous accounts, such as a bank account or a mobile phone contract.
In What Countries Is This Method Available?
This processor is based in Poland and is primarily utilized in that country. Technically, however, it is set up to process payments worldwide, so you may also see it offered on sites based in some other nations, and some of the funding sources are certainly international in nature.
Can I Request a Withdrawal Through This Method?
At the moment, we are not aware of any sites that offer withdrawals through this processor. However, many of the options contained within this portal, such as bank transfers, may be potential avenues for receiving your winnings.