PasteandPay Casinos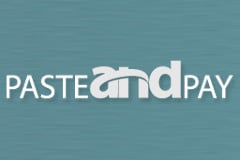 For many players, using a credit card or an e-wallet isn't a viable solution when they want to make a deposit to an online casino. This is especially true for players in the United States, where there are fairly strict controls over what kinds of transactions banks and other financial institutions are allowed to process.
Thankfully, there are other options available to players in the USA or elsewhere. Prepaid cards and vouchers are a common way to avoid traditional financial instruments when making online casino deposits, and PasteandPay is one of the most popular prepaid options available today.
What is PasteandPay?
PasteandPay is an online voucher system that allows individuals to buy virtual vouchers that act as a way to store value online. Users can buy vouchers by using a credit card, then use them to make purchases online.
Can I Use PasteandPay to Play at Online Casinos?
Many casino sites accept PasteandPay vouchers as a form of payment for making deposits. If you have purchased a PasteandPay voucher, any of these casino sites will allow you to deposit using whatever money you have on it, provided it meets their minimum deposit amount.
Best Casino Sites that Take PasteandPay
How to Use PasteandPay
PasteandPay is a pretty easy system to use, but it does require some setup on your part before you can make deposits using their vouchers. First, you will need to sign up for an account at Pasteandpay.com. In order to do so, you will have to go through some registration steps to verify your identity, including sharing a mobile telephone number, and either a Social Security or passport number as well. You will receive a PIN at the mobile phone number you provided, at which point you can confirm it and complete your account registration.
Next, you will need to register your credit card to keep on file with them. Once this is registered, all voucher purchases on the site will be made using that card.
Now that you have your account set up, you can begin purchasing your vouchers! You can choose from some premade vouchers, or you can create custom vouchers for whatever amount you want. Once you have successfully bought one, a 36-bit voucher PIN will be sent to you, either on your mobile phone or by email.
Finally, it's time to use that PIN at an online casino. Head over to one of our recommended PasteandPay casinos and enter the cashier. There, you should see PasteandPay as an option (it may also be listed as EZ Voucher). Provide your voucher PIN and the amount you want to deposit, and your money should be credited to your casino account instantly.
Advantages of Using PasteandPay
The great thing about PasteandPay is that it opens up the world of online casinos to players who otherwise wouldn't be able to deposit money into an Internet gaming site. If you live in an area where you can't simply deposit with a credit card or sign up for an e-wallet like Neteller, PasteandPay offers you a way around those restrictions without any additional fees or costs.
The tradeoff is that PasteandPay isn't nearly as convenient as those options. The multi-step verification process may seem annoying, but that only has to be completed once; after that, you will be able to purchase vouchers whenever you want without any additional steps being necessary.
Even some users who can deposit in other ways may prefer to use PasteandPay. For instance, if you want to use a credit card but are reluctant to share that information with Internet gambling sites, you can instead register the card with PasteandPay, so that the information is only stored there.
PasteandPay FAQ
How much does it cost to use?
There are no additional costs when buying vouchers. All transaction costs are paid for by the casino (or other merchant) where you spend the voucher.
Is it safe?
Past and Pay vouchers are secure, but there are also some precautions you should take while using them. Never share your voucher numbers with anyone, and only put in your PIN when you intend to spend the voucher. In other words, treat your PasteandPay vouchers like cash, as you may not be able to get a refund or cancel a voucher if a PIN is stolen.
What can I do if I can't use PasteandPay?
There are plenty of other deposit options that can be used if PasteandPay isn't right for you. For instance, you might be able to use the same Visa or MasterCard that you would use to purchase vouchers, and instead use that card to deposit at an online casino. If they are available to you, you could also try an e-wallet solution such as Neteller or Skrill.
How much can I deposit using PasteandPay?
Each online casino will set its own deposit limits for PasteandPay deposits, usually including both a minimum and maximum amount.