Top 5 Pago Efectivo Casinos
Discover how you can gamble online with Pago Efectivo.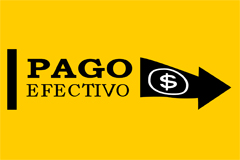 If there's one thing that we like to see when it comes to online casino payment methods, it's a system that gives players plenty of options to use. Why stick customers with only one potential way to make a payment when it's possible to give them different avenues that will allow them to get into the casino game?
That's why we're fans of Pago Efectivo, a payment system that originates in Peru. This company actually offers up two different ways to pay: a rechargeable Visa card, and an online code system that allows users to make payments from their bank accounts. Regardless of the manner that is better for you, each of these alternatives allows you to make safe, secure payments to a range of different sites, including many casinos.
If you're looking for a gaming website where you can use this method, you're in luck: our team of industry experts has narrowed down a list of a handful of the very best sites accepting this option. At these sites, you'll enjoy safe and fair gameplay as well as a host of great features, including:
Fast, safe deposits through Pago Efectivo
Hundreds of great slots, table games, and more casino options
24/7 customer support available by live chat, phone, and e-mail
Casino Websites that Take Pago Efectivo
A Widely Accepted Peruvian Solution
The Pago Efectivo system is made up of two separate offerings, each of which is strongly supported throughout Peru. For instance, the rechargeable Visa is a fully functional chip card that doesn't even require a bank account to acquire. There are more than 40,000 locations in Peru where the card can be recharged, or funds can be added via the Internet. The card can then be used anywhere Visa is accepted – which means most merchants located anywhere in the world or on the web.
Meanwhile, the CIP payment code system allows users to pay from their bank account or from any of those 40,000 locations in order to make online payments. Users make a payment at their merchant of choice, and then receive a code. This code can be taken to any of the payment centers – which include many bank branches, along with outlets like Western Union – where users can make payments using cash or other means, without ever having to share their financial data online. You can also pay through online banking systems after receiving your code.
Two Ways to Deposit
If you'd like to make a deposit using this option, you have two clear options. First, you can find a casino that specifically accepts Pago Efectivo; this will allow you to use the CIP payment code method in order to transfer funds to your gaming balance. More generally, you can also use any site that accepts Visa if you're willing to use one of this company's reloadable cards.
If you would like to use one of these cards, you'll have to sign up for it first. This can be done at the Pago Efectivo website. You can then immediately load funds on it from a bank account or other funding source, or head to one of the many banks and other agencies that support this system throughout Peru.
At this point, you should have everything you need to get started. Head over to the casino of your choice and log into your account. In the cashier section, you can choose the appropriate payment option. If you're using one of the preloaded Visas, then you'll want to pick the credit card method. From there, you'll use your card just as you would any other, entering the number, name, expiration and other data, along with the amount you wish to deposit. Submit your request, and in a few moments, you'll get a response. If the transaction is approved, the funds will immediately appear in your balance.
If you're using the CIP code system, then you'll want to look for that in the list of deposit choices. When you do, you'll be asked to specify how much you want to transfer over to the casino. At that point, you'll be given a payment code; you can also have that number emailed to you to ensure you won't forget it. You'll now have to take this code and use it to make your payment, either through your online banking system or by heading to any of the agencies and outlets in Peru that can accept cash or other ways to pay in person. Once you complete the transaction, the casino will be notified, and the funds will appear in your account.
A Secure Alternative to Sharing Your Data
Pago Efectivo is another of the many deposit methods that are designed to appeal to players who are less than comfortable sharing their banking and financial information over the Internet, or with casinos in particular. Both of these methods offer up extra layers of protection for players. The preloaded card is essentially fraud proof; even if it is somehow stolen and used before you can report the issue, only the amount you've already loaded can be spent. Meanwhile, the code system is even safer, as it allows for payments to be made in cash – meaning you never have to share any data over the Internet.
There is one downside to the CIP system, however: payments made through it are not as instantaneous as with many depositing alternatives. This is especially true if you plan to pay in person: you'll have to go out and visit a physical agent in order to process your payment, which takes time to complete.
FAQ
Where Can I Use This Option?
While there is some limited usage of this method in some other markets, this option is primarily designed for usage in Peru.
Can I Use This to Withdraw Funds?
Unfortunately, this system cannot process withdrawals. Players will need to find an alternative way to cash out their winnings, such as by wire transfer or an e-wallet solution.
Do I Need to Sign Up for Anything?
No registration is required in order to make one of these payments by code. However, you will need to register for the service if you would like to set up a reloadable Visa card.