LavaPay Casinos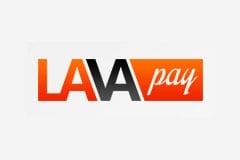 Throughout the world, players use dozens of different payment methods in order to move money in and out of their online casino accounts. Depending on exactly where they are located and what is available to them, these options can be fast and convenient or extremely obtuse, requiring several steps to get around local regulations.
LavaPay is a system designed to help both operators and customers work more easily around the more difficult problems sometimes faced with payment processing. Described as an all-in-one option, LavaPay acts as a middleman, allowing you to use any deposit method you like to initiate a transaction, after which the company will forward your money to the site, streamlining the process for all involved parties.
Using This Service
If you are playing at an online casino that accepts LavaPay as a payment option, you won't have to do anything special beforehand to use this method. Simply choose this when it appears in the cashier section, and you'll instantly be able to use any of more than 120 different payment options in order to fund your account.
This is similar to using other e-wallets. As with using Neteller or Skrill, you'll be able to use any number of different deposit options – ranging from credit cards to SMS payments, prepaid options, and web-based banking systems in order to fund your account. You can also use this platform to store value, after which you could use the funds in your account in order to make deposits (or accept withdrawals) at other sites that use LavaPay.
It is possible that you may need to do some account verification when you first use this service. This is particularly true if you attempt to link a bank account in order to make payments. The company has made efforts to make this process faster and easier, particularly in Russia and Ukraine.
Top Casino Sites that Take LavaPay
Popularity
At the moment, only a handful of casino sites offer LavaPay as an option. These include sites that are available in many parts of the world, including a few that offer real money play in the United States. Given that this service is relatively new, it is possible that more sites may begin using it in the future; however, for now, you are unlikely to run into this option at many major gaming sites. Beyond that, this platform is used by a handful of other sites (including some that trade in Bticoins and other cryptocurrencies), but it is not yet widely used either in or out of the gaming world as of yet.
FAQ
When was the Company Founded?
LavaPay was founded in 2013, but it appears that the company first began taking clients in 2014.
Where Is This Method Supported?
While few sites currently use this payment processor, one advantage that it does have is that it is not geographically restricted. We have seen it offered on sites that accept players throughout the world, and an account can be funded using many of the popular local methods in various jurisdictions. This makes it worth consideration almost no matter where you are playing from.
Why Aren't More Sites Offering This As An Option?
Because LavaPay is still a relatively new payment option, few sites have signed on as clients so far. However, it is possible that it could become more widespread over the next few years, especially if the wide range of funding options make it appear to be a viable alternative to more established competitors like Skrill and Neteller.
Can This Method Be Used Outside of Casinos?
At the moment, this method is only offered at a few select sites either inside or outside of the gaming industry. It remains to be seen whether this method will find more acceptance in the general e-commerce world in the years to come.