eKonto Casinos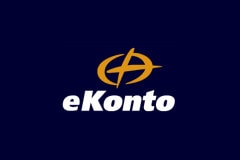 One of the biggest categories of deposit options in the iGaming industry is bank transfers. While they might not be quite as convenient for many players as credit cards, using a banking account of some sort to fund your play comes with its own advantages: the safety and security that comes with trusting a financial institution to oversee the transfer, and the knowledge that you're always playing with your own money, with no opportunity to take on debt you won't be able to afford later.
But is there a way to make this idea even more appealing to players? One product that may have done so is eKonto. This online savings account offered by the Raiffeisen Bank in the Czech Republic allows for easy and direct online payments to many merchants in the country, including some online casinos. With a number of advantages that are designed to make these accounts appealing to users, this might be an interesting option for Czechs even if they have to open a new Raiffeisen account to use it.
How to Use
First, you'll need to find a casino that accepts this payment method. Many sites that offer gaming to the Czech Republic have eKonto on their list of deposit options, so this likely won't be a problem for most users. Next, you'll need to have an eKonto account, which is available to anyone who banks with Raiffeisen.
Once you're ready to deposit, just find this method listen among the payment options in the cashier of the casino you plan to play at. Once you click on this option, you'll be asked to enter the amount you want to deposit. You'll then be redirected to the Internet banking system, where you'll need to open your account and confirm all of the relevant information. Once this is done, the transaction will be initiated; in a few moments, you should find the money in your casino balance, ready to be used.
There are also some other ways that you can use your bank account in order to fund a deposit. One option is by using one of the debit payment cards that can be attached to these accounts, including several Visa and MasterCard options, some of which are virtual cards that only exist online. These cards may be utilized through the appropriate cashier options (such as Visa or MasterCard), and some alternatives may also be available directly through the eKonto option.
Best Casino Sites that Take eKonto
Advantages
The biggest advantages you'll find when using this method are the ones typical to any Internet banking system. They offer the same level of security and peace of mind as any bank transfer, and prevent casinos (or third parties) from seeing your personal or financial information while making a transfer. Because these transactions are handled instantly, there's almost no waiting time, meaning you can quickly and easily get started playing.
However, eKonto also comes with a few benefits that are uniquely its own. The biggest of these is that Raiffeisen attaches some rather notable rewards to these accounts, from high interest rates on any balances you carry to offers and rewards programs for those who frequently utilize their account to make purchases.
FAQ
Where Can I Use This Option?
At the moment, eKonto is only available in the Czech Republic, as it is offered by Raiffeisen Bank in that country.
Can I Process Withdrawals with this Method?
While it might be theoretically possible for a casino to pay out a player via this method, we have not seen this offered at any site as of yet. That means that, for now, this should be considered a deposit method only.
Are There Any Fees?
One of the downsides of this method is that there are some times when fees are associated with transfers and purchases made through this banking system. However, as far as we've seen, any fees that are charged in gambling transactions are paid for by the casinos rather than by the players, so this shouldn't be an issue when playing online.