DirectPay Casinos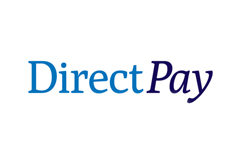 Here at VegasSlotsOnline, we sometimes find out about new deposit methods not because they are widely used, but because a particular site promotes them to its users. That's the case with DirectPay, a new casino bank transfer option available at 5Dimes casino.
There's not a ton of information about this US casino deposit option, though it works similarly to other bank transfer options. With several different ways to move money from your bank account to 5Dimes, this is likely to become a popular option among users who aren't able to access more traditional banking methods at the casino.
Depositing With DirectPay
DirectPay is an online casino bank transfer system that offers you several different ways to move money into a 5Dimes account. However, all of these work in similar ways. Essentially, you'll be making a bank transfer from a standard bank account, either electronically or directly in person at a branch location.
According to information provided by the operator, there are three ways to make a 5Dimes DirectPay deposit. Firstly, you have the option of walking right up to the counter at your local bank. From there, you can use an out-of-state deposit slip to put money into your gambling account, using information provided by the casino. According to 5Dimes, interested players can contact its customer service by email to get the necessary details to make such payments.
Another option is to make an electronic transfer through your online banking platform. Once again, 5Dimes will provide you with the necessary details to process the payment, with a limit of three transactions per day allowed.
Finally, you can make DirectPay deposits via bank wire using details provided by the casino. This last option is best suited for players who want to make large deposits, as there is no maximum transaction amount.
Top Online Casinos that Take DirectPay
What Sites Offer DirectPay?
At the time of writing, it appears that DirectPay is only available as a 5Dimes deposit method. In fact, it seems to be an option created and named specifically by 5Dimes – meaning that while there are similarly named programs elsewhere, this specific option can only be found on the 5Dimes website.
Given the small amount of information available about DirectPay, it's unclear whether this is just the casino's name for its internal casino bank transfer system, or a program that might appear on other sites in the future.
Advantages and Disadvantages
While we may not know everything about DirectPay, there are a couple of obvious advantages to this US casino deposit option. There's the fact that this method can be used to directly deposit cash – something that can help players who don't have access to more traditional banking methods. We also like that DirectPay can support very large deposits through the bank wire option.
The main disadvantage is that we simply don't know much about DirectPay. While casino bank transfers are a normal way to get money into gambling accounts, we can't talk about the track record or trustworthiness of this particular option.
While we trust 5Dimes to offer safe banking methods, many users may be turned off by the lack of information available when it comes to this system.
FAQ
Where can I use DirectPay?
At this time, DirectPay is only available as a 5Dimes deposit method, and no other casinos offer it as an option.
Are there any deposit limits?
Technically, DirectPay does not have any daily deposit limits. There are limits on the cash and electronic transfer options, but bank wires come with no such maximum transaction amount.
Can I use DirectPay to deposit cash?
Yes. You can make a 5Dimes DirectPay deposit in cash by going to your local bank and using an out-of-state deposit slip to initiate a transfer.
How can I get more information on DirectPay?
To learn how to make a DirectPay casino deposit, you are advised to email 5Dimes customer support who will provide you with more information.