Beeline Casinos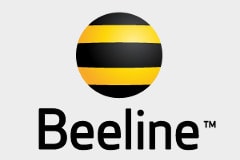 Mobile payments have become one of the fastest growing methods for making online casinos deposits in many parts of the world. These transactions have obvious appeal to players, as they don't require them to open any new accounts or worry about racking up debt. Instead, the payment just goes on their mobile phone bill, or is taken off of the account balance of a pre-paid phone.
In Russia, one of the larger carriers that can potentially be used for this service is Beeline. Owned by OJSC VimpelCom, this telecommunications company has a variety of cellphone options for their customers, including pre-paid accounts that allow for instant iGaming payments.
How to Use
In order to use this deposit method, you'll need to be a customer of Beeline. We've only seen reference to making payments from a pre-paid account, though if you have a contractual billing agreement instead, you may also be able to have deposits charged to your monthly bill. For the rest of this section, however, we'll be discussing the more common prepaid option.
To make a deposit, you'll need to have enough funds left on your phone in order to cover the amount you want to transfer. Additionally, keep in mind that Beeline has limits on the size of payments you can make in this way, so be sure the amount you want to deposit is under that limit. Finally, have your phone with you and turned on.
Next, you'll need to join an online casino that accepts these types of mobile payments. Head on over to the cashier at your chosen site, and click the appropriate option (it may specifically mention Beeline, or it may be a broader "mobile payment" option). At this point, you'll need to input your phone number, as well as the amount that you want to deposit.
Once you've submitted your request, you'll need to wait a few moments. Soon enough, you should receive an SMS or text message on your mobile. That message will include instructions that will allow you to verify your payment, and complete the transaction. Once you've taken these steps, you'll get another notification that will let you know that the payment has been successfully completed. In a few moments, you should see the funds hit your casino account, available for play immediately.
Best Online Casino Sites that Accept Beeline
Advantages
The biggest reason to make deposits using Beeline is the incredible degree of convenience that it provides to players. There's no need to open a new account, find a third-party to transfer your money through, or worry about whether a credit card will be rejected.
In fact, you won't even have to make any payments to complete your deposit: since you prepaid for the phone balance, you're not spending any new money at all. What you're really doing is trading minutes and/or data for cash in your casino account.
Of course, there are other benefits as well. The speed with which these transactions are processed is as fast as any method, and many users also appreciate the fact that there are strict limits and no credit offered – meaning you can't build up debt or go overboard with your gambling if you stick to these sorts of payments.
FAQ
Where is this Method Used?
Beeline is a Russian telecommunications company. As such, this method is almost exclusively offered within Russia, with rubles being used as the currency.
Are There Similar Methods I Can Use Elsewhere?
This deposit method is becoming increasingly popular throughout the world. In Russia alone, firms like MTS, Megafon, and Tele2 also offer such services. Worldwide, companies like Boku and Zimpler have partnered with various carriers in different markets to allow users to make similar deposits.
When Do I Pay for My Deposit?
With this option, you will have already made your payments when you pre-paid for your phone service. That means that no new funds need to be transferred when you make your deposit.