Texas Hold'em Plus
Ready to play Texas Hold'em Plus for real?




Best Casinos That Offer Table Games Games: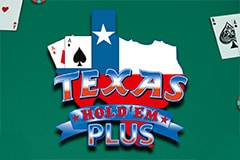 Texas Hold'em Plus Review
Scientific Games' collection of poker games never stops thanks to constant additions like the Texas Hold'em Plus game. The developer has a knack for creating perfect representations of fan-favorites and such is the case with this game.
Yet another Shuffle Master-SG Digital collaboration, it follows the well-established rules of the popular variant, but with an added plus. The plus is like a bonus bet with great payouts dependent on your hand. The side bet adds a much-welcomed thrill to the game and makes it all the more exciting and rewarding.
Don't worry if you're new to the Texas Hold'em Plus online game – there's a handy tutorial that covers all the basics built within the game.
Lifelike Graphics
SG Digital and Shuffle Master are known for producing perfect-looking, lifelike poker tables and it's not any different in this case. The table features the well-known green felt and the layout is pretty standard for a Hold'em game. The chips are laid out on the bottom of the table and the shuffle machine is in the top left corner.
The Texas Hold'em Plus online game is perfect for beginners thanks to the great layout and the helpful guide on how to play it. All the bets you can place are nicely laid out for your convenience. All you have to do is place the virtual chips on each to start the round.
Apart from the Ante and the Flop, River, and Turn spots, you can also place bets on the Plus side bet. Once you click on Deal, virtual buttons will allow you to continue the action seamlessly across any device.
Bet Whatever You Like
The bet sizes in Texas Hold'em Plus online game are nicely stretched so they're suitable for any and all bankrolls. You can go as low as 0.10 or as high as 50 if you think you have what it takes for high-stakes games. All these options can be placed on the Ante or any of the other options, including the Plus bet.
You'd probably want to know the theoretical return to player of the game. We can confirm that it stands at a reasonable 97.01% for the base game and 91.1% for the Plus bet. Once your bets are placed, the game begins with two cards dealt to you and the house. Check your cards and you'll get the option to fold or double the Ante. If you fold, the round ends. Size up your ante and next comes the flop.
During the flow, three community cards will be added to the table. You have to place a chip on it first. The process continues with two more cards (Turn and River) – you can place bets if you're sure you'll win or check. As soon as this is over, Texas Hold'em Plus will compare the hands and handle payouts. You can then rebet & deal again or go for an entirely new bet.
Win Proper Payouts
A Player win awards a 2x bet. However, if you win with a hand less than a straight, it's a Push on the Ante bet. You can still win money if you've placed a bet on the Plus. Player wins with a hand rank of Straight or higher are worth 2x Ante. Of course, just like in most poker games, if your hand is equal to the house's both the Bet and Ante are pushed.
Play the Texas Hold'em Plus game for real money and you have the opportunity to win solid sums. Of course, it's a good idea to try the goods before you buy them (play for free) to see how the game works.
Win Plus-Sized Payouts
Everything in this game revolves around the Plus side bet. It is essentially a side bet that can bring you extra money if you have a good hand. A Pair of Aces is worth 30:1, while a suit of an Ace and King pays 25:1. The lowest payout is a pair of 2 to 10 which pays 3:1.
The bonus bet is a nice way to earn more money in the game. Even if the round ends in a Push, your Plus bet might still win.
More Hold'em Action
If you crave for more of the same, Ultimate Texas Hold'em is a good choice. Called by many as the ultimate poker adaptation, it comes with a relatively low house edge and gameplay suitable for novice players and poker pros.
If you want a jackpot thrown in the mix, Casino Hold'em online might pique your interest. Place a bonus jackpot bet before the round begins and you may emerge a winner even if your hand loses.
A Game on the Plus Side
Texas Hold'em Plus online game offers regular Hold'em action spiced up with the Plus side bet that can pay nicely for pairs. It's a well designed game will cool gameplay that pays out great prizes if you have what it takes to beat the house.
You can play the Texas Hold'em Plus game for free or go high roller-style in real money mode. Available in Scientific Games online casinos, it's a poker variant that deserves a shot.