Spy Game
Ready to play Spy Game for real?




Best Casinos That Offer Rival Gaming Games: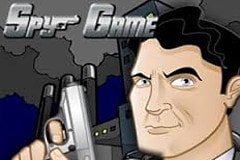 Spy Game Slots
If you've always fancied finding a spy slot game that will leaven you stirred but not shaken – then it's time to play Spy Game, a Rival Gaming slot in which you can bank wins with a lot more than Double 0's in them!
Simply throw on your tuxedo, slip your Walther PPK in your holster, and buckle-up inside your Aston Martin as you take up your role as a Super Spy with the Spy Agency, and take on your mission to try and destroy some weapons of mass destruction. You will, of course, also be trying to get the sexy girl in the rather sexy skimpy red outfit and matching high heels – definitely a case of the Pussy Galore!
Spy Kit
It just wouldn't be a spy mission without a visit to the quartermaster, or Q as he likes to be called, and martinis, cameras, briefcases and Aston Martins are all the order of the day. The great news is you can win prizes for lining-up 3 to 5 matching icons of any part of your spy kit, with up to 30 coins for martinis, 40 coins for cameras, 60 coins for briefcases, and 100 coins for Aston Martins. There's also up to 200 coins for nuclear missiles, 400 for "00" Agents, and 800 coins for the aforementioned Pussy Galore.
The Mission
As Spy Game is one of Rival Gaming's iSlot collection, the bonus Round is both progressive and interactive, and there are several stages of the mission to complete.
To complete stage-1 you must first spin in 3 or more Walther PPK icons which will trigger 10 Free Spins in which you can enjoy a 4x prize multiplier. During your free spins you can then try and assemble the bomb you will need to destroy some Weapons of Mass Destruction. To assemble the bomb you must find 3 Scatter Symbols, which are the C4 Explosive, the wires, and the detonator, after which you will have to choose a building – preferably the one which is storing those Weapons of Mass Destruction.
Next time you trigger the Bonus Round you will have to take out some guards, whilst the final part of the bonus is to collect the tools you will need to escape from the building, and then meet up with the girl – and that's how any good spy story ends!
Spy Training doesn't have to cost much either, and you can spin into action from as little as 0.01 coins a spin, though Super Spies can adopt the guise of a high-roller with bets of up to 75 coins a spin. Simply choose your line-bets by combining coin-values of 0.01 to 1.0 and 1 to 5 coins, the stake these on anywhere between 1 and 15 lines a spin.
Rival Gaming just love to thrill and excite and, come on, who doesn't want to be a spy for at least one day in your life! If you take-up the challenge of being a Super Spy, then you better be good with that free-spins trigger, be able to handle explosives, know how to please a good-looking woman – and be able to count your winnings all in a day's work!
Rival Gaming Slot Machine Reviews (No Free Games)