High Noon Saloon
Ready to play High Noon Saloon for real?




Best Casinos That Offer Parlay Games Games: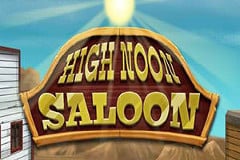 High Noon Saloon Slot Machine
Slot game players are always willing to go on an adventure, provided that there are some big wins at stake. And what better settings for such an adventure than the American Far West?
High Noon Saloon is a video slot game designed by the team at Parlay Games that transports players all the way to the frontier, where civilisations clash and disputes get settle around a glass of whisky at the saloon – or through an old-fashion pistol dual. Here we will discuss the ways players can get away with great rewards without having to shed a single drop of blood.
Read our complete review of High Noon Saloon if you want to learn more about this unique slot game…
Pure Far West atmosphere
High Noon Saloon is entirely dedicated to creating a believable, Far West-inspired universe for players to enjoy.
The reels literally take almost all of the screen space available, but the animated symbols and dynamic transitions between spins turn the game into a real show. You can expect to witness a lot of action and catch plenty of fun details all over the game screen.
With its upbeat banjo tuned, High Noon Saloon plays all its cards and recreates the ambiance of an actual saloon in a frontier town quite faithfully.
Some basic rules
Getting started in High Noon Saloon is no tricky business. If you have even just a little experience with slot game, you should feel right at home. Otherwise, let's run you through the basics here.
The game matrix supports five reels with three symbols on each, and 20 paylines in total. All you need to do in order to start winning money is make sure that winning combinations of symbols land on activated paylines. To adjust your settings, head to the command bar located at the bottom of the game screen. The various switches available can help you change the number of activated paylines and of coins you put on the table, as well as the coin value itself. Remember than bigger bets yield bigger wins in the long term, so why not go all-in and click the Bet Max shortcut? This will activate all paylines at once to maximise your future profits.
And as always, if you would rather sit back and enjoy the show for a moment, switch to Autoplay mode. The reels will spin on their own with a constant bet for as long as you let them. You can configure the Autoplay mode for as long as 750 consecutive spins.
Nine typical frontier town icons
The paytable of High Noon Saloon contains nine different symbols, all related to the game universe.
The first and most frequent icons are the Cactus, the Horseshoe, the Pistols, the Cabaret Dancer and the Saloon Doors. Their rewards might not be that impressive, but you will have plenty of occasions to score multiple win with them as you progress through the game.
The Tomahawk, the Wanted Poster, the Indian Chief and the Sheriff Star are a big more rare on the reels. But the rewards they yield are also far more interesting. So keep your eyes peeled and try not to miss any of these super symbols if you want to score big wins right from the start.
Three more special symbols for extra high stakes
High Noon Saloon would not be a slot game worthy of the name without a few special symbols to its paytable. And it starts with the Wild card, able to replace any of the other symbols mentioned before. The Bandit, as it appears, is also the most valuable symbol of the game so try to line them up if you want to hit a high win.
The Horse symbol is a dedicated Free Spin Scatter symbol. It can only appear on reels 3, 4 and 5 and when it does so in the same turn, you win no less than 13 free games. All winnings are also tripled during the Free Spins.
The Bonus symbol is yet another Scatter, which can appear anywhere. You need three or more of them to initiate a simple pick-and-win mini game. Find out where the highest rewards are hidden on the screen, and make them yours. The more Bonus Scatters you find, the more picks you get.
Swoon at Noon?
High Noon Saloon might not win over players with its originality, but it is nonetheless a solid slot game with good arguments.
The winning possibilities are real, and it is relatively easy to trigger one of the different Bonus games. So get on your best horse and set out to conquer the Far West, you might just find a lot of gold along the way.
Parlay Games Slot Machine Reviews (No Free Games)