Golden Bars
Ready to play Golden Bars for real?




Best Casinos That Offer Joyplay Games: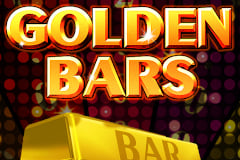 Golden Bars Slot Review
The Golden Bars slot machine is based on the traditional games you typically see in land-based casinos. This game was developed by Joyplay, a company that has expertise in many areas, including classic slots. In this game, players will spin well-known retro symbols, including the lucky sevens, bars and wilds. There are 9 paylines to win across.
When you play the Golden Bars slot online, you can trigger the wild wheel. There is also a multiplier bonus up to 50x that can multiply a matching line win. Look out for the mystery bonus that can appear over any item on reel 3.
Enjoy a Classic Theme
The Golden Bars online slot was developed by Joyplay, a company that was founded in 2005. This developer is made up of a team with many years of experience and they have developed a range of products. Many of the Joyplay slots appear at the fastest-paying online casinos and there is a lot more to come.
When you play Golden Bars for free or for real money online, you will recognise some of the classic slots symbols. The majority of the locations on the reels are filled with lucky sevens and bar symbols. The highest-paying icons are the multipliers and the wilds. The bars are the lowest-paying symbols in this game.
Low Stakes for You
In the Golden Bars slot machine, there are 9 paylines to bet across. The minimum stake is 0.5 credits and the maximum stake is 1.5 credits. These stakes are relatively low in comparison to other mobile slots that we have tried. This was likely done to keep the game as close to the traditional slots as possible.
This game has medium volatility and is well-suited to players who are keen to keep the stakes low. We were unable to find the RTP for this game online. The paytable details all of the payouts.
Symbols
Three on a Payline
Trigger the Mystery Bonus
In the Golden Bars online slot, there are a few bonus features that you'll want to look out for. The wild symbol will substitute for any other on the reel in order to trigger a win. If you happen to turn the reel purple in this game, you'll get a spin on the wild wheel and this can trigger an even larger win.
In this slot, there is also a multiplier bonus of up to 50x, which will multiply the matching line win. There is also a 20x multiplier on offer in this game.
While playing the Golden Bars slot online, you can also trigger a mystery bonus. This can award 7.5 credits and can appear on any item on reel 3. Look out for this exciting feature as you spin the reels.
Great Games With Traditional Designs
The Golden Bars slot machine focuses on the classic slots theme, which is immensely popular. Luckily, Joyplay is not the first developer to try out this theme for online slots. If you like taking a trip down memory lane, then we suggest you try a few more old-school slots that are similar to The Golden Bars game.
Bar X Magic 7 slot was developed by IGT and is one of many in a games series. This game has a classic layout and some graphics that you might recognise. While playing, you can nudge the reels and win up to 50x your bet. This is one to try if you like the bar and lucky seven symbols.
Another great slot with a classic theme is Bar 7's by Novomatic. In this game, you'll get to hold the reels and win some free spins if you are lucky. In Bar 7's, it's also possible to gamble it all in order to win even more. This is a common Novomatic feature that appears in most of their slots.
Give Golden Bars a Try Today
The Golden Bars online slot is a simple game that has a lot to offer, especially for fans of old-school slot machines. The multipliers and the wilds can offer a 5000x payout which is very exciting. Joyplay has created a classic slot without having too many complicated features that would typically appear on modern video slots.
We really enjoyed playing the Golden Bars slot and think you might too. Make sure to give it a try today at one of our favorite online casinos to see if you can trigger a large payout.
Free to Play Joyplay Slot Machine Games