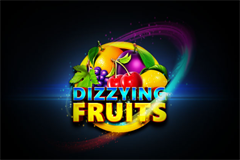 Dizzying Fruits Slots
You've probably played classic fruit machines before but have you ever played an unnerving fruit pokie that can send chills down your spine? Well, if you haven't, you might want to check out the new Dizzying Fruits video slot from Armenian game studio Eye Motion. A modern adaption of classic slot games, Dizzying Fruits takes the best of fruit machines and mixes it with profitable bonuses and, surprisingly, a soundtrack lifted straight out of John Carpenter's Halloween horror film.
Yeah, this unusual slot looks like a fun casino game but only if you switch off its eerie audio. Once you do that, you can start focusing on the positive sides of the machine, of which there are plenty. For starters, this slot comes with 5 reels, 9 paylines, and a long list of high-paying symbols with prizes that go up to 9,000 coins. And if that's not enough to get you convinced, perhaps the free spins games, cascading reels, and payout multipliers just might. To learn how you can trigger these features and get every other detail you need to know about this unusual fruity slot, just keep reading.
Built in Armenia
Eye Motion is a name that is yet to leave its full mark on the online casino industry. Launched back in 2014 out of Armenia, this studio was set up by a former web developer who turned to making online casino games. So far, the company has only released a handful of slots, all of which are mobile-optimized for playing on Android phones, iPhones, and other mobile devices, just like the Dizzying Fruits. This is the first game built to look like the fruit pokies that once ruled local bars, and for a first effort, it looks quite promising.
Payouts That'll Make You Dizzy
Dizzying Fruits can be played with small wagers or big ones, depending on your budget. With the on-screen controls, you can choose a coin size between 0.01 and 1 credits, but also bet up to 100 coins per line. The minimum bet is 0.9 credits per spin (9 paylines x 0.01 credits) while the max bet is capped at 900 credits. The more coins per line you bet, the bigger the payouts will be.
To start playing, just use the spin controls to spin and stop the reels or use the Auto Play controls to automate your spins. To collect a prize, you will need to get two or more matching symbols to appear on your paylines. There are 13 different symbols and they can all pay prizes which vary from 2 coins for two regular symbols to up to 9,000 coins for five of the wild symbols, but only when playing with one coin per line. If you bet more coins, the prizes will be multiplied accordingly.
No matter how big of a payout you collect, the Dizzying Fruits will always give you another shot at winning more thanks to its cascading reels mechanics. When a combination of winning symbols is collected, the cascading reels will destroy those symbols to let new ones fall down in their place from the top of the reels. If you hit a prize for the second time, the feature can be activated again. And to add even more value to your wins, each consecutive win will add a multiplier to your payout, up to a maximum of 5x.
Apart from the wild symbols, which can substitute for other symbols from the pay table and pay prizes, Dizzying Fruits is also equipped with some special scatter symbols. Get three or more of these symbols during a single spin and you'll get yourself a bonus of 15 free spins. The free spins bonus starts automatically and it is played with the same wager that activated the feature. But what's different than the base game is that each free spin comes with a multiplier of 3x. So, any payout you win during the bonus game will be tripled by default, giving you a chance to hit far bigger payouts than 9,000 coins.
Get a Free Fruit Platter
Whereas slot games in land-based casinos can be played only for money, most online casinos will let you play a variety of pokies for free. Playing slots for free is a great way to have fun or fully test a specific game without spending any cash. And in some cases, you won't even need to register at a casino to play at no cost. However, you can't win any real cash with free playing, so if you want to actually earn some money, you will need to invest something.
To play for real money, you will need a casino account that doesn't have an empty balance. To register for a new account at any casino, you'll need to leave your contact details, name and surname, and verify your e-mail. Once you have an account, you will then need to use your credit card, cryptocurrency wallet, or e-wallet to deposit some cash into it via your private cashier. Fortunately, most casinos now accept a variety of payment methods that offer safe, instant, and easy money transfers, completely free of charge.
Following a Recipe
Dizzying Fruits is not that different from Eye Motion's previous game – the Beating Slot Old China video slot. Unlike Dizzying Fruits, this slot game has 20 paylines and no cascading reels feature, but that's as different as it gets. With a group of 13 paying symbols, top prizes of up to 10,000 coins, and a bonus of 15 free spins that are played with a 3x multiplier, you can easily spot that most of the features of Beating Slot Old China were reused in Dizzying Fruits. So, if you want to have more paylines at your disposal and slightly bigger payouts, you may want to check this slot machine out.
Classic and Profitable Fun
If you want to play a fruit machine that is a bit different from the norm, Dizzying Fruits is worth trying out. The slot can be played for as little as 0.9 credits per round and has a top payout of 9,000 coins, even when you are playing with the smallest wager. With the cascading reels and multipliers by your side + the free spins games, it can add up to some easy profits if you can spare the time to chase them.