Mermaid's Pearl
Ready to play Mermaid's Pearl for real?


Welcomes players from


Best Casinos That Offer Novomatic Games: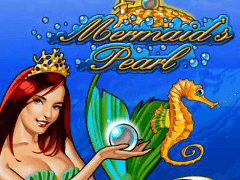 Mermaid's Pearl Slot
No diving licence required to have fun and to win big playing Mermaid's Pearl, a game by Novomatic.
As the reader would have probably already guessed by now, this game is about the wonders of the deep sea and the creatures that dwell there. There are 20 paylines covering 5 symbol-covered reels in this game, which is quite standard but still leaves room for plenty of fun.
And the gameplay itself has quite a lot in store to surprise and entertain even the most experienced players. Let's see what the way to the jackpot looks like.
Water… And Lots Of It
For a game named Mermaid's Pearl, it should come as no surprise that we will have to deal with quite a lot of H20 as a design element. And well, that's actually pretty all that there is to it, this is far from the first aquatic themed slot game we have seen.
The background is indeed of a uniform deep blue colour, certainly representing the depth of the ocean, with a dash of light behind the game's logo sitting on top of the screen. An attentive eye will spot some bubbles here and there, and also on the reels which sport a light yellow colour.
The simplicity and perhaps lack of work on the background design clearly mean that players must keep their eyes peeled for the spinning symbols on the reels. And there is quite a contrast in terms of visual quality here: the design is cartoon-like, the colours are pastel, the lines curvy. This makes for a rather lovely experience in the end, but not enough to distract us from what really is at stake here: the wins.
Finding Combo
There is a total of eleven different basic symbols in Mermaid's Pearl, which can be split into two roughly equal groups in terms of value: the classic game cards-inspired symbols, and the sea creatures.
The first group ranges from a number 9 to the Ace, in ascending order of value. Lining up at least three of them on an active payline will make you a winner. The sea creature group works the same way, and counts amongst its members the Sea Horse, the Fish, the Puffer Fish, the Lobster and finally the Sea Turtle. Once you've selected the number of paylines you wished to activate and the amount of your wager, it's time to hit the Start or the Autoplay button for uninterrupted fun! Once you've scored a winning sequence, you have the possibility to gamble with your wins: it's a 50/50 hit-or-miss game, which can make you the king of the seas.
Deeper Into The Abyss
Things get more interesting with the extra bonuses available in Mermaid's Pearl. You'll find both Wild and Scatter symbols on the reels, which is great news, but it doesn't stop there. Both symbols bring indeed a little extra into the game as well.
Let's start with the Scatter symbol, which is a treasure chest lying on the ocean floor. Starting from 2 appearing on the screen and you're a winner. What's new here is that 3 Scatters will get you 40 Free Spins, 4 will get you 50 and 5 will bring a grand total of 60 Free Spins. And those bonus rounds are cumulative: get extra Scatter combos as you play and the Free Spins will go on and on…
The Wild symbol is a beautiful, red-haired mermaid holding a giant pearl in her hand. Not only does it substitute for any other symbol besides the treasure chest, but it will also double the wins of any combination thusly formed. Combine this with the great possibility to win a lot of Free Spins, and you'll see how exciting Mermaid's Pearl can get. If you manage to line up 5 Mermaid symbols, then the jackpot is yours!
Pearl's A Diamond
Mermaid's Pearl is a slot game that manages to blend both classic elements of gameplay, especially for players with experience playing Novomatic games, and several exciting features that will certainly spice things up. The animations are simple but well-executed, and the sound effects are also kept to a minimum. But the occasional sound of bubbles popping will help you immerse yourself into the rich ocean of possibilities offered by the combining Wild and Scatter symbols.
The over simplistic background aesthetic can be a drawback for some players who appreciate a more engrossing visual experience. Another Novomatic game based in a similar universe, Lovely Mermaid, would perhaps be a better choice for those players. However, in terms of pure gaming fun, Mermaid's Pearl is definitely a must.
Free to Play Novomatic Slot Machine Games