Marvel Slot Machine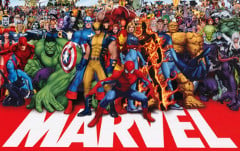 Marvel has long been one of the two leading names in the comic book industry (along with DC). In recent years, their superheroes have become even bigger cultural figures, as the Avengers and other movies have created a cinematic universe that has produced dozens of films, most of which have been major box office hits.
With such a stable of recognizable names and decades of comics that have built up a large fan base, it's little surprise that many of these characters and brands have been adopted by the world of online casinos. Today, players can enjoy a countless number of slot machines based on the X-Men, Fantastic Four, Iron Man, and many other popular heroes.
Playtech Slots
While there was once more variety in the types of Marvel online slots you could play (more on that below), today there's only one software provider that offers licensed games from the comic empire: Playtech. At casinos running Playtech software, you can find a variety of games that are all based on various titles in the Marvel universe.
If you have a favorite hero or team, chances are that you'll be able to find at least one game that is based on them in the Playtech slots lineup. The following is a short list of some of the more popular machines featuring Marvel characters.
Play Free Marvel Slots Online
X-Men: The X-Men slot machine has been a longtime favorite of many players, and particularly those who are fans of the team of superhuman mutants. The game features a cast of heroes and villains doing battle in a free spins game that can go on forever as long as you stay on the side of the good guys – while your time will be very limited once you're relying on their enemies.
The Avengers: The Avengers were always among the most popular superheroes in the industry before the release of their 2012 movie, which was one of the biggest box office successes of all time. One of the best features of this game is the fact that it incorporates all of the team's members in a number of different ways. For instance, finding all of them on the screen could earn you a big prize, while the Wall of Heroes feature requires you to find matching heroic symbols in order to unlock free spins games.
Iron Man 3: As the name would suggest, this is the third in a line of Iron Man-themed games produced by Playtech, each of which has been based on movies of the same name. In this version, you'll have the ability to hit combinations of characters that trigger automatic respins, while three or more Iron Man symbols will launch the Hall of Armor feature , where you'll earn access to various types of free spins games.
These are just three of the many great slots that are part of the Marvel online gaming series. Others include:
Fantastic Four
Blade
Thor
The Incredible Hulk
Daredevil
Elektra
The Ultimate Power Jackpot
Perhaps the best part of Playtech's Marvel slots is the Ultimate Power jackpot, a progressive prize that is one of the longer-running jackpots in the Internet casino world. You can play for this jackpot no matter which of these games you play, with the same chance to win on each one.
Access to the bonus game that awards this jackpot is determined entirely randomly: there is no special combination of symbols needed, and instead, players only learn at the end of a normal spin whether they'll have a chance to play the special round. The only thing that impacts your odds of getting into the bonus round is the amount you've bet on each spin: bet $2, and your chances are twice as good as a spin on which you spend just $1.
When you get into the jackpot round, you'll be presented with a layout of 20 tiles, from which you can start picking any you like in order to reveal them. Each tile will reveal one of the four prizes you can win: the small Power Jackpot, and the progressively larger Extra Power, Super Power and Ultimate Power prizes. Once you uncover three of the same tiles, you'll be awarded the corresponding prize.
The Ultimate Power prize can get especially large. Many players have won several hundred thousand dollars in these games, and the largest win was more than $1.3 million.
Former Slots
Once upon a time, Playtech wasn't the only company that offered Marvel slots at Internet casinos. Cryptologic also had their own series of these games, and in fact, was the first developer to make games based on these famous superheroes.
However, the contract between the two companies ended in 2014. Without an active license, casinos using games from the company could no longer feature the comic-themed games, and they have since been removed from the lineup.