7 Reel Slots
Though for many gamers, less is more when it comes to slots, there are some who ascribe to the "more is never enough" theory. These are the folks that 7 reel slots were designed for, although they can be an exciting change of pace for anyone experienced with three and five reel slots.
Why Seven Reels?
The term "reels" describes the vertical spaces that move when triggered by the spin button on the control panel. Why offer seven reels when five, or even three, will suffice? Because having more reels increases the number of ways a player can win at the game.
Numerologists and others who believe in the luck behind the number 7 will also be drawn to the number of ways that this favorite number can combine into winning payouts. Because of the way the games are designed, it is easy to get at least small wins on each of your spins. Most of the 7 reel games also feature the number 7 as one of the symbols appearing on the reels.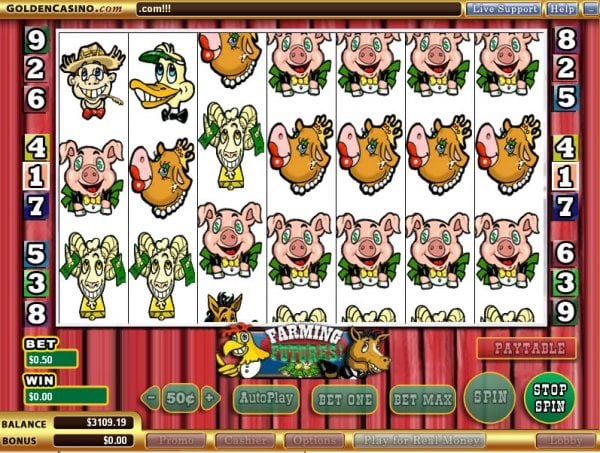 7 reel slot machines are something of a new phenomenon but are slowly becoming more popular
Where to Find Them
While the number of 5 reel slots is almost countless, there are very few seven reel games on the market today. To the best of my knowledge they do not exist in live casinos, and the only games that can be played are those found online. Sites using software by WGS Technologies and Real Time Gaming offer a number of 7 reel games. However, given the fact that new slots are released almost weekly, I wouldn't be surprised if more slot makers jump on the bandwagon and start developing 7-reel games of their own.
How to Play Them?
The seven reel slot plays just like any other slot: just choose a wager, press spin, and repeat until you get the results you were hoping for. To keep things from getting too complicated, most seven reel slots only feature seven paylines and are generally devoid of the detailed graphics, videos and animations that are the hallmark of their 5 reel counterparts. However, most will offer multipliers, free spins and/or bonus symbols that boost the credits won on winning combinations.
Give Them a Spin
The choices for online video slots today are almost endless, and like I always say, preferences for game features is a very personal thing, as different people like different games and different types. However, if you're already accustomed to playing 5 reel games and would like to try something a bit different then there's no harm in giving the increased number of reels a try.