AWP Slots
When is a slot machine not a slot machine? There are a lot of answers to this question. Sometimes, however, it's more or less just a matter of naming conventions in different parts of the world. For instance, if you're from Australia, you might know of the term slots – but you're much more likely to call these games poker machines, or more casually, pokies.
Another well-known example comes from the United Kingdom, where slots have long been known as fruit machines, a name that refers back to the very common fruit symbols that were part of these machines back in the early days of the industry. But there are even more divisions among such games in the UK, and occasionally, you might come across the term AWP. These "amusement with prize" machines have a lot in common with one-armed bandits by any other name, but are distinguished by a few key factors that make them distinct from similar offerings.
Amusement or Skill?
To understand where this term comes from, it's first important to note that gambling games are handled differently in the UK based on the venues they are located in. In fact, the same exact game might be called an AWP in one place and a slot machine or fruit machine in another.
This is an issue of regulation and licensing, as well as being trade terms that are used by manufacturers to clarify the markets each product is intended for. If a game is found in a casino, it will be called a slot (or fruit) machine; meanwhile, if it is in a public house or an arcade, it will likely carry that "amusement with prize" designation. In reality, there is little difference between the two, although AWP games are generally regulated to have lower limits on how much can be wagered or won. As we mentioned above, they also tend to feature more traditional symbols, and are rarely designed to be played like modern video slots.
There is another distinction that further confuses things for many players. Some titles are called "skill with prize" or SWP machines, and often appear right alongside their AWP counterparts. The different here is the style of action being enjoyed by the user. In an SWP offering, players can have some impact on their results based on their own skill, often through manual dexterity or decision making. While amusement games must have some sort of player interaction, they are ultimately luck-based (again, just like a slot machine).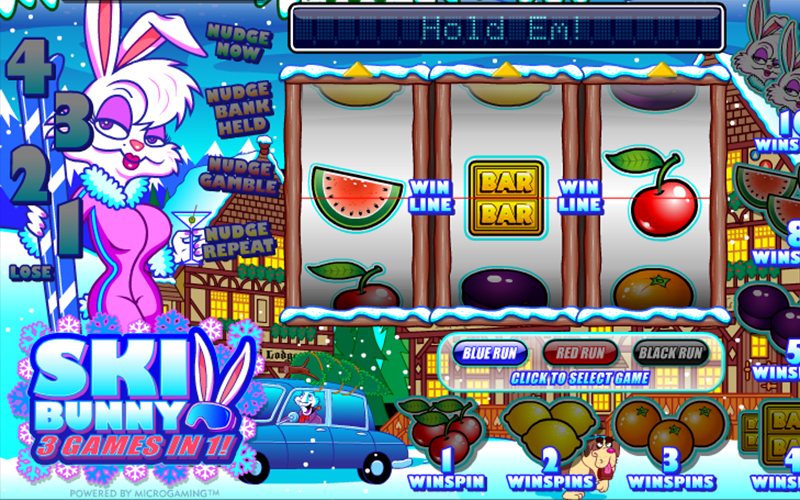 Online Sites Get in the Game
Many online casinos today offer games that definitely fit the amusement with prize description. Depending on who you ask, you may also hear these options referred to as fruit machines, but the concept is the same: some level of slots-style gameplay, but with a lot of emphasis on some of the more quirky gameplay typically seen in these traditional UK games, like prize tracks and second screen games where players actually win cash, which sometimes isn't even available on the main reels.
One excellent example of this is Microgaming's Fire 'n Dice. When you first start playing, you might see this as a standard three-reel game, with some of the classic symbols we're used to seeing in such simple games: cherries, bars, and sevens.
But players will quickly realize that something is amiss here: there's only one payline, and you can't even win any rewards directly from it! Instead, you'll be hoping to hit three of a kind in order to earn "dice spins," which take place on a second set of reels. There, you can finally try to win some money by hitting three dice showing the same face, winning up to 500 times your initial bet.
Another AWP option that is a bit more like a traditional slot is Wheel of Plenty, also by Microgaming. Once again, this is a single payline, three-reel machine that offers a series of prizes that are based on multiples of your initial stake. You'll be matching a series of symbols like cherries, plums, rubber ducks and the Wheel of Plenty logo itself. With prizes that offer up to 2,000x your wager, this is a quick and easy way to experience the thrill of a jackpot win.
Another fun way to experience this style of gaming is by playing Ski Bunny. By now, you should know how this is going to start: you'll jump into a single payline format where you'll be playing against the backdrop of a ski resort…designed for rabbits. Sure, why not? In the main screen, you'll be trying to match fruits and bars along with bunnies, in the hopes of making a three-of-a-kind combination.
As in Fire 'n Dice, though, these combinations won't actually earn you any rewards. Instead, they'll simply get you "Winspins" that can be used on a second set of reels. There, you'll be playing with an expanded five paylines, filled with various skiing and bunny-themed symbols that can earn you up to 500x your bet. The cool thing here is that you'll have some ability to customize your experience, as there are three "runs" you can choose from – some of which offer more spins, but also a lower chance of winning on each play. Throw in nudges and other classic features, and you have a true AWP that any fan of the genre will enjoy.
Great Games with a Nostalgic Flair
Many gamblers who grew up on standard slots may have trouble seeing the appeal of AWP games. However, there are also plenty of players who have enjoyed these games in arcades and clubs for their entire lives, for whom these unusual formats are just like second nature.
The online versions of amusement with prize machines are definitely designed with that latter group in mind. There's a lot of nostalgic love for these games, especially among British players who have played the land-based games and may be turned off by the fact that most online casinos have few if any options of this type. However, even those who have never tried an AWP before might find that they make a great alternative to standard slots. If you're ready to try something a bit different – or if you've always loved these amusement games – then online AWPs are definitely worth a try.