Top 5 Moneta Casino Sites
Discover how to make deposits and withdrawals using Moneta.ru.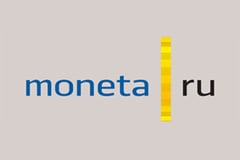 While you might think of locations like the United States, the UK, France, and China as the biggest gambling markets in the world, there's one huge name that sometimes gets overlooked: Russia. The country has become one of the biggest target markets for many iGaming firms, and services like Moneta are a big part of how Russian players get their money into and out of top-notch online casinos.
Moneta.ru acts as an e-wallet solution that can be used for both deposits and withdrawals at a variety of Internet gambling sites. Offering a variety of ways to make fast and safe transactions, this has become a favorite throughout Russia – both within the gambling industry and well beyond.
Because it is such a popular funding solution, this program has become accepted at a fair number of online gambling sites. If you're having trouble picking one that's right for you, take a look at the sites recommended by our great team of experts. These options include a number of great features, including:
A great selection of slots and other casino games from major software providers
Fast, secure banking options that include the Moneta system
Generous bonuses and promotions that are geared towards new players
Top Online Casinos Accepting Moneta
A Russian Success Story
Moneta was founded in 2005. Headquartered in Moscow, the company quickly grew to become the largest and most successful e-wallet program in the country. The service was also spread to other Russian speaking nations in the region, growing the user base and helping to make this one of the most popular alternative payment methods in the region.
Today, Moneta accepts funding through more than 10 sources, giving a wide range of users the opportunity to make online payments. There are even in-person retail outlets where individuals can deposit cash into their e-wallet, after which they can use that to make payments or deposits over the Internet.
Quick Payments, Reliable Withdrawals
In order to get started with this method, you'll first need to register for an account at Moneta.ru. While this is mainly a service for Russian speakers, there is an English version of the site (though some pages are not fully translated). Once you've created your account, you can fund your account from a variety of different sources, including Visa and MasterCard, bank transfer, in-person cash transfer, and other electronic payment services like QIWI.
Once your wallet is funded, you can head on over to any of our recommended sites that accept this deposit method. Once your account is opened, you can visit the cashier section of the website and find Moneta listed among the payment choices. Choose it, and you'll be prompted for the amount you want to transfer over to the casino.
Once you've done this, you'll be taken to your e-wallet, where you'll need to log in. From there, you can confirm the details and submit the funds transfer. In a matter of moments, you should see the amount hit your casino balance, available for immediate play.
This is also an option for processing withdrawals. Simply choose this as your cash out option, and you can have your winnings returned to your e-wallet, after which you can transfer them back to your bank, choose another withdrawal method, or simply store them in your account.
Fast and Flexible Depositing
The biggest advantage to using Moneta.ru as a deposit option is the fast that it allows Russians to get into online gambling from a variety of different angles. No matter what you have available to you, be it a credit card, a bank account, or just cash, you'll be able to use this wallet to start playing in a matter of minutes. You can also use this system at numerous other merchants, giving this solution plenty of versatility even outside of the gaming industry.
The largest disadvantage to this service is the fact that it is really only a Russian-language solution designed for Russia and other countries in the region. That isn't really a severe limitation, but it means that this is a narrowly-focused product, one that most English speakers won't be able to use.
FAQ
Do I Need to Register?
Yes, users must sign up for an account at Moneta.ru in order to process payments through this system.
Can I Use This to Withdraw Funds?
This service can be used for both deposits and withdrawals. Players can choose from a variety of methods to cash out funds that they transfer back to their wallet from a casino.
Where Can I Use This Method?
This method is primarily offered in Russia. Other Russian-speaking countries are also supported; however, this is rarely listed as a banking option outside of iGaming sites that specifically target Russia.
What Are Some Similar Alternatives?
If you're looking for an e-wallet solution in other markets, there are many to choose from. Some of the most commonly accepted include Neteller, Skrill, and PayPal – though the latter is only authorized for gambling payments in certain regulated markets.