Keeping it simple
From its headquarters in Stockholm, Sweden, Quickspin's 100-strong team of game designers prides themselves on making games that they "as players would love to play." The company has gained a wealth of experience since launching in 2011 and now has the game portfolio to match with at least one new release each month.
up to 16,807 ways to win on a single spin
Eastern Emerald Megaways, Quickspin's latest slot release, recently made it into VegasSlotsOnline News' Slots of the Week. It's the latest tie-up between Quickspin and Big Time Gaming, offering up to 16,807 ways to win on a single spin all encapsulated within an Oriental theme.
VSO News caught up with Clint Andersson, head of producers at Quickspin, to get his insight into the new game that went live last week. He also explained why its better not to get too complicated when it comes to making a new title.
Firstly, can you tell us a bit about your role and the company itself?
My name is Clint Andersson and I work as the Head of Producers at Quickspin where we create awesome video slot product lines such as Big Bad Wolf, Sakura Fortune, Eastern Emeralds, Sticky Bandits, and Golden Glyph.
You describe yourself as a multinational company. Can you explain some benefits this gives you?
You get to work with people from all over the world and learn from their experiences, it keeps you from becoming an echo chamber of knowledge. It also opens your mind about the different cultures of the world and introduces you to a variety of different perspectives, which often prove to be extremely valuable.
What's the key to keeping your game design fresh and innovative?
Innovation usually comes from a genuine no brainer of an idea, not from over-designing a feature set. Do not overcomplicate your original idea, if you need to design your way out of a lot of complexity it's probably not very innovative.
play a lot of new games to find out what's missing
My strongest advice is to play a lot of new games to find out what's missing.
Onto Eastern Emerald Megaways, your new slot. Can you tell us a bit about the game?
The game is a perfect mix between the original game and Megaways. It has a higher potential for really big wins than the original because of the Megaways mechanics. Instead of spreading out the wins and slowing down the gameplay with tumbling symbols, we kept the original pace and flow of the game, so when a big win hits, it drops down like a bomb on the reel grid.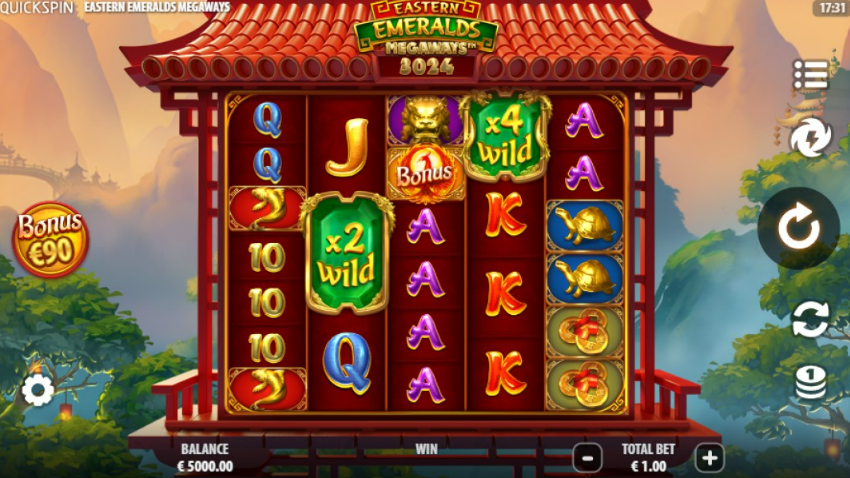 The players will never feel that they have missed out on all the opportunities to hit it big in the bonus game, because the chances are just as high to win big money on the first spin as it is on the last one. That's why the game still uses multiplier wilds that multiplies exponentially instead of adding multipliers that just build up during the game play.
What will make the game stand out from others in the market?
It's a completely new Eastern Emeralds game with Megaways. It has a fantastically straight forward and balanced game play with modernized graphics. It also has my favorite soundtrack so far.
What was the design process like? Did you all get into a room and throw ideas around?
No not really. Getting too many people involved in the early stages of game design is something that's never a good idea. At some point we did try the game with a bigger group of course, but before that we kept it small, with just a few people.
we selected the straightforward version as the one for development
We created two versions of the game. One with tumbling symbols after a win and built-up multipliers like so many other Megaways games do. And then one, straight-to-the-point version of the game with exponential multipliers. After we had both of these versions ready we did some play testing with a big group of players and designers. The decision was unanimous, we selected the straightforward version as the one for development.
Finally, what's next in the pipeline for Quickspin after Eastern Emerald Megaways?
We have a couple of innovative releases coming out later this year, but one game I am really looking forward to that will be released next year is Cash Truck 2.