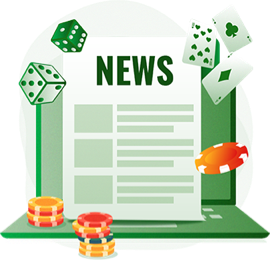 Founded in 2013, VegasSlotsOnline.com established itself as the premier resource for online slots and casino games information and reviews. We expanded five years later, launching our news section in 2018.
VegasSlotsOnline News publishes articles every day of the week, every week of the year. Though "Vegas" is in our name, we cover gambling news from all corners of the industry – from casino updates to poker and sports betting. We write about important legislation, gambling-related crime stories, and even post the occasional celebrity piece. Really, if it is a newsworthy topic related to gambling, we give it consideration.
In the span of just a couple of years, VegasSlotsOnline News has grown to become a respected source of casino and gambling news. We focus on the U.S. and UK, but if there is casino and gambling news anywhere around the globe, we're there to cover it.
---
Ready to Become a VegasSlotsOnline Newshound?
We at VegasSlotsOnline News are always looking for talented freelance writers to join our growing team and keep our readers informed on the latest happenings from the gaming world. And that is where you come in.
If you are interested in writing for VegasSlotsOnline News, fill out the contact form below. Tell us about your background and writing/industry experience, your areas of expertise, what topics interest you the most, where you are located, and what your available hours are.
Please include at least two writing samples with your submission.
What We Are Looking For
Are you ready to join the VegasSlotsOnline News team? Think you have what it takes to be a journalist in the fast-moving world of gambling? Can you craft great sentences and pitch a solid story? Then we'd like to talk to you.
We expect you to have:
Good knowledge of the gambling industry
Experience in writing gambling-related news/articles
Excellent communication skills – we talk to each other every day to coordinate and discuss articles
Research and fact-checking skills – our number-one rule is to report the facts correctly
Keen eye for detail
Willingness to take editors' feedback on board
Flexibility
Experience publishing content through a CMS and knowledge of content SEO practices
If you have gotten this far, we thank you for your interest in VegasSlotsOnline News. We look forward to hearing from you!