We're discovering medieval capers and going deep into the Amazon for our round-up of the best new online slots of the week. Plus, we're bringing along one or two new friends while we check out the hottest slot releases.
Our first new slot to test is Guarana Eyes of the Amazon from Pragmatic Play. It's a seven-reel slot that uses cascading reels and some of the cutest graphics we've seen for a long time.
Next up, Boldplay's Warriors and Warlocks title offers a twist on the classic slot. Play two sets of 3×3 reels at once and enjoy the epic Beast Brawl with giant symbols.
We're loving Print Studios' output right now. Holy Hand Grenade is the latest slick slot release to leave the studio floor. This new game features SuperSpinner multipliers and free spins with exploding chain reactions!
We round out our look at the best new online slots of the week with Book of Thieves by Blue Guru. Trigger a random expanding symbol and hit the big wins in this mysterious fairytale slot!
Don't forget: you can test out all the best new online slots of the week right here, totally free. Just click on the game links to get playing.
Hit the clusters and trigger tumbles in Guarana Eyes of the Amazon by Pragmatic Play. Win multipliers or activate the free spins bonus to win up to 30 games!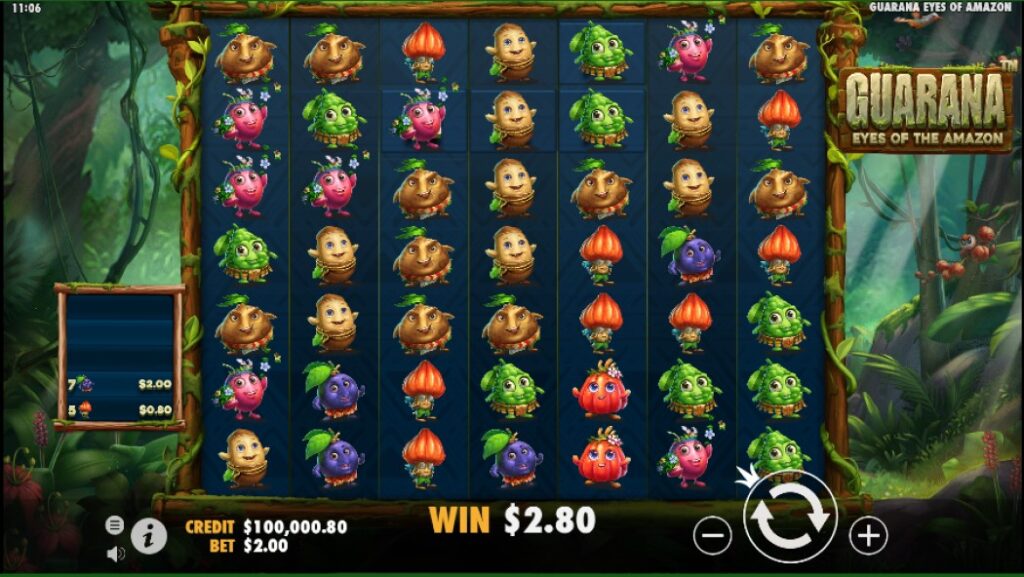 2023 has been a good year so far for cluster win slots. And the great new releases keep coming with Pragmatic Play's Guarana Eyes of the Amazon.
The jungle-set slot takes you deep into the Amazon. You line up matching fruit and vegetables in clusters to take down a cash prize. Plus, the slot uses the tumble feature so that winning clusters disappear to be replaced by new symbols dropping in from above.
Guarana Eyes of the Amazon adds something a little different to regular tumble feature slots. When you explode a symbol from a position, that reel spot is marked. You trigger a multiplier if you explode a symbol in the same space a second time. It's possible to keep doubling the multiplier from 2x up to 128x total.
Not enough action? Guarana Eyes of the Amazon also boasts a free spins bonus. You trigger up to 30 free spins by landing 3–7 scatters in any position on the screen. Marked spots and multipliers remain locked for the duration of the bonus.
Guarana Eyes of the Amazon is a volatile little online slot. However, the rewards are worth the effort, particularly if you manage to trigger the free spins bonus. The jungle animation and background music also add a healthy dose of atmosphere.
Looking for some big tumble reels action? Give Guarana Eyes of the Amazon a spin today for free and see what you think.
Watch the Warriors and Warlocks do battle in the brand-new slot from Boldplay. Play on two sets of reels and trigger the Megaline for even bigger payouts.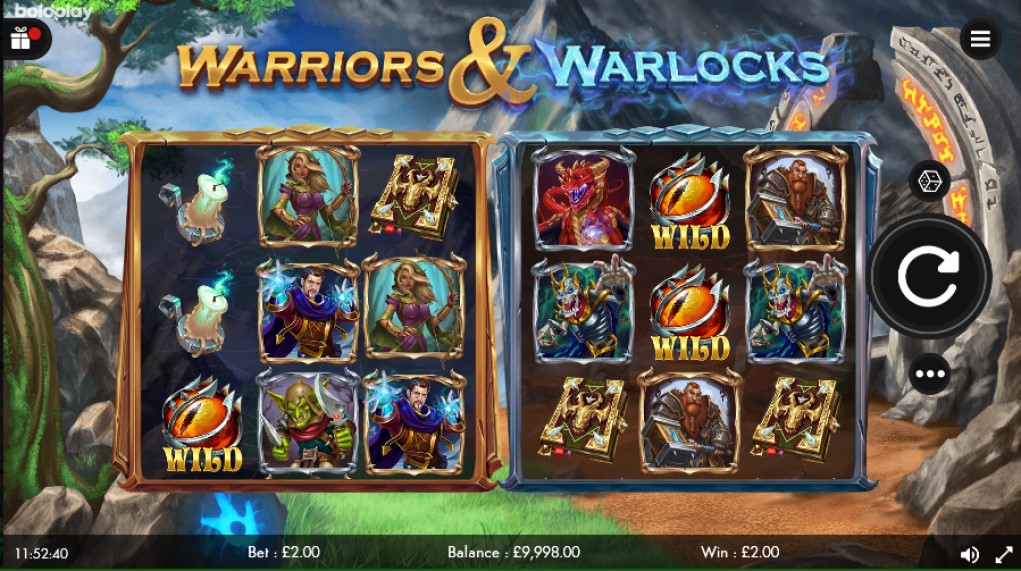 We don't often feature classic 3×3 games in our round-up of the best new online slots of week. However, this time we have something even better: a classic slot with TWO 3×3 reels!
Warriors and Warlocks is the newest release from Boldplay, the studio behind crowd-friendly slots such as Cyborg City and Biker Santa: Bells Angels. As with those slots, there's a definite heavy metal vibe going on in Warriors and Warlocks. The graphics are a joy to behold.
Warriors and Warlocks features a cast of goblins, demons, and heroes across its reels. You win cash by matching symbols across the paylines on either set of reels.
However, you can also trigger the Megaline by hitting three-of-a-kind on the middle payline of the first reel set. When this happens, the middle payline extends across to reels set #2 and covers 1, 2, or 3 positions.
You may also trigger the Beast Brawl bonus by landing one or more scatter on both 3×3 reel sets. You also win a cash prize worth 1–100x stake, just for triggering the feature.
In this bonus, each reel set goes super-size to reveal a single 3×3 image. You are guaranteed a payout on the left-side reel based on the character revealed. The right-hand reel either awards treasures with cash values or non-paying monsters.
The stacked symbols in Warriors and Warlocks can help ensure a big return but they do make the slot volatile. And if you don't like Warriors and Warlocks, there's also a scratcher version from Boldplay. Check out the free-play slot today and see what you think.
Lobbeth thy Holy Hand Grenade and trigger prize payouts in the new slot from Print Studios. It's a medieval mash-up featuring SuperSpinner multipliers and a very explosive free spins bonus!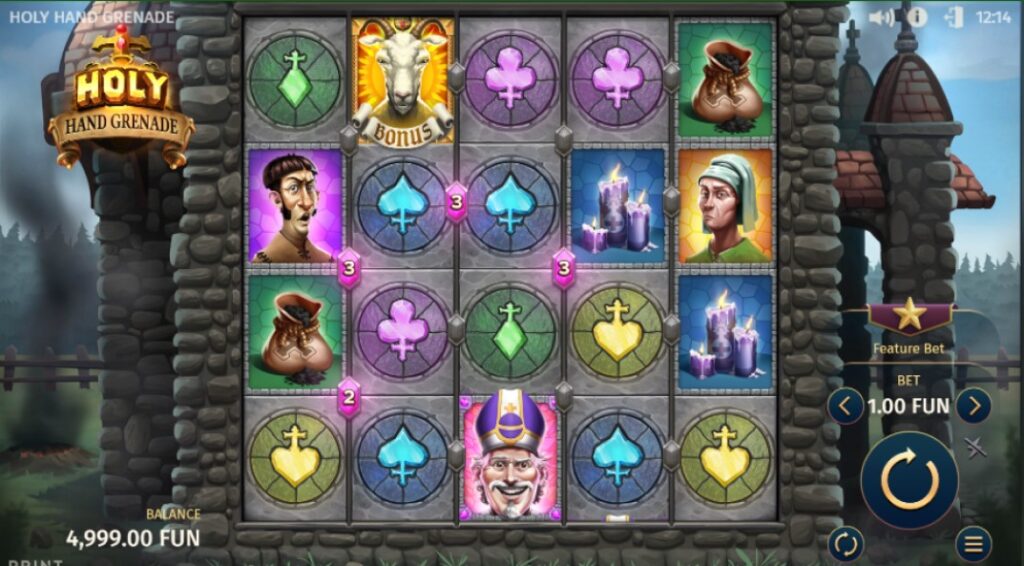 Print Studios started out in 2020 as the in-house developer at Relax Gaming. The range of themes at Print Studios just got a whole lot more diverse with the release of Holy Hand Grenade.
Sadly, Holy Hand Grenade only shares its name with an iconic feature from Monty Python's Hold Grail. Other than that, there's little sign of the Knights Who Say 'Ni' or any killer bunnies.
What you do get are five reels filled with mad bishops and peasants. Random multipliers called SuperSpinners may appear in between paylines to increase payouts.
You trigger free spins by hitting three or more scatters anywhere in view. You win 7, 9, or 11 free spins by landing 3, 4 or 5 scatters in any position.
During the bonus, the holy hand grenade can make an appearance. It will explode to cause chain reactions, and with them prize payouts. Any symbol caught in the blast transforms into a random paying symbol.
Though Holy Hand Grenade features a free spins bonus, it's actually the SuperSpinners that have attracted our attention. These can come into play on any spin and it can be fun tracking the random multipliers as you try to land another winner. Give Holy Hand Grenade a spin for free and see for yourself.
Land expanding symbols for bigger payouts in Book of Thieves from Blue Guru Games. There are also expanding symbols in the exciting free spins bonus!
Blue Guru Games has only been operating since 2021, but it has already launched some attractive slots such as Clash of the Seraphim, Totem Link, and the crazy Napoleon vs Rabbits.
Book of Thieves showcases Blue Guru's attention to detail and the developer's love of simple bonus features. In this case, it's the expanding symbol which may activate at random on any base spin. The symbol expands to fill the reel and will also pay out anywhere in view.
You can also trigger free spins while playing Book of Thieves. You win ten free spins by landing three or more scatters in any position. Plus, three symbols are chosen at random to become special expanding symbols. Don't forget, you can retrigger the bonus feature if you land three or more scatters again.
Book of Thieves plays with only ten paylines, so the hit rate is not great. However, the random expanding symbol can certainly improve your wins, particularly as it will pay out as an effective expanding scatter.
For good graphics and atmosphere, Book of Thieves is hard to beat. Give it a spin for free today with our exclusive link.
For more exciting games, make sure you visit our New Online Slots page!