Boldplay prides itself on providing "cutting-edge casino innovation," and the iGaming company's expansive portfolio of games really demonstrates that approach. From traditional slots like Classic Spins to the more adventurous Wild Joker – the supplier truly does have something for everyone.
The studio's most recent release, Warriors & Warlocks, made the cut for VegasSlotsOnline News' Slots of the Week. It's a fantasy world online slot with some innovative features, including the Megaline that can lead to six-of-a-kind combinations across the reels.
To find out a bit more about the slot and the company behind it, VSO News caught up with Vallie Fragoso, CEO of Boldplay.
Can you tell us a bit about your journey in the iGaming industry and how you ultimately found yourself with Boldplay?
I joined the iGaming industry in its early days when it was first being introduced to players. The concept fascinated me and I decided to pursue a career in the field. I began by working for a B2C company where I gained valuable experience in customer service and player acquisition.
As I progressed, I made sure to move between departments to gain a holistic understanding of the iGaming field. Working for both B2C and B2B companies helped me gain a broader perspective of the industry as a whole and, over the last 20 years, I have gained a wealth of experience and knowledge within the iGaming sphere.
We aim to be an industry leader in innovation
Eventually, I felt ready to establish my own company, which led to the creation of Boldplay, the goal being to provide a unique gaming experience for players while prioritizing exceptional gaming experience. We aim to be an industry leader in innovation, continuously seeking new and exciting ways to engage our players.
What advice would you give someone who wants to reach the same level as you in this sector?
To achieve success in the iGaming industry, there are several key factors to consider.
First and foremost, it's important to find an area within the industry that truly ignites your passion. This will help you stay motivated and engaged, even when faced with challenges. Equally important is to surround yourself with like-minded individuals who share your passion and drive for success. Working with supportive, positive people who share your goals can make all the difference.
It's important to remember that there will be setbacks and failures, but that these can be valuable learning experiences. Use them as an opportunity to identify what went wrong and learn from your mistakes. Consistency and persistence are also key. Stay focused on your goals and consistently deliver high-quality work, while always striving for improvement.
Embrace out-of-the-box thinking and take calculated risks
Finally, don't be afraid to speak out and share your ideas. The iGaming industry is constantly evolving, and new ideas are always welcome. Embrace out-of-the-box thinking and take calculated risks to achieve success.
Boldplay launched in 2019. How do you compete with those brands that have been around for longer?
Competing in the iGaming industry can be tough, especially against well-established brands. Nevertheless, we have attained a strong position in the market thanks to our unique perspective on the industry and our excellent team.
Our extensive experience in various departments of the iGaming industry has given us a distinctive insight into the business. This insight has enabled us to approach our work differently and find creative solutions to common challenges, setting us apart from our competitors.
Additionally, our team is composed of highly skilled and motivated individuals who are passionate about what they do. Thanks to our collaborative work approach we can create games that are both innovative and of high quality, comparable to those of larger suppliers.
You were recently granted your Romanian license. How many licenses do you have now and which are your most successful markets?
At present, we hold licenses in both Romania and Gibraltar, and we intend to expand into corresponding regulated markets as we acquire new ones. We have already experienced success in the unregulated .com markets and are optimistic about the regulated ones. We're diligently working to customise our products and services to meet each market's specific regulations and demands.
they are vital to the continued prosperity of our business
These licenses are a clear indication of our dedication to growing our presence in regulated markets. We firmly believe that they are vital to the continued prosperity of our business, and we are actively pursuing additional licenses in other regions.
What are the main things a modern slot player wants from their games and how does Boldplay ensure each title meets these requirements?
The modern slot player is seeking a gaming experience that is both entertaining and easy to comprehend. With a plethora of content available online, the attention span of players has significantly decreased in recent years. Thus, producing a game that is straightforward yet engaging is vital to standing out in a crowded industry.
Boldplay understands the challenges of competing in a saturated market and strives to meet the expectations of modern slot players by creating visually appealing games that are easy to play and offer thrilling features.
To ensure that each of our games meets these requirements, we heavily invest in research and development. We also actively listen to feedback from players, analyze industry trends and data, and identify opportunities for innovation and improvement.
unique and captivating gaming experiences that distinguish us from the competition
Additionally, we work closely with their partners and clients to create games that are tailored to our specific needs and preferences. This enables us to develop unique and captivating gaming experiences that distinguish us from the competition.
Moving onto Warriors & Warlocks, you previously mentioned that it's "quite unlike any other game that our studio has produced to date." Can you explain why it's so different?
Absolutely! Warriors and Warlocks boasts an eye-catching fantasy theme and is played on two separate 3×3 reels, providing players with double the chance to win and twice the excitement. This distinct characteristic sets it apart from other games in our lineup and delivers a captivating gaming experience.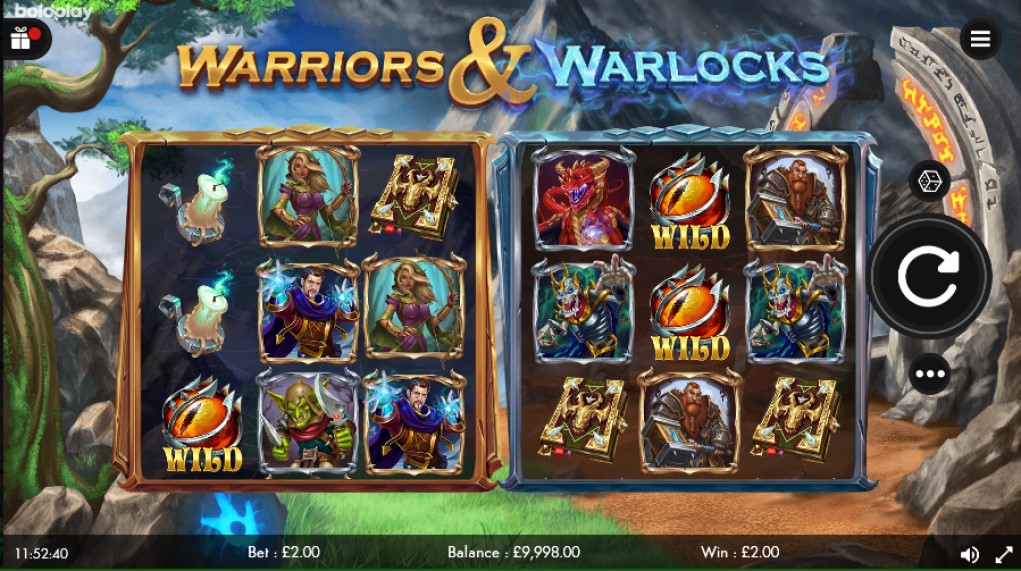 The game's bonus round is also one-of-a-kind. The two 3×3 reels are transformed into two colossal reels with gigantic symbols, offering players the opportunity to win even larger prizes. This additional layer of thrill enhances the game's uniqueness and distinguishes it from other offerings in the market. We are thrilled at the player response to this exhilarating new addition to our portfolio of nearly 90 games.
Have you had much feedback since its release on March 1?
Warriors and Warlocks has received a strong response from both players and operators. The game's player numbers have been extremely encouraging, and we've received universally positive feedback from those who have played it. The unique gameplay mechanics and immersive fantasy theme have proven to be popular, and we look forward to seeing the game continue to gain momentum in the market. We're very happy with the response we've received so far.
Finally, what's lined up for the rest of 2023?
Our top priority at Boldplay is to secure the necessary gaming licenses to expand our operations into regulated markets across the globe. Additionally, we are continuing to build partnerships with operators and aggregator platforms to increase the distribution of our games and reach new players.
We're excited to see what the future holds
We are also committed to diversifying our product portfolio, with a focus on expanding our selection of table games and developing more high-quality slots that capture the attention of players. Our ultimate goal is to deliver innovative ideas to the market while maintaining a strong emphasis on player engagement and product quality. We're excited to see what the future holds for Boldplay in 2023 and beyond as we grow and evolve as a company!