An exciting game
Many American football fans were left wishing for a longer NFL season after a thrilling Super Bowl closed out the 2022/23 edition on Sunday.
50 million Americans staking money on the big game
The game came right down to the wire, with the Kansas City Chiefs ultimately clinching the win in a 38-35 scoreline against the Philadelphia Eagles. As usual, the close-fought game got a lot of attention from bettors. In fact, the American Gaming Association predicted that this would be the most bet-upon Super Bowl of all time in the US, with more than 50 million Americans staking money on the big game.
Of course, within the total betting figures for Super Bowl LVII, gamblers experienced both spectacular wins and disastrous losses. Superstar rapper Drake was among those to have won big, returning a six-figure profit from a multitude of wagers, while some unnamed Caesars Sportsbook and BetMGM customers lost millions.
Mixed fortunes
Drake placed seven bets totaling $965,000 on Sunday's game. His biggest bet was $700,000 on the Chiefs winning outright, bagging him almost $1.5m. His other six bets were unsuccessful but he still secured an overall net profit of $512,000. He took to Instagram to share the Chiefs bet placed with crypto gaming firm Stake prior to the event: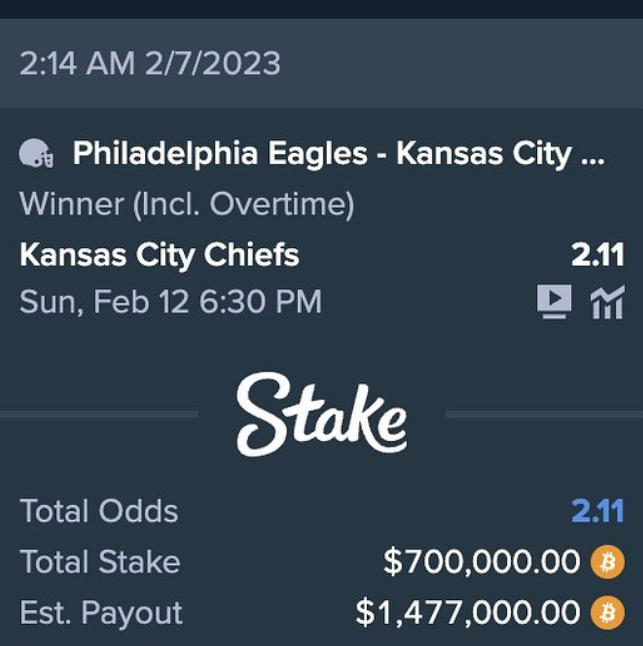 Meanwhile, other gamblers were not quite as lucky. Caesars Sportsbook announced in the hours leading up to the big game that one of its customers had placed a $2.2m wager on the Eagles with a -1.5 points handicap. The returns would have reached $4.2m had it proven successful. BetMGM also revealed that it accepted a couple of seven-figure bets on the Eagles winning the game.
an image on Twitter seemed to reveal the leaked 'script'
It was a close call for many who bet on the game finishing on a 37-34 score line. In the lead-up to Super Bowl LVII, an image on Twitter seemed to reveal the leaked 'script' for the game. Sportsbooks took in a significant number of bets on a 37-34 scoreline as a result, with BetMGM's odds on the selection dropping from +25000 to +8000 due to the volume of wagers.
Some more winners
Elsewhere, one anonymous bettor won a $25 four-leg parlay bet after the Chiefs came out on top. Before the game started, the person promised to propose to his girlfriend if his bet was a winner. He received a staggering $56,000 return on his $25 investment.
Finally, a Kansas City Chiefs super fan arrested in December for allegedly robbing a bank celebrated on social media after making a $95,000 profit on his Super Bowl bets. Xavier Babudar, who was released on bail last week, bet $5,000 on the Chiefs winning the Super Bowl at +1000 odds and $5,000 on Patrick Mahomes for MVP at odds of +900.
Known for wearing a wolf costume to Chiefs games, Babudar is alleged to have robbed an Oklahoma bank while wearing the very same outfit.