The end of an era
Take a walk down the Las Vegas Strip and you will stand before some of the world's most famous casinos. From the MGM Grand to Caesars Palace, these gambling venues are known the world over for their iconic designs and glamorous gaming floors, catering to the highest of high rollers in America's playground.
a number of world-renowned casinos have changed hands
Take a closer look, however, and you might notice something a little strange about the Strip today. While they are certainly still there, a number of world-renowned casinos have changed hands. From the legendary American operators of MGM Resorts International, Las Vegas Sands (LVS), and Ceasars Entertainment, to private equity and property firms such as Blackstone Group, Apollo Global Management, and VICI Properties.
It's the result of a new asset-light approach adopted by the giants of the casino industry. Operators that have owned property on the Strip for almost a century are selling to cut costs. Some are even waving goodbye to the Strip for good, deciding to transition into the digital space or focus on the Asian market.
Although Las Vegas casinos will remain iconic symbols of the global industry, the agreements seem to mark the end of an era for the gambling hub. The question is: why have these operators made the move?
LVS leaves its namesake behind
In an analysis of this asset-light approach, where better to start than a company with a name rooted in its Las Vegas heritage? LVS first established itself on the Strip in 1988 when founder Sheldon Adelson bought the Sands Hotel Casino for $110m. Since then, it has opened The Venetian Hotel & Casino and The Palazzo – both iconic features of the gambling hub.
agreed to sell its Vegas-based properties for $6.25bn
Last January, however, Adelson passed away at the age of 87, and it seemed to mark an immediate shift in the company's focus. The firm announced plans to invest in digital gaming technologies, something Adelson had previously worked hard to oppose, and later agreed to sell its Vegas-based properties for $6.25bn.
This agreement closed late last month, giving real estate investment trust VICI and private equity firm Apollo ownership of The Venetian, The Palazzo, and The Venetian Expo Center. The sale means LVS no longer has any property in its namesake city, with the company announcing it will shift its focus to Asia where it owns real estate in Singapore and Macau.
New LVS CEO Robert Goldstein has indicated some reasons for the move. Declaring the operator's strategy as "focused on growth," Goldstein described Asia as "the backbone of the company."
The truth behind this statement is evident in the operator's recent financial reports. In terms of revenue, LVS' Las Vegas properties had fallen behind Macau even before the COVID-19 pandemic. For the full-year 2019, Las Vegas operations generated just $1.82bn for LVS, while Macau revenue amounted to $8.83bn. In fact, The Venetian Macau made $3.5bn alone.
With LVS' Las Vegas properties lagging far behind, Goldstein evidently saw the value in trading them for additional capital to invest where it really mattered. While it will retain its headquarters in Nevada for old time's sake, LVS is now for all intents and purposes an Asia-focused casino company.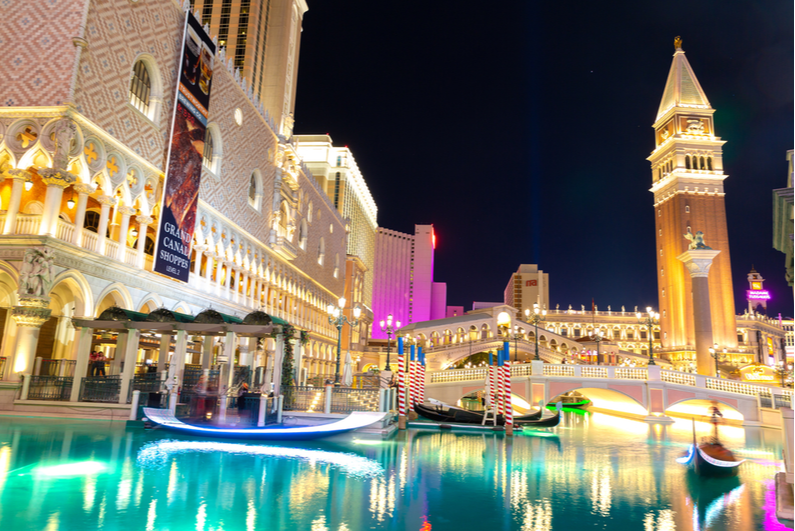 MGM sheds the weight
MGM Resorts has wholeheartedly committed to an asset-light approach, evident in its decision to sell 15 of its properties. The operator announced the $17.2bn deal with VICI in August last year. It includes iconic Vegas real estate assets owned by spinoff MGM Growth Properties, such as MGM Grand Las Vegas and Mandalay Bay Resort.
Not finished there, the firm reached two further agreements towards the end of 2021. It closed a sale-leaseback agreement for the Aria and Vdara to Blackstone Group, and offloaded its The Mirage Hotel & Casino to Hard Rock International. In total, the casino operator made around $4.9bn from the two deals.
re-prioritize future capital expenditures"
Unlike LVS, MGM is maintaining a presence in Las Vegas. It will continue to operate the majority of its properties having entered into lease agreements with their new owners. Meanwhile, CFO Jonathan Halkyard said the Mirage sale will allow the company to "re-prioritize future capital expenditures" – something he believes will help boost customer experience overall.
Commenting on this asset-light approach, MGM CEO Bill Hornbuckle said the company has gained billions of dollars in domestic liquidity, allowing it greater flexibility to pursue opportunities for long-term growth.
One of those opportunities is BetMGM, the sportsbook operation shared with Entain. MGM has funneled more and more cash into this betting and iGaming venture in an attempt to gain a leg up in the highly competitive market, with total investment expected to reach $1.1bn this year. By shedding the unnecessary weight of its real-estate, MGM has freed up cash to pursue this further.
BetMGM is now live in 19 jurisdictions across the US with revenue expected to reach more than $1.3bn in 2022.
According to statistics provided by Entain
, the sportsbook is the number two offering for betting and iGaming in the markets in which it operates.
Caesars in serious debt
Caesars Entertainment has definitely taken a more resistant approach to Las Vegas casino sales than some of its peers. In its only recent agreement, it completed the $516.3m sale of the Rio All-Suite Hotel and Casino to a buyer affiliated with Dreamscape Companies in 2019. The casino giant agreed to operate the property for two years as part of that deal.
Despite that sale, the casino operator is still far from abandoning its spiritual home. The company has Las Vegas roots reaching back more than 50 years when it first opened its Caesars Palace in 1966. It still operates nine resorts in the gambling hub, also including Harrah's Las Vegas, Planet Hollywood Las Vegas Resort & Casino, and Paris Las Vegas Hotel & Casino.
Planet Hollywood could get the chop
CEO Tom Reeg has confirmed that Caesars intends to sell one of its Strip properties in the early part of 2022, however. The chief executive didn't go as far as to confirm which asset the company plans to offload, but rumors suggest that its famous Planet Hollywood could get the chop. Whatever the casino of choice, Reeg is adamant the firm will "encounter pretty robust demands for a center Strip asset."
As for the reason for the sale, Reeg has pointed to the company's debt, which reached $14.3bn as of December 2021. The firm saw a staggering rise in this number during the COVID-19 pandemic, increasing more than 500% from 2019 to 2020. Reeg believes one property sale will prove enough to counter this sufficiently, so gamblers can rest easy that Caesars will remain a part of the Las Vegas skyline for the foreseeable future.