Grant makes his apology
If you didn't already know, it's Safer Gambling Week in the UK, a time when operators, suppliers, affiliates, and regulators come together to work for a better future for the nation's gamblers. One in which the majority of players have the freedom to wager how they like, while the vulnerable remain protected at all times. Sadly, it seems one company may have missed the memo this year.
the operator offered free spins to gambling addicts
Sky Betting and Gaming is at it once again. The Flutter Entertainment-owned gambling company came under fire this week for a blunder that saw self-excluded gamblers receive marketing material for its Sky Vegas online casino brand. Essentially, the operator offered free spins to gambling addicts – something I think we can all agree is not ideal.
In a LinkedIn post published on Thursday, Conor Grant, CEO of Flutter's UK and Ireland Division, apologized for the "error":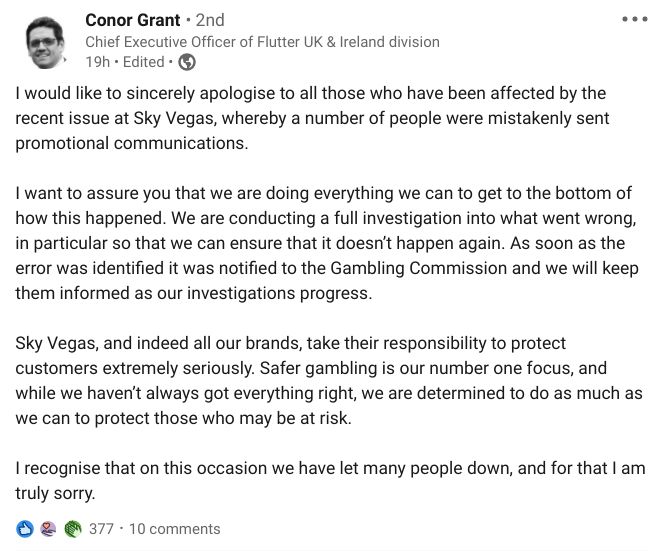 While Grant's apology does seem sincere, it comes at a time when the UK industry should be celebrating its safer gambling progress rather than regretting its continued mistakes. That's not to mention the tense legislative atmosphere surrounding UK gambling currently, along with the fact that Sky Bet is a repeat offender.
A dent in the industry's reputation
The first edition of Safer Gambling Week began in October 2017, and it's fair to say the UK gambling industry has improved leaps and bounds in its protection of vulnerable customers since then. It's now expected that all operators will have committed responsible gambling teams, while also providing customers with self-help tools such as self-exclusions, cool-down periods, deposit limits, and time restrictions on play.
Despite these additional measures, however, the rate of gambling addiction in the UK still remains high. A survey commission by gambling addiction charity GambleAware earlier this year estimated that the UK has around 1.4 million gambling addicts. That represents around 2.7% of the nation's adult population.
gambling's opponents are searching for any reason to criticize the industry
As a result of this continued issue, gambling's opponents are searching for any reason to criticize the industry for its lack of progress. The UK's operators are all too used to negative press in the nation's mainstream media, and MPs have adopted an increasingly anti-gambling stance to secure votes in recent general elections.
Sky Bet's latest blunder has given those opponents all the ammunition they need to take aim at the industry once more. For instance, former Conservative leader Iain Duncan Smith referred to the mistake as "utterly shocking." He said it made apparent the industry's inability to prevent vulnerable people from being "sucked deeper into the vortex of debt."
Notably, Smith believes Flutter's mistakes reflect the failings of the entire industry. The company's error evidently has a far-reaching impact for other firms within the same market. Not only should he say sorry to customers, but Grant should also apologize directly to his industry colleagues for shining a negative light on the sector as a whole.
It's not the first error either
Of course, we all make mistakes, and I'm sure it's surprisingly easy to slip and press the big red "send free bets to all self-excluded customers" button on the Sky Vegas control board. To make the same error twice, however – especially one that has already cost the company as much as £1m ($1.3m) – that really takes some doing.
In 2018, Sky Betting and Gaming's sports wagering arm sent promotional material to more than 50,000 customers, including self-excluded gamblers. A UK Gambling Commission investigation also revealed that 736 self-excluded gamblers were able to open and use duplicate accounts to wager on sport.
In words that now sound vaguely familiar, the then CEO of Sky Betting and Gaming Richard Flint apologized for the firm's failures. He reassured users that the business had further increased its resources to focus on helping customers to gamble safely. Sadly, the company clearly failed to invest in any protection for that pesky red button.
Sky Bet wasn't the only UK-based operator to receive a fine in 2018. That year, gambling firms paid £19.6m ($26.3m) in total for failing to protect customers and stop money laundering. Within that figure, Sky Bet's new owner Flutter received a £2.2m ($2.9m) penalty for transgressions by its Paddy Power Betfair brand.
Now is not the time for mistakes
While Grant has affirmed Flutter's commitment to protecting vulnerable customers, the company's error has come at an awful time for the industry as a whole. The UK government is currently conducting its review of the Gambling Act 2005, and it looks like sweeping changes are on the way whether the industry likes it or not.
As that review goes ahead, Flutter has added some measures of its own in a bid to pre-empt any drastic legislative changes. The company has already added a monthly net deposit cap of £500 ($682) for all UK and Ireland customers younger than 25 years old. Grant described the measure as necessary for those "gaining independence for the first time and learning how to manage their finances."
efforts to prevent drastic legislative reform could be in vain
However, with Sky Vegas' latest mistake, those efforts to prevent drastic legislative reform could be in vain. All UK gambling businesses can do at this point is demonstrate their commitment to safer gambling in the hope that the government will not feel the need to intervene. Sending promotional messages to gambling addicts certainly does not help towards this aim.
Industry opponents have suggested such drastic measures as banning in-play betting and a cap for all deposits. A recent study by Nera Economic Consulting has found these policies could reduce industry profits by as much as $1.3bn per year. If the government does ultimately go ahead with these measures, mistakes made by companies such as Flutter will take the brunt of the blame.
"While we haven't always got everything right, we are determined to do as much as we can to protect those who may be at risk," Grant affirmed in his apology. Well, now is certainly about time the Flutter boss put those words into action… if it's not too late already.