US pro poker player Gordon Vayo has dropped his near-$700,000 lawsuit against PokerStars after the site uncovered evidence of probable forgery and fraud designed to hide Vayo's illicit VPN-based play.
Prominent American online and live poker professional Gordon Vayo has dropped his lawsuit against PokerStars parent Rational Entertainment Enterprises Limited (REEL) over withheld online-poker tourney winnings. PokerStars introduced new evidence showing not only that Vayo probably violated PokerStars' terms of service by illicitly playing on the site from the US, but also that Vayo introduced doctored and fraudulent bank statements into his case to bolster his original claims.
The new information comes from a REEL filing and motion made on November 12, offering several visual examples of forged bank statements while making claims for damages and legal expenses for the case. Those damages are likely to exceed $300,000 if PokerStars and REEL prevail on their claims. That's roughly half the base amount that Vayo sought in his suit against Stars.
Vayo, 30, who is best known for finishing as the runner-up in the 2016 World Series of Poker main event, filed his action against REEL in May 2018, seeking base damages of US $690,000 (£507,681), plus a trebled qualifier and other damages that could have brought the value of the action to nearly $3,000,000 (today about £2.31 million). The base damages of $690,000 were roughly equivalent to Vayo's winnings of over $692,000 in a major May 2017 event in Stars' Spring Championship of Online Poker (SCOOP).
PokerStars froze Vayo's bankroll within weeks of the big win, after discovering evidence that Vayo had played on the site from within the United States, a banned jurisdiction for Stars and many other major international sites. Vayo allegedly utilized a virtual private network, or VPN, to make it appear he was playing on PokerStars from Canada. In one earlier filing, Vayo claimed a "VPN malfunction" had made it appear that he was playing from the US while actually in Canada, but subsequent evidence submitted by REEL seemingly exposed that claim as an outright lie. Regardless, Vayo filed his action in his home US state of California, despite Stars' legalese declaring that all such disputes are to be adjudicated in the UK's Isle of Man.
Action dropped in mid-October
Vayo's claims against PokerStars took a mysterious twist on October 14, 2018, when he filed a notice in the California-based lawsuit that he was voluntarily dropping his claims against REEL and PokerStars. Less than two weeks later, his initial attorney, Gregory A. Fayer of LA-based Fayer Gibson LLP, filed to remove himself and another attorney as Vayo's counsel, and a new attorney, William A. Bowen, came on board.
However, neither Vayo's reason for dropping the case nor why he changed counsel was detailed in those October filings. Not until REEL's November 12 did a version of events emerge. According to this excerpt:
"After the Motion to Dismiss was fully briefed, but before it was heard, REEL received a 'tip' from a third party that Vayo's bank and internet records were altered by a document forger Vayo hired (the "Forger"), specifically in order to create the false impression that Vayo was in Canada during the SCOOP Tournament so he could fraudulently demand payment from REEL. Stern []. As described below, REEL's further investigation confirmed this to be the case, and REEL immediately confronted Vayo about it, on a Friday evening. [] Vayo's counsel claimed that he was not aware of any forgery (i.e., he had just passed along the documents Vayo had provided to him), that he would ask Vayo about them, and that he was concerned about speaking further because—if the documents were in fact forgeries—the crime-fraud exception could apply. [] About 48 hours later, on Sunday evening, Vayo filed a notice of voluntary dismissal of all of his claims [] and his counsel subsequently withdrew. … REEL made repeated efforts to meet and confer with Vayo's new counsel to avoid the need for this motion, including by sending a detailed letter explaining Vayo's forgery. []. Vayo ignored these meet and confer requests, and never denied the forgery. …
"The third party who informed REEL of Vayo's forgery said that he (the third party) had spoken to the Forger. … The Forger told the third party that Vayo contacted the Forger for assistance creating a virtual private network ('VPN') for Vayo to use while he was playing on REEL's site in California to create the false appearance that he was in Canada. [] The Forger also provided the third party with the original statements from First Republic Bank and Bell Canada that Vayo had sent to the Forger to doctor so that they would demonstrate (falsely) that Vayo was in Canada during the SCOOP tournament.  Importantly, the third party knew and volunteered that Vayo's forged documents purported to be from Bell Canada and First Republic Bank, information that was not public at the time or provided to the third party by REEL."
The filing also alleges that Vayo's new attorney, Bowen, has not responded to any of four inquiries made by attorneys for PokerStars, the last on November 5, thus precipitating the November 5 12 filing and motion for damages and legal expense.
Alleged Forgeries Filed With Court
As part of its latest filing, counsel for REEL and PokerStars assert that Vayo submitted forged and fraudulent bank and utility statements falsely showing Vayo in Canada at the time of the disputed SCOOP event and that he may have falsely claimed Canadian residency in connection with his PokerStars account. For instance, Stars was able to determine that a Bell Canada Internet bill Vayo submitted with his name on the account was actually that of another person.
The latest filing includes redacted versions of both the original statement (top) and the altered version falsely showing Vayo as the account holder (bottom):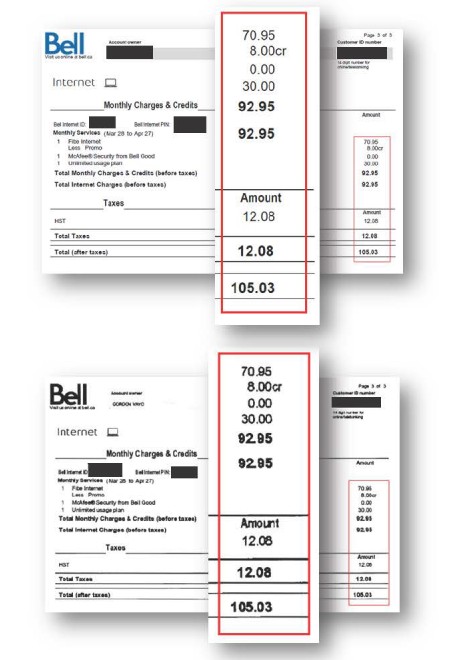 The filing also shows before and after images taken from Vayo's First Republic Bank statements that contain sloppy and erroneous data, not matching from one category to another, and including impossible results. Here's one example: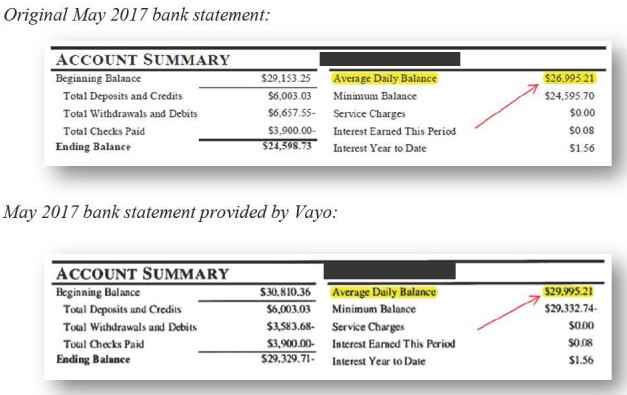 A detail from one of the altered statements also shows several faked ATM withdrawals purportedly done in Ottawa, but with usage surcharges that indicate the real transactions occurred within the US. Differences in the surcharge amounts and a failure to account for the exchange gap between the US and Canadian dollar also popped up, making it obvious that the claimed account balances were forged.
PokerStars and REEL are seeking more than $280,000 in known legal fees and court costs to date. The site has also declared its intent to file for further, unspecified damages against Vayo over the allegedly fraudulent claims.