A recent US Supreme Court ruling has paved the way for the legalization of sports betting. This overruled a 1992 federal law which prevented sports betting in most places. Now, individuals, businesses and governments are scrambling to take advantage of this new multi-billion dollar industry.  But there are concerns about the consequences of this ruling, particularly regarding college sports.
Sports betting legalization
New Jersey's efforts to have sports betting legalized were recently endorsed by judges. This came despite staunch opposition from major sports leagues who fear that sports betting would lead to game-fixing, lack of integrity in competition among other issues.
When news of the ruling was publicized, stock prices for gambling-related companies shot up. A lot of states have also welcomed this ruling as it could prove to be a very lucrative income source thanks to tax revenues. It had been estimated by the American Gaming Association that the market for illegal sports betting in the US is worth $150bn (£112bn) annually.
The 1992 federal law at the center of this case meant that sports betting was banned in every state bar Nevada, with certain pockets of Oregon, Montana and Delaware also being exempt.
New Jersey had been leading the fight for this ruling as they claimed the 10th Amendment was violated by the 1992 federal law, because the amendment prevents federal laws which compel states to follow federal dictates. The federal law was struck down with a vote of 6-3, with the five conservatives voting in favor of the overruling along with one liberal.
Speaking on behalf of the court regarding this decision, Justice Samuel Alito said: "The legalization of sports gambling requires an important policy choice, but the choice is not ours to make. Congress can regulate sports gambling directly, but if it elects not to do so, each state is free to act on its own."
The New Jersey law had been pushed by ex-governor Chris Christie and had been opposed by the NFL, MLB, NBA, NHL and the National Collegiate Athletic Association (NCAA).
This law would allow those aged 21 or over to make sports bets at racetracks and casinos in the state, but they would not be allowed to bet on college teams native to the state or those playing in the state.
Potential consequences
There has been a strong response from the NCAA, which is the main governing body for intercollegiate sports. It has major concerns about both the social and economic impact sports gambling would have, in addition to the impact on the integrity of college sports.
"The NCAA opposes all forms of legal and illegal sports wagering, which has the potential to undermine the integrity of sports contests and jeopardizes the welfare of student-athletes and the intercollegiate athletics community," it says on its website.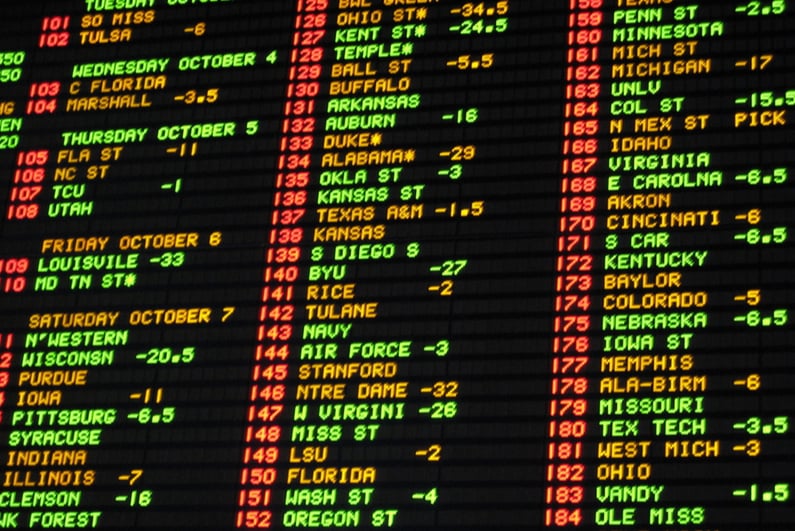 While professional sportspeople are paid for their efforts, college athletes do not receive a penny and therefore are more vulnerable to these upcoming changes. It has been a longstanding debate as to whether these players should be paid in addition to their scholarships, as they generate significant revenues for the NCAA. In 2017 there were revenues of almost $1.1bn generated by the NCAA, largely through television rights deals with Turner and CBS.
There are numerous states in the South where college sports rule the roost and which are preparing to protect their players and populations from legalization of sports betting.
The NCAA could work with individual states to create an exemption for college sports betting. Alternatively, it could just embrace these changes and focus its efforts on having effective monitoring and enforcement of the new legal framework for colleges.
There is no denying that gambling is a useful tool with which to increase engagement in games. Nielsen studies suggest that an average NFL fan that doesn't bet on games will watch 15-16 games annually, compared to 45-50 games annually for those who place bets. This obviously would be massive for major leagues and organizations when it comes to negotiating television rights.
Following the announcement of the ruling, The NCAA's chief legal officer Donald Remy said it would: "adjust sports wagering and championship policies to align with the direction from the court."
High-profile scandals
For years, there has been scandal after scandal regarding players receiving payments under the table or charging for autographed memorabilia or receiving benefits in kind.
The Louisville basketball team used sex workers to entice players to join their program, SMU paid their players illegally in the 1980s, many colleges have been shown to falsify player's GPAs, Tulane University basketball team shaved points in 1985, while Reggie Bush received nearly $300,000 in benefits during his time with the USC Trojans. These are just a handful of high-profile scandals to have hit collegiate sports.
There have been instances of match-fixing occurring even when sports betting was illegal, so it isn't really a new issue. Most major sports have been embroiled in match-fixing at both amateur and professional level. Professional soccer players are some of the best-paid athletes in the world, but there have been countless instances of match-fixing in the game.
While there will be a lot of money coming into the system, with that comes strict regulations and monitoring that previously was not in place. Sophisticated systems will throw up any inconsistencies in betting patterns and it is likely that any culprits will be caught.