Ladbrokes Coral, the UK's biggest bookmaker, has announced it will cut back its sponsorship of UK sports if the government goes ahead with plans to cut the maximum stake on Fixed Odds Betting Terminals (FOBTs).
Ladbrokes Coral currently spend £8m a year on sponsoring sports events in the UK, with £3.5m of that dedicated to horse racing.
At the moment more than half of the group's betting shop revenue comes from FOBTs – or Bots as they are more commonly known. The old days when everyone in a betting shop was betting on the 3:30 at Kempton – or filling in their fixed-odds football coupon – are gone for good.
Walk into a betting shop today and you will see people playing compulsively on the Bots – which is why the government is concerned.
What is a Fixed Odds Betting Terminal?
FOBTs were introduced to the UK in 2001. They are a type of electronic slot machine allowing players to bet on a variety of games and events – such as roulette, bingo and simulated horse racing and greyhound racing – which have fixed odds.
The machines also have a theoretical return to the player percentage (RTP) which must be displayed by law – typically this will be between 90% and 94%, perhaps going as high as 97% on a game of roulette.
There are various limits imposed on maximum stakes and payouts with the maximum stake currently being £100. The government is looking to reduce this to £2 as it is concerned about problem gambling.
Grass-roots funding
The races the firm currently sponsor includes the Ladbrokes Winter Carnival, the Coral Scottish and Welsh Grand Nationals, the Coral Eclipse – one of flat racing's premier events – and the Coral Sprint at York, as well as a host of smaller races.
The bookmaker also sponsors the Rugby League Challenge Cup and the Scottish Football League, as well as snooker and darts.
A Ladbrokes Coral spokesman said: "Yes, we get exposure [from sports sponsorship] but it also helps sports finance their entire structures right down to grass-roots funding."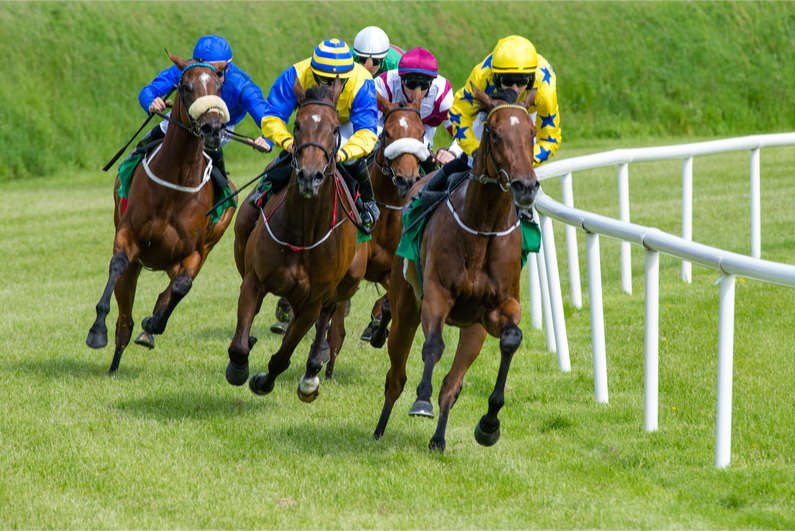 The bookmakers have suggested horse racing is less vulnerable to cutbacks than other sports – "horse racing is in the bookie's DNA" according to the company – but there is no doubt that all sports would be affected.
And where Ladbrokes Coral leads, other bookmakers who are also big sponsors of sport, such as William Hill and Paddy Power, would be bound to follow. They are equally reliant on FOBTs for boosting their betting shop turnover.
Horse racing may be at risk
Despite Ladbrokes's pledge on horse racing, a cutback in sports sponsorship could have a  huge impact on the so-called sport of kings – which seems to lurch from funding crisis to review to the next funding crisis with increasing speed.
Editor of the Racing Post, Bruce Millington, said: "No-one likes the fact that the horse racing industry is a hostage to a load of high-octane fruit machines, but there is little question that a £2 limit [on FOBTs] would have significant implications."
It appears though, that the government is determined to press ahead with the reduction.
The Department for Digital, Culture, Media and Sport has said: "We are clear that FOBT stakes will be cut to ensure that we have a safe and sustainable industry where vulnerable people are protected." Despite adding that "a decision will be made in due course," there is little doubt what that decision will be.
Bookmakers' turnover will unquestionably be hit by a reduction in the maximum stake on FOBTs – but you do wonder if they might be quietly breathing a sigh of relief. As more and more advertising moves online and onto mobile devices, sponsoring the 3:30 race looks like an outdated form of promotion.
Ten million people might watch the Grand National but audiences for horse racing are shrinking and the sport definitely does not deliver the targeted, young demographic that football does.
The decision to reduce the stake on FOBTs may be taking from the bookmakers with one hand, but it may be giving back with the other in offering them a convenient way out of the sports sponsorship they view as an outdated obligation.