Expanse Studios was founded in 2017 by a team of industry veterans who aimed to "revolutionize gaming." In the six years since then they have developed a game portfolio of innovative titles in a wide range of themes, from ancient history to eskimos, cowboys, and everything in between.
The gaming provider recently made it into VegasSlotsOnline News' Slots of the Week for its fresh release God of Coins. It's a slot that takes the Ancient Egypt theme to new heights in terms of its graphics, also featuring 20 lines, wilds, and free spins.
VSO News caught up with Expanse Studios CEO Damjan Stamenkovic to talk about the new game and find out a bit more about the studio behind it.
Firstly, tell us about your day-to-day role and the best thing about being CEO of Expanse Studios?
My typical day consists of making sure overall management and strategy of Expanse are clearly effectively implemented. Besides that, I communicate with potential and current business partners to expand our network of distributors.
we breathe new, digital life into old-school gaming motifs
The best thing in this adventure is the opportunity to lead a team of passionate and talented individuals and create exceptional gaming experience for players around the world. For example, each time we breathe new, digital life into old-school gaming motifs and transform them into a state-of-the-art design, captivating soundtracks, and immersive animations, it is a life-changing experience for me.
It is incredibly rewarding to see our hard work and dedication pay off in the form of successful games and strategic partnerships with operators and aggregators in emerging and well-established markets alike.
What advice would you give to someone who wants to reach the chief executive role in iGaming?
Of course, there are several factors. First of all, a respectable experience in the industry is needed, to learn about the different aspects of the business, such as game development, marketing, regulation, and customer service. Then, developing your leadership skills by taking courses, attending seminars, and working with mentors who have experience in leadership positions.
Stay up-to-date with industry trends as the industry is constantly evolving. You need to have a relentless and obsessed focus on customer experience, as a satisfied customer in an extremely saturated industry is game breaker.
build a strong team of professionals who share your vision
You cannot do anything alone – build a strong team of professionals who share your vision and are committed to achieving your goals. Nothing of the above will be possible without hard work and continuous self-education. The gaming industry is one of the most competitive sectors in the world, and staying ahead requires a strong work ethic and a willingness to learn and adapt.
How has the company developed since its early beginnings?
Since launching in 2017, Expanse Studios has established itself as a versatile, multi-genre development studio, creating not only captivating slots but also classic poker, table games, and turn-based strategy games, among others. Our rapid growth and development can be attributed to our talented team, dedication to innovation, and commitment to providing high-quality gaming experiences.
As we continue to explore various themes and introduce unique mechanics, we have become a go-to choice for players seeking diverse, engaging, and cutting-edge games. Our strong partnerships with leading casino platforms further testify to our success and solid reputation in the online gaming industry.
You pride yourself on "trying to bring a new approach to game creation." Can you explain a bit about how you try to think outside of the box?
To create innovative games, we constantly seek new ways to engage players beyond the traditional slot game experience. This includes incorporating unique features such as the Bonus Buy option, progressive jackpots, and tournament features that provide players with the opportunity to win big and add an extra level of excitement. We also strive to stay on top of emerging technologies and trends, such as VR and 3D compatibility, to create immersive and visually stunning games.
In your opinion, what is the key to great slot design?
Great slot design requires a combination of factors, including stunning visuals, unique game features, and understanding the players' needs and preferences. At Expanse Studios, we take a multi-genre development approach, not only focusing on slots but also including classic poker and table games, turn-based strategies, and more.
our innovative approach is exemplified by our reinvention of video poker games
Our diverse approach allows us to think creatively and develop engaging games that appeal to a wide range of players. For example, our innovative approach is exemplified by our reinvention of video poker games for the web 3.0 generation such as Diamond Joker Poker, Multihand Titan Poker, and Mega Pixel Poker.
God of Coins recently made it into our Slots of the Week. Can you explain a bit about this game and what makes it so great?
Ancient history motives will rarely fail in delivering utmost entertainment. God of Coins is one of our latest additions to the Expanse Studios game portfolio, and we're thrilled to see you've recently recognized it as a Slot of the Week. This game offers a unique and immersive Egyptian theme, featuring stunning graphics and a captivating soundtrack that takes players on a journey through ancient Egypt.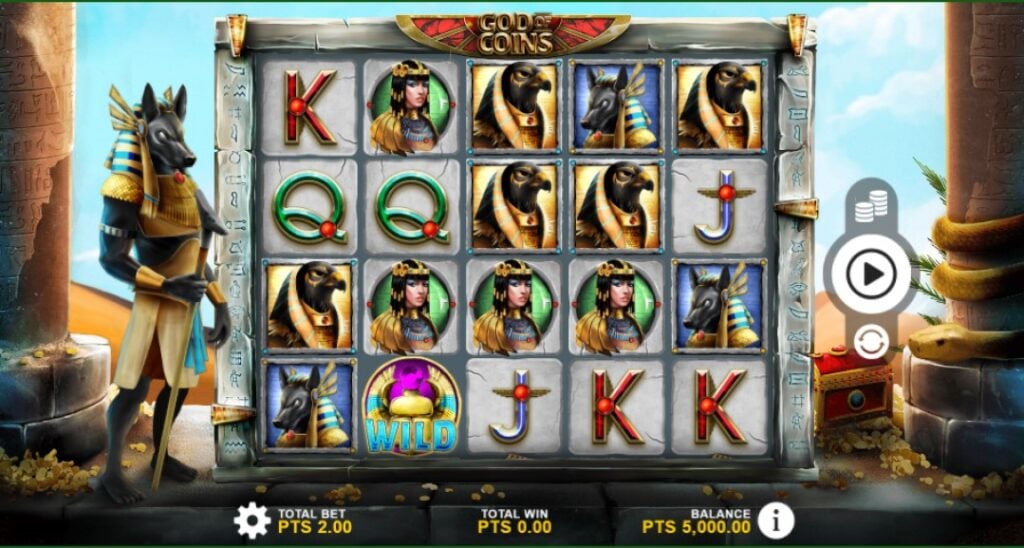 What makes it stand out is the 4×5 grid layout, which adds an extra layer of strategy to the gameplay. The inclusion of eight symbols, including a scatter and a wild, offers players an opportunity for significant payouts. And, of course, the game features our signature progressive jackpot, which adds even more excitement and the potential for life-changing wins. A no-brainer for slot fans looking for a thrilling and rewarding gaming experience and those in love with big historic themes.
Why are history-themed slots such a hit with players?
Games with a historical theme are frequently favored by gamers since they offer a sense of familiarity and nostalgia while also allowing them to discover and explore different cultures and significant historical events, eliciting strong emotions such as grandeur, faith, and betrayal. Such games often have a compelling narrative and storyline, which can maintain players' interest and engagement in the game.
Our latest slot game, Veni Vidi Vici, enables players to interact with Julius Caesar, providing an exceptional gaming experience that adds an extra layer of excitement and immersion to the gameplay. Yet, the key to a great slot design is offering a unique and engaging experience, no matter the theme.
What other Expanse Studios games should our readers try?
It is very tough to name only a few.
Titan Roulette has a superior design and no-match multiplication scheme. A standout table game due to a simple and user-friendly layout that allows for easy chip-placing. The game's design features a simulation of the ball's free fall on the roulette wheel for added realism.
a unique design that utilizes the natural descent of a ping-pong ball
A simple and innovative UI console in Clown Fever makes it a hit among our players. Its our most popular game outside of the slots category, boasting large multipliers and potential for big wins, a user-friendly interface, and a unique design that utilizes the natural descent of a ping-pong ball.
Wild Icy Fruits is our most-played classic slot with frozen symbols and ice storms that can lead to substantial prizes. This game offers a slower pace and lesser wins for those who prefer a more relaxed gaming experience.
What is next for the studio?
The following months will be very intensive for our team. One priority will be the development of crash and live games in response to the strong demand we have seen for these types of games. We are always striving to stay at the forefront of the industry by evaluating new and innovative game types, and we will be performing in-depth analyses of the competition and ourselves to ensure that we continue to offer the best possible gaming experience. Our players can expect some exciting developments in this area.