Despite being a relatively young company, Peter & Sons has already put its own stamp on the world of online slot development. The gaming supplier now has 25 games in its portfolio and each has that very distinctive style that has become synonymous with the Peter & Sons brand.
funky graphics and enthralling bonus features
The firm's upcoming release, Book of Books, also utilizes those fun, unique illustrations but this time set within an English medieval theme. Offering funky graphics and enthralling bonus features, the game recently made it into VegasSlotsOnline News' Slots of the Week.
To find out a little more about Book of Books before its global release on March 16, VSO News caught up with Peter & Sons' global business development manager and co-founder Yann Bautista.
Tell us a bit about your background in the industry.
I'm one of the six founders of Peter & Sons.
I started other companies before Peter & Sons, focused on mobile gaming. At least in terms of playability, visuals, and the time to market for development, mobile games took much longer. The time frame for developing a slot game is now five months, while games before sometimes took two years.
all our games are visually rich
But of course, slot development is not easy either. We are still trying to find ourselves. We don't do copies of our own games. We are still in the search and it's not an easy journey. In the visual style, we aimed to bring the combined experience from casual mobile gaming into the real money space, that's why all our games are visually rich.
You founded the company in 2019. How did the decision come about to start Peter & Sons?
Part of the team was working at a different company at that time. That firm started its own development studio but ended up shutting it down. That's when we started Peter & Sons with four of their guys. Initially we made bespoke games for that company and some others, but when the four others joined we started Peter & Sons properly and began working on and releasing our own games.
Is there anything you found particularly challenging about that journey?
Everything is difficult when you start a company. As a start-up, it's taken three years to get to this stage where we're bringing a strong investor in like SkillOnNet to help us boost the company to the next level. Our goal has always been to grow the company without diluting our ownership, and I can tell from my previous experiences, that this is not easy to do.
We have 25 games in the portfolio now. We are publishing them through these aggregator programs like, Yggdrasil's Masters, Relax Gaming's Silver Bullet, and Oryx Gamings Blue Horn programs, which makes sense for a smaller company in the beginning.
it's time to really push the company to the next level
Of course, all of these things are challenging, but it really helps having a core team with the experience and skills that you need. This includes the backend developers, mathematicians, the producers, designers, artists, and the founders. That's the most important thing. Now it's time to really push the company to the next level.
On that subject, Peter & Sons recently announced SkillOnNet had made a strategic investment in the company. What doors does that open for you?
It's very important. SkillOnNet is an operator with different brands which gives us a lot of strength. They have all the licenses, including the US ones. The company opens many doors in terms of funding, licenses, compliance – all the ingredients that we need to scale up the business
You really have your own distinctive style. From the beginning, was it your goal to stand out through your own unique visuals?
Yes, definitely. That's the way we knew we could start to stand out. One of the founders, the art director, has a very special style. He is an amazing artist, very multi-faceted. He's a musician and a graphic designer. He is the one who recruits the different artists. We never wanted to do traditional slot games because you need to enjoy what you're doing as well. You cant tell a guy to make something he doesn't want to make.
we give them complete ownership of the game
We have seven artists now and each has a very specific style. None of them have a background in slot development. They come from different fields. They quickly realize that slot development is pretty fun because we give them complete ownership of the game. Once we have everything in place, then we bring in all the other people, such as the animator and the musician.
Book of Books definitely follows that tradition of uniquely-styled games. Can you tell us a bit about it?
We analyzed our portfolio to see what games were performing well before deciding to create the game, and actually this one was based on the success of Johnan Legendarian, a book game we previously released. We decided to create another book game but to give it a twist.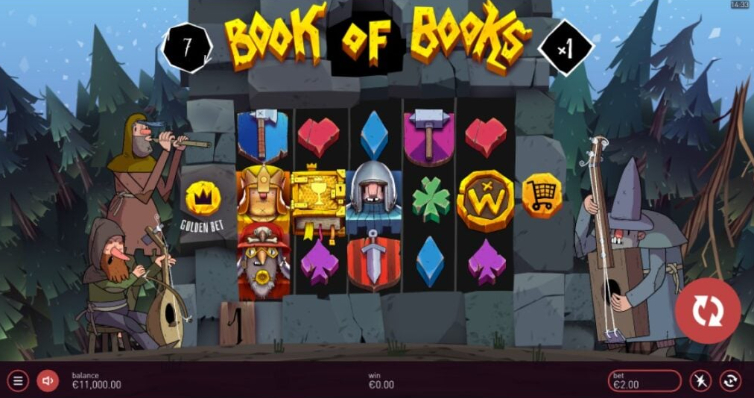 We added a collection feature that was shorter and could really power up the free spins game. It has one bonus game but every time you play the experience can be completely different. The slot is all about collecting power ups in the base game.
every time you land two scatters in the base game you collect a power up
Typically, book games work with expanding symbols but this is a little bit different because every time you land two scatters in the base game you collect a power up. They can be additional symbols, extra free spins, or multipliers which are not limited. When you trigger the free spins game you will get seven free spins by default plus all the power ups you collected. Also, depending on the amount of scatters you collect, the free spins game will be based on a 5×3 grid, a 5×4 grid, or a 5×5 grid.
It's a high volatility game with 40 paylines when you play with the maximum grid size. The game went live last week but the global release is on March 16.
What about the theme, how did this come about?
The idea we had from the beginning was about finding the Holy Grail, so it was a little bit based on the Monty Python movie. But it's a theme that you'll find in lots of different movies. Typically, they will start searching for the Grail in a church in England and they will end up in Egypt. Our game is based in England in Medieval times.
Initially, the name was going to be something to do with the Grail, but every time you see a book game the name will begin 'Book of.' We decided to stop all of this and create the Book of Books!
Any upcoming releases you can share with us?
We have a great pipeline of games this year. Our next game is based on Yggdrasil's trademark mechanic, the Double Max. It will be a pirate-themed game called Barbarossa featuring free spins, wild cascades, unlimited multipliers, multiplier jumps, and plenty more.
Then the first game we are going to be releasing with Relax Gaming is called Abrakadabra. I'm really looking forward to that release because it's a super cool game. It's also based on increasing multipliers and you have a collection mechanism so you can trigger two free spins games, a free spins and a super free spins game, plus a bunch of other features. The style is amazing, it's all about magic.