Spooky German slots
'iGaming with a German accent' – that's how our next Q&A participant describes itself. Founded in 2020 by its team of industry veterans, Apparat Gaming provides a multitude of slots to the iGaming industry from its headquarters in Berlin, Germany.
Despite being a relatively young company, Apparat has already made it into VegasSlotsOnline News' Slots of the Week for its recent Halloween-themed release Plenty Pumpkins. It's the ideal game for the run up to spooky season, even featuring a Spooky Spins feature which activates when you hit four identical symbols on reel one of the five-reel slot.
VSO News has spoken to one of Apparat's many industry veterans Martin Frindt, co-founder and chief product officer of the supplier. In the insightful Q&A, he explains how Apparat's German roots help make its games better and what makes Plenty Pumpkins unique.
Tell us a bit about the company and your day-to-day role.
We develop slot games with a focus on the German market, but we did not join to revolutionize the industry. At least not from the very beginning. We come from Germany, a particularly conservative market, and the new regulatory framework was one of the reasons for us to take the plunge. We understand the tastes of the players because the whole team has experience in both online and land-based. The transition to online is in full swing and this is quite challenging, but Germany is one of the biggest markets in Europe – so we just had to be part of it.
I'm used to playing the fire fighter again and again
My role varies, as it does with many start-ups in the early stages. As a co-founder, you're a bit of a jack-of-all-trades – technology as well as product, contract negotiation, sales, account management. And it's not the first company I've co-founded, so I'm used to playing the fire fighter again and again and also taking on new tasks where the greatest need is at the moment.
I'm also a player myself – so I can get excited about the games too and not only for our own games. If at some point I only had to negotiate contracts and was no longer allowed to play myself, then I would lose the fun. And as much as we've taken up the "no sense of humor" stereotype – that would be the end for me!
What do you see as the main benefits of your German roots for this sector?
At the moment, when it is no longer primarily about games for the German market, but about appealing to a larger audience, we benefit from what is often described as typically German: German engineering, reliability, and quality awareness. But we also like to do this with a slightly self-deprecating wink – we don't necessarily take ourselves too seriously.
Speaking of winks: what we like to call 'Augenweide,' eye candy – the design, the visual appeal – is also important to us. Even simple games like fruit games look good to us. Classic games don't necessarily have to mean old-fashioned, but can also look fresh and young. Modern classic, so to speak. Next week's upcoming release Fruits First is a good example of this.
Since you founded the company in 2020, did the pandemic influence your decision in any way? What kind of effect did the crisis have?
At best, the pandemic had an indirect influence. Our decision had been made a long time ago – the pandemic was just another accelerator. The lockdowns all over the world have pushed the online market and the transition from land-based to online.
everything just fell into place
At the same time, new forms of work such as remote and hybrid have become mutually accepted by employers and employees alike. And after years of regulatory hang-ups, there was finally clarity regarding the start date of German regulation. At some point, everything just fell into place, so we had to ask ourselves: When, if not now?
What advice would you give anyone looking to get into the iGaming space?
It is a highly competitive industry and launching a new business is incredibly challenging. Not all will succeed and that's why it is important to understand the business – so find your niche.
And obviously a good network helps a lot. If you have to build it from scratch, it's much harder. Being able to fall back on tried and tested business relationships is a shortcut. You don't build trust overnight any more than you do experience. But in such a dynamic market, experience is often of no use – mistakes and misjudgments happen. That makes it all the more important to have strong and reliable partners, inside and outside your own company.
But the most important thing is to know your market well – for us that was Germany. It's anything but an easy market, but if you can make it here, you can make it anywhere.
Onto Plenty Pumpkins. Of course, it's a very topical game with Halloween approaching. Is this what inspired the release?
Of course! Plenty Pumpkins is a spine-tingling slot designed specifically for the Halloween season. We are always looking to launch games with themes that tie in with various celebrations as we have great fun getting creative when developing these titles. Plenty Pumpkins is a special twist on a classic fruit game where the symbols are packed with fruit, but not the kind you would want to eat.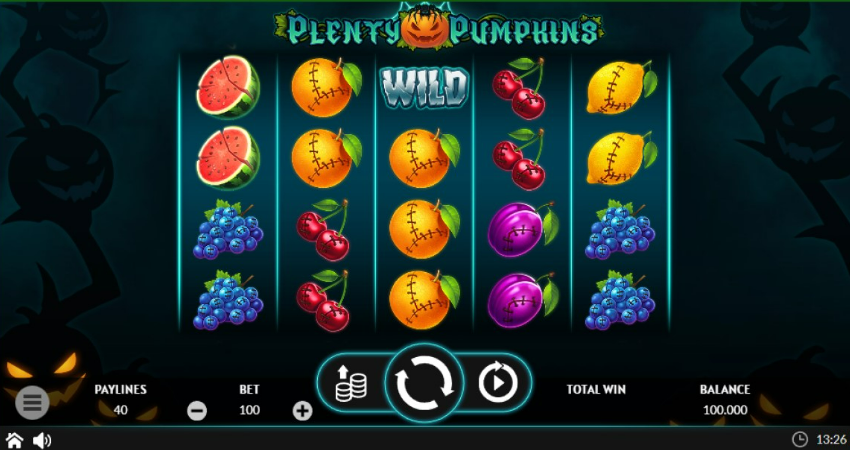 Instead, cracked watermelons, stitched lemons, rotten oranges, and putrid plumbs make up the game, as well as pumpkins carved with Halloween faces. Thankfully, it is also packed with wilds and stacked symbols that can deliver a devilishly good bonus feature.
all Wilds will be stuck in their positions until the end of the feature
Players must land four stacked symbols on the leftmost reel to trigger the bonus game. If they do, they'll be awarded three spins during which the triggering symbol and all Wilds will be stuck in their positions until the end of the feature, allowing the player to collect as many of these symbols as possible for a big win at the end.
Not even two weeks since that release, you have already launched the next title, Black Book of Pirates. How is the game different to other games our readers will find?
Black Book of Pirates is not just a classic book game in a Caribbean pirate setting, but also combines the genre of book games with the highly popular Hold & Respin feature. If you get into the free spins with three books, the player can not only win a varying number of free spins with the compass of Tortuga via Hold & Respin, but also more than one bonus symbol. As with The Warlock's Book, we have combined two popular and successful features into something new. The game is highly volatile, which means high wins.
Are there any other Apparat games that our readers should try out?
Always the next game, of course. But our portfolio is packed with great slots anyway. This includes the already mentioned The Warlock's Book, King of the Vikings with the popular sticky Free Games feature, or Pharaoh Princess with Free Games with an upgrade feature. There are lots of great games with different features, and we've only just started.
Finally, what does the future look like for Apparat?
Only good, I hope. We plan to continue releasing one game per month. And as with The Black Book of Pirates or The Warlock's Book, we will experiment – not always the groundbreaking innovation, but remixing the tried and tested. And always with the tried and tested German Accent, because no one pronounces the T-H as beautifully as we Germans.