Outright ban
Most sports leagues and competitions across the world ban their players from betting on fixtures, whether they are involved in the actual event in question or not. Now, the Ultimate Fighting Championship (UFC) has finally joined the party.
a memo UFC sent its fighters and managers
On Monday, Mixed Martial Arts (MMA) reporter Ariel Helwani shared news via Twitter of a memo UFC sent its fighters and managers, banning them from betting on any of its sanctioned bouts:
While the major tweak to UFC's code of conduct allows sports betting brands to sponsor fighters, the athletes and their team members may no longer bet on any fights, period.
The memo, written by UFC chief business officer Hunter Campbell, stated the code change comes from a "clear direction" issued by US sports betting regulators, none of whom Campbell named. He added that the ban was "for the purpose of maintaining the integrity of our sport."
Twitter reacts
Twitter users responded to the rule change in contrasting ways. For instance, Twitter user @YG_Bree echoed many others by questioning why the ban wasn't in place already: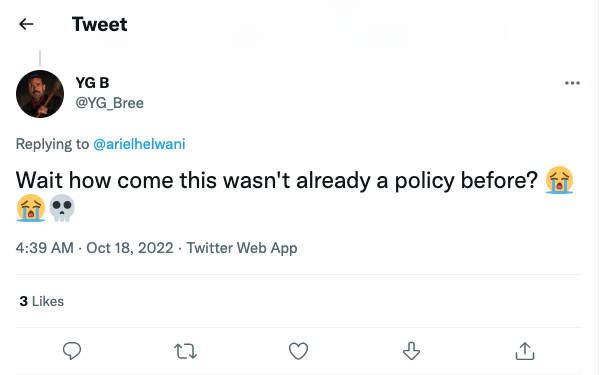 Another user @dray8605 agreed with the blanket ban, citing "insider info" as a "good call" to stop fighters betting on bouts not involving them: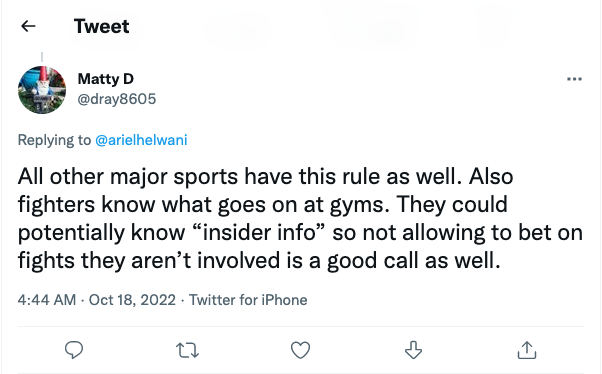 In the disagreeing minority were Twitter users like @brooklynryannn, an MMA bettor who justified fighters betting on their own fights by saying they didn't earn enough: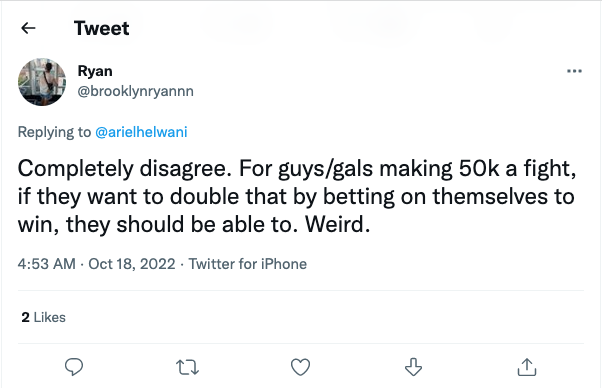 A betting tradition
The world's largest MMA promotion firm has several fighters on its roster who aren't shy about sharing their bets. The likes of James Krause, Jeff Molina, Derek Brunson, and Casey O'Neill have all posted their winning stakes online in the past.
worse than promoting alcoholism
Former UFC lightweight champion Khabib Nurmagomedov, however, will most likely approve of the ban. In August, Nurmagomedov explained that his fight promotion firm refused to work with bookmakers, which he said would be worse than promoting alcoholism.