Back with a bang
The last Unibet Open before the pandemic took place in Dublin in March 2020. At the time, we were all struggling to come to terms with what it would mean in practice. When one gentleman at the table suggested the World Series of Poker (WSOP) would be canceled that summer, the general consensus was he was being overly pessimistic. The commentator at the event, Henry Kilbane, was diagnosed with COVID-19 on the last day. When he informed the hotel, he was confined to his room as one of the first cases in Ireland.
In my blog at the time, I also greatly underestimated just how big an impact it would have on all our lives when I wrote: "Initially I underestimated the gravity of the situation and assumed most big events would go ahead albeit with diminished numbers. Now it looks like no live poker for the next few months and the WSOP must be in serious doubt. While I personally am quite looking forward to an enforced spell at home grinding online (and the games are juicier than they have been in years), creating content and coaching, I do feel for everyone affected by the moratorium and missing live poker, especially dealers and other live events staff."
We now know that not only was the WSOP canceled that summer, it was also delayed until the fall the following year. Even the biggest pessimist in our midst would not have predicted it would be over two and a half years before live Unibet Opens returned.
they'd taken for granted it would always be there
During that time, a lot of people who had drifted away from the game seemed to realize they'd taken for granted it would always be there. Once live poker started to return, I was struck not only by how many new faces I was seeing at events, but also by old faces I hadn't seen in years before the pandemic.
So it was the Unibet Open Malta that broke the existing record for runners at a Unibet event in Malta. My own Main Event consisted of a long tough grind on day one to get through with a short stack, which lasted only a few minutes into day two.
Students outperform the master
That didn't end my interest in the Main Event, as two of my students made it into the money. One of the many positives of coaching is you get to live on vicariously in tournaments you've busted. A particular shoutout to my fellow countryman Ray Wheatley who not only nursed five big blinds for hours around the bubble, but made it all the way to the final table.
We had breakfast together before the final table to go over some ICM stuff. Unfortunately, it didn't really help on the day as he busted first all-in, but it was a tremendous run from Ray who is very modest about his poker abilities. A recreational in the truest sense of the word, Ray is a very successful businessman with no desire to ever be a pro and told me he took the summer off from poker to enjoy his other main hobby, golf. Ray plays only when and where he feels like, but for a man who plays so infrequently and undersells his skill level, he has an amazing track record that includes chopping the Irish Open and now a Unibet final table.
diversity of both age and nationality of the players on the final table
I did some commentary on the final table with the world class Henry Kilbane. The true across-the-board appeal of Unibet Opens was underlined by the diversity of both age and nationality of the players on the final table. Nine players, nine different nationalities! The title and first prize eventually went to Henrik Junker, who played exceptionally from start to finish.
The real Main Event
My early exit from the Main Event allowed me to concentrate on the tournament David and I jokingly called "the real Main Event", the inaugural Chip Race Mystery Bounty. As I wrote in my recent piece, the mystery bounty format is one that is taking live poker by storm.
organizers are still coming up with new twists and innovations
As an evolving format, organizers are still coming up with new twists and innovations. I particularly liked the one Unibet came up with, adding prizes varying in value from €50 ($48.58) to €1,000 ($972) for every knockout before the actual mystery bounties kicked in. This was the brainchild of my favorite poker industry person, the inimitable Kat Arnsby, who personally took charge of dispensing the bounties on the day.
Kat is primarily motivated by what is best for recreational players, recognizing that they are the lifeblood of the industry. As such, she was rooting for them every time they pulled a bounty, and rooting against pros like myself. I did win a bounty and was anti-rooting myself for the 1k value one (in the form of an Upswing package worth that amount). No offense to Upswing, but I felt it would be worth a lot less to me than someone learning the game, so I was jonesing to draw a €250 ($243) online ticket, the next highest bounty.
And so it came to pass. As you can tell from this photo, Kat was delighted for me really.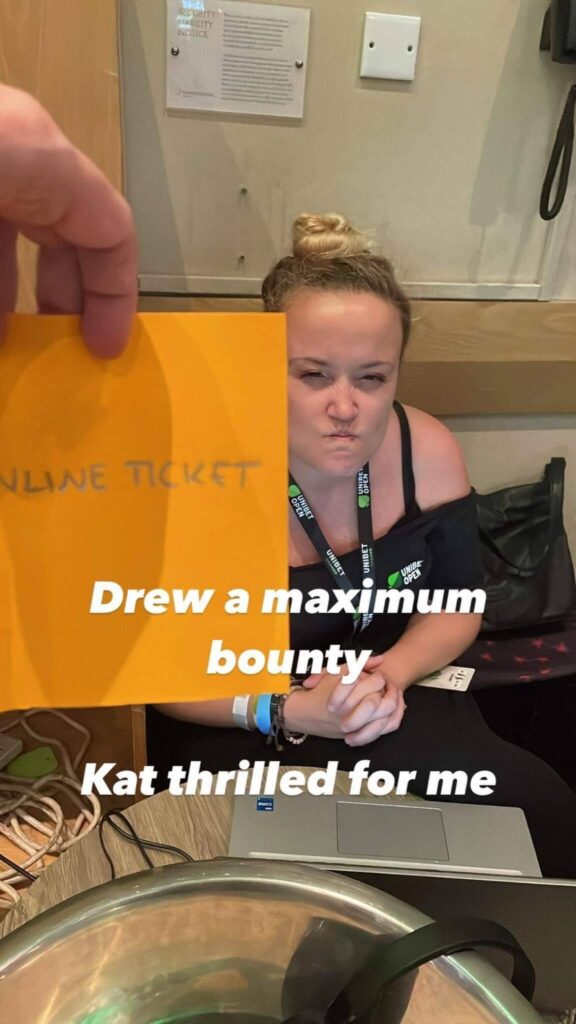 The queen rules
The Queen Rules ladies event at Unibet has traditionally had another twist: the Queen outranking the King. While being a nice idea in theory, it's less popular in practice given how many inexperienced players the event attracts who tend to misread their hand if it contains a King or a Queen. On this occasion, Unibet bowed to popular demand and used the traditional hand rankings. In the event though, the queen still ruled, as Unibet's queen ambassador Monica Vaka went back-to-back, retaining the title she won at the last Unibet Open.
I can't really articulate just how much admiration I have for Monica. For several years, she has combined ambassadorial duties with a job on an oil rig and motherhood, while applying herself diligently to studying the game and getting better. She plays all the games and recently claimed a World Championship of Online Poker (WCOOP) mixed event. Monica followed up her success in Malta by claiming the Norwegian Heads-up Championship, scything her way through seven rounds against many of the finest male players in Norway, including Norwegian legend Andreas Høivold, who she defeated in the final.
she was the warmest and best ambassador for the game
Monica combines hard work, discipline, a steely determination, and an ice cool temperament (I've literally never seen her flustered or creating drama) with a wonderfully warm table manner that never fails to impress those who share table time with her, including Irish legend Mick McCloskey who told me once she was the warmest and best ambassador for the game he'd ever shared a table with.
Shoutout to the team
Unibet Opens are unique in terms of their atmosphere, and most of the credit for this goes to the behind-the-scenes employees. None more so than the one-woman live events team, Nataly Sopacuaperu. Modest and shy by nature, she always gives credit to the whole team, but she deserves more credit for what the Unibet Open has grown into than anyone else. I've already shouted out Kat, but credit is also due to Mrs. Doke's personal favorite Andy ("he always answers my emails quickly"), larger-than-life Basti, Stubbe, and head of poker, the eternally cheerful Kristoffer.
A final shoutout for the most important people of all, the players, who turn out to support Unibet Opens wherever they happen. Several took the time to thank me personally for my books, which is particularly heartening as the main motivation for writing them was to transmit my love of poker strategy to recreational players.
We don't yet know where and when the next Unibet Open will be, but I'm already looking forward to it.