Beers, sausages, and slots
It might have a peculiar name, but Platipus Ltd. is now a major competitor in the iGaming development space. The Isle of Man-based company has built a wide portfolio of diverse games since its early beginnings in 2014 and continues to deliver its exciting offering to partners all over the world.
a highly volatile game with a potential for big wins
Platipus' recent slot release Coinfest offers a unique take on a German beer hall, complete with a buxom waitress, plate of sausage, and moustachio'd drinker. It recently made it into VegasSlotsOnline News' Slots of the Week feature, partly due to it being a highly volatile game with a potential for big wins.
In light of Coinfest's success, VSO News decided to reach out to Platipus CEO Martijn Peters to get some insight into the game's design. The executive also shared some background on the company, including the challenges he's faced, and explained why diversity and adaptability are so important for a successful slot portfolio.
Tell us a bit about Platipus. How has the company grown in your time as chief executive?
We started the company around 2012 when we were initially focused on social casino. We were making many games mainly for Facebook, but it did not prove a great success. In around 2014 we decided to make the switch to real money gaming.
At first, we built the RNG, which was a big job as we made it all from scratch and got it certified. Then we started to make the html5 games as prior to this we had made them all on Flash. This is how we started to build up our portfolio gradually over time.
an Isle of Man company with partners all around the world
We started slow but now the ball is really rolling. We don't have to get many direct integrations with operators. We do have some, but the majority of our clients exist from aggregators. Now we are busy obtaining licenses, including the MGA, the UK license, and the Romanian. Our production is based in Kiev but we are an Isle of Man company with partners all around the world.
What would you say has been the biggest challenge in building your portfolio?
The huge amount of competition. There are many, many games released every month. Then just keeping up to date with the newest features. We need to keep improving so we are always keeping an eye on what we can redo, or what we can upgrade to make better. In the meantime, we need to keep it as light as possible so it's always working properly. We also need to make sure we are keeping our product global. There are big differences in preferences in different jurisdictions.
Is there a secret recipe to great slot design in your opinion?
Diversity is very important. We have low, medium, and high-volatility games, and the more features the better. Then also, you need to take a good look at what your focus is at that moment. If we have a big client focusing on Asia, we try to include as many symbols and animation as possible which is something they prefer. We will talk with our clients to see what trends they see to get an idea of what's desired at that moment because it is constantly changing.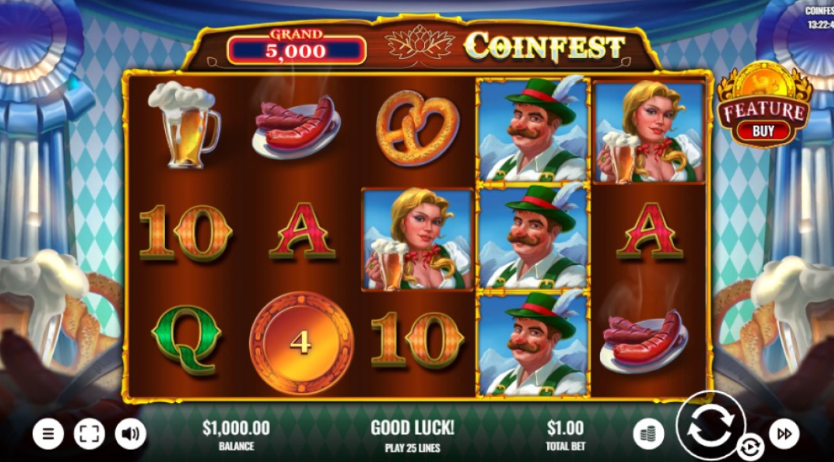 What are some of the current trends you're seeing in player demand?
We constantly strive to improve our user interface, our customer back-office, and numerous other features. One of our latest developments is the innovative coin chain feature and the Platipus gamification tool. Coin chain can be found in some of our recent games, like Joker Chase or Coinfest, but the gamification is still in development. Our coin chain mechanic is quite similar to the popular Hold and Win feature but with a twist.
Can you explain a bit about this coin chain mechanic and how it benefits the play in Coinfest?
During the bonus feature, the player gets different coins working the same way as Hold and Win but the coins appearing can be Bronze, Silver, or Golden. Bronze coins award the value on it as in Hold and Win. When Silver is hit, it will reward all the values added of the bronze coins displayed. The Golden coin acquires the values of both silver and bronze coins.
constantly awarding the player payout as long as new coins are added
In Joker Chase, the game triggers the bonus feature. The coins do not award the payout immediately. Only once new coins are added. This means the Hold and Win is constantly awarding the player payout as long as new coins are added.
Sounds exciting! Coinfest has a unique German beer hall theme. How does the design process work for a game like this?
We always start with research. We collect information about the topics and mechanics currently trending and what our partners find desirable. After the theme has been chosen, we compile all data and discuss. Our production team then creates an alpha version to provide everyone a general idea of what the game will look like and what it will be about. At this stage it's available to all and everyone can contribute their opinions. As we have quite an international team, we can look at the game from different angles. After our QA has gathered all the feedback and picked the best options, our production team prepares a number of rough beta builds. Then we go to production.
What's next for Platipus after this most recent release? Any new games or market entries lined up?
We have some releases lined up for sure, but we won't reveal those details just yet. Our goal is to keep launching at least one slot per month.
As for the new markets, we are getting more involved in Asia and LatAm. With each slot, we take these new markets into account, assessing what kind of features they prefer in each jurisdiction. We do this through research, judging which is higher in the lobby of the operators. Also, we have a discussion with the employees of our local partners.